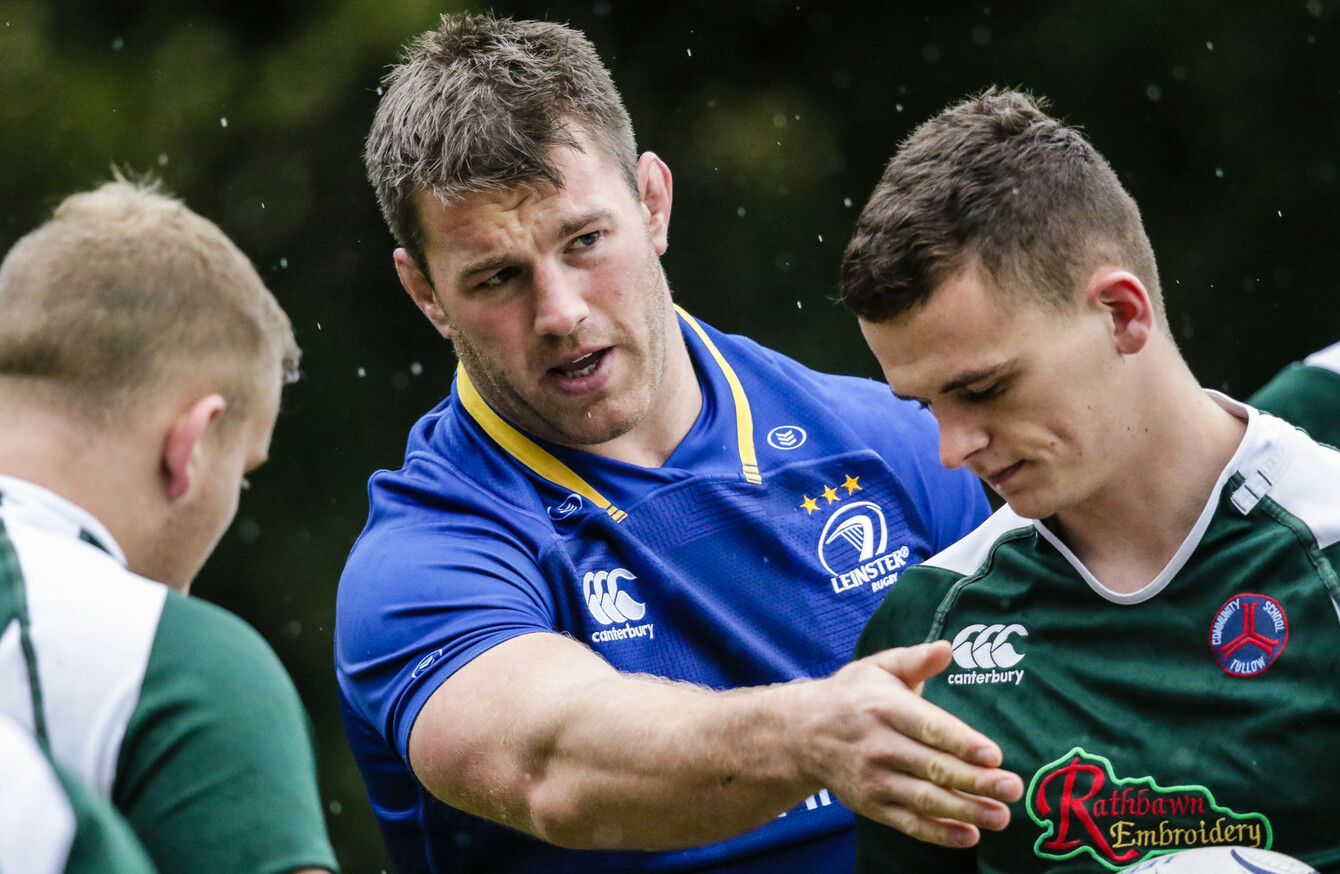 O'Brien coaching members of Tullow RFC yesterday.
Image: Laszlo Geczo/INPHO
O'Brien coaching members of Tullow RFC yesterday.
Image: Laszlo Geczo/INPHO
IN AN AGE of carefully-managed interview opportunities, total honesty and openness from players is something of a rarity. The aim of the exercise is often to say as little as possible, but Sean O'Brien is different. He tells it as it is with conviction, devoid of bullshit.
The Ireland flanker's stinging criticism of the mismanagement which he believes cost the Lions this summer's series against the All Blacks has made headlines around the world, and at the same time divided opinion.
Some quarters feel the quotes, and name-checking of Warren Gatland and, in particular, attack coach Rob Howley, was out of order and dishonourable. That O'Brien shouldn't have launched such a stinging appraisal of what happened behind closed doors in New Zealand.
But none of this was pre-meditated, nor does O'Brien have a personal agenda. He calls a spade a spade in a forthright and unshrinking manner. He believes mistakes were made on tour and if they weren't made, the Lions would have emerged with a series win. He's not afraid to say what he feels, even when the dictaphones are on.
Sitting in the clubhouse of Tullow RFC yesterday and listening to O'Brien, it was hard not to wonder why he hasn't featured in these perennial discussions over captaincy. Why is it that he's always mentioned as a good leader, and one of the senior figures in any dressing room, but not a possible captain?
"That's probably a good question and I probably know the answer to it, I'd say," he replies.
"I would say a few years ago I was burning the candle at both ends so for the likes of coaches seeing you coming down here, for instance, once or week, or going to coach a team on a Sunday, it's probably not the best thing to do with your body in their [coaches] eyes.
"I look at it in two ways. I look at it is in that's my release from rugby, coming down and going for a walk with the dogs or going shooting or whatever it might be. That's my release, and that's the way I grew up since I was four of five, so while I pulled an awful amount of that back in the last four or five years, even getting down and farming, they don't want you working.
"Your job is rugby obviously, and that's the most important thing but I'd say from their perspective, that's why I've never been in that window."
Rory Best's hamstring injury has made him a serious doubt for the November internationals, which reignites the debate over who should captain Ireland against the South Africa in that opening Test.
Peter O'Mahony is the obvious candidate but O'Brien's name never figures in these conversations, despite his willingness to speak his mind and approach the coach if something needs to be said.
Perhaps that has worked against him, or maybe it's the injury problems down through the years but the 30-year-old admits he would go back a few years and change a few things about his life away from rugby.
"When you're at a young age, mid-twenties, you think you can do all this stuff," he continued.
"Then as you go year on year and you've picked up a few injuries and knocks, you're going 'well, what's contributing to all this? Maybe I was on my feet too long or I didn't recover properly or I wasn't doing the right things, and you get smarter.
"But every year I go to a coach and ask 'where am I in your eyes at the minute' and he might say, 'look, we think you're doing a little bit too much away from rugby in terms of getting home and driving up and down the road.'
"If you're driving home, there's two hours up and down sitting in your car, small things like that make a big difference over a period of time I think. So it's a gradual thing that you learn yourself as you get a bit older, and how to look after your body as best as possible.
"But would I change it? Looking back now, yeah I was probably doing a lot stuff when I was 22-24 or 25, and if I could go back I probably wouldn't do as much, but that's probably me as well, not saying no to stuff.
"Like if there was something on here [Tullow RFC] and somebody asked me to go down, I'd go 'yeah, I'll be down', rather than actually thinking is this the best thing for me to go down when I'm training tomorrow again?
"So, I suppose it's a gradual learning curve when you're going through life in general."
Subscribe to The42 podcasts here: