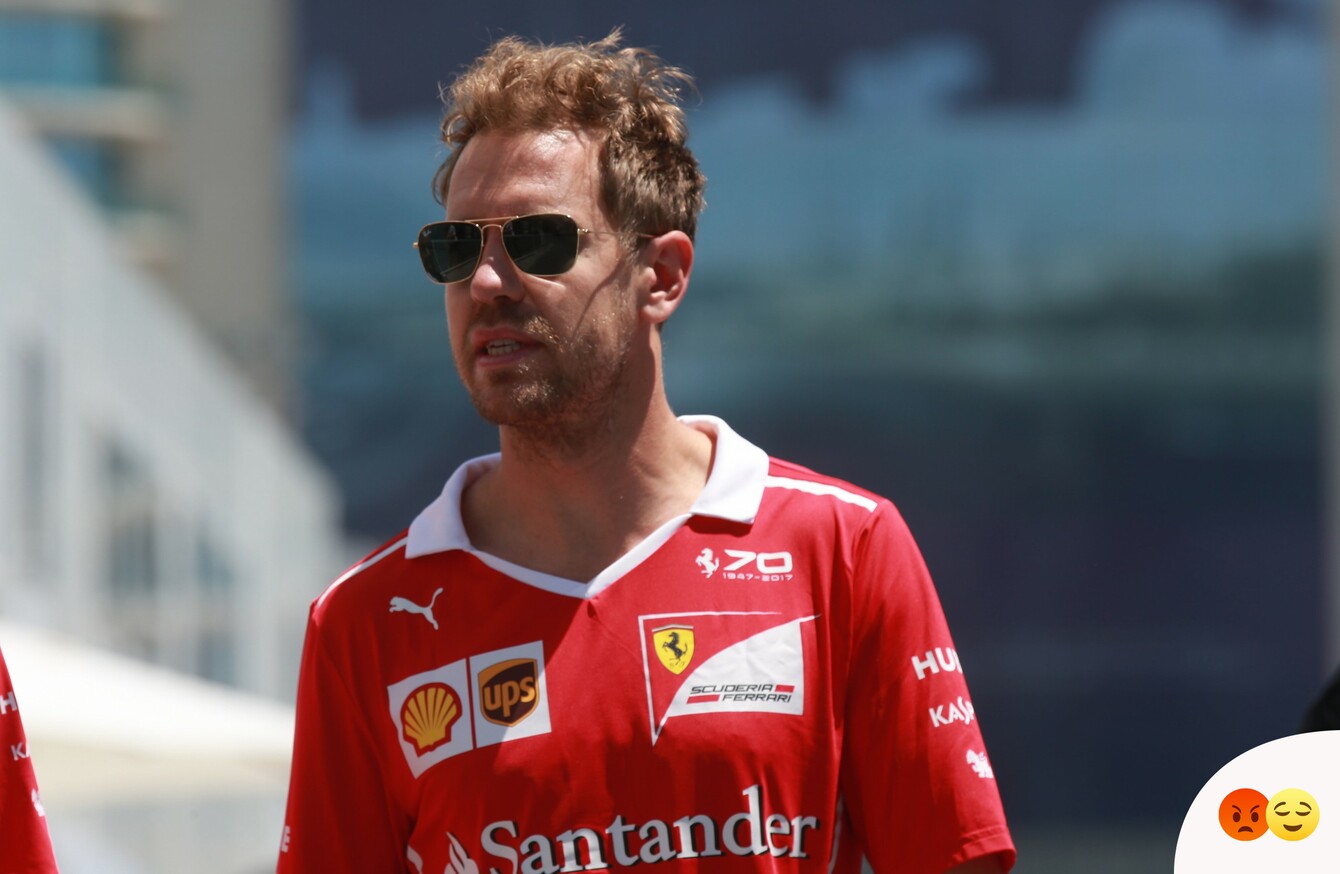 Sebastian Vettel (file pic).
Image: DPA/PA Images
Sebastian Vettel (file pic).
Image: DPA/PA Images
Updated at 01.10
SEBASTIAN VETTEL'S 'ROAD rage' in Baku is still stirring heated debate long he steered his Ferrari into Lewis Hamilton's Mercedes in Sunday's Azerbaijan Grand Prix, amid reports he could be set to face further punishment for his actions.
"Following the recent incident at the Azerbaijan Grand Prix in which Car 5 (Sebastian Vettel) was involved in a collision with Car 44 (Lewis Hamilton), on Monday 3 July, the FIA will further examine the causes on the incident in order to evaluate whether further action is necessary," a statement released today read.
As Vettel was seeking out Hamilton's phone number for a private chat about his moment of madness on lap 19 Mercedes boss Niki Lauda warned he risked a punch from Hamilton.
"He freaked out in himself," said Lauda.
When you hit somebody up the a*** it is your fault. No question. But then to drive next to him and hit him on purpose, I have never seen anything like this.
"To do that I don't understand. Vettel is a decent guy normally. This I don't understand. He is crazy. Lewis will hit him one day. Not with the car but with his fist."
The chaotic race was won by Daniel Ricciardo of Red Bull whose long-awaited success was overshadowed by the German's wild driving.
The Australian said: "Seb sometimes probably doesn't think before he acts – it's probably driven through passion and hunger.
I respect Seb a lot for his grit, and his love for the sport, which turns into a lot of passion and sometimes aggression.
"I respect and like that about him, but in this race you've seen sometimes he will just go crazy."
Red Bull team chief Christian Horner was of a similar mind and said: "Sebastian obviously felt that Lewis brake tested him.
Then it just looked like a red mist moment to me where he's lost it and taken a swipe at him, which was only ever going to result in a penalty.
- 'warriors' -
"But, you know, it's all heat of the moment stuff.
Emotions are running high, they're fighting for a world championship. It cements the rivalry between them for the rest of the season."
Vettel incurred a 10-second penalty and three points on his licence, increasing his total to nine, while the star is being investigated by the FIA for the incident with further action under consideration.
He will also have to stay out of trouble in Austria or face a possible one-race ban for reaching 12 penalty points inside a 12-month period.
Vettel finished fourth and Hamilton fifth after the Englishman was forced to make an extra pit-stop from a commanding leading position to repair a loose headrest.
The result allowed Vettel to extend his lead from 12 points to 14.
Vettel's claim that he was 'brake-tested' by Hamilton was quashed by both the International Motoring Federation (FIA) and Mercedes.
Hamilton slammed Vettel's behaviour.
For him to pretty much get away with driving into another driver is a disgrace," the Briton said after the race.
"He disgraced himself today. If he wants to prove that he is a man we should do it out of the car, face-to-face.
It is a misjudgement from him and some people don't like to own up to their own mistakes. He was sleeping.
"The stewards looked at my data — and the reason I didn't get a penalty is because I clearly did not brake test him. It could not be clearer.
It is as clear as blue skies. Ultimately, what happened was disrespectful. There are kids watching us on TV. You think a multi-time world champion would behave better than that.
SEE SPORT
DIFFERENTLY
Get closer to the stories that matter with exclusive analysis, insight and debate in The42 Membership.
Become a Member
Mercedes team chief Toto Wolff welcomed the arrival of the 'gloves off' moment that may signal the end of the two multi-champions' friendly rivalry.
Nobody wanted to see the schmoozing anyway, so now the gloves are off," said Wolff. "The sport needs the rivalry. What we have seen today is the ingredient of a great championship.
"They are warriors. They are at war at that moment. They are fighting for the race wins and the championship.
Vettel refused to accept any blame for the incident and said he would call Hamilton to talk it over.
I don't have a problem with him," insisted Vettel. "I respect him a lot for the driver he is, but now is not the right time to talk. I'll do that just with him and clear it and move on.
"Maybe I'm not clever enough, but I'm not complicated. I'm willing to sort it out with him. I don't think there's much to sort out."
Told of Vettel's planned call, Hamilton said: "He doesn't have my number."
The42 is on Instagram! Tap the button below on your phone to follow us!