Liveblog
Hello, and welcome to tonight's liveblog.
The Ireland team is in, and there a few surprises in the lineup named.
Here's the Serbia starting XI for tonight.
Source: Levis501/YouTube
Here's what happened the last time Ireland played Serbia.
Flag
IRELAND 1-0 SERBIA (HENDRICK 3)
Great start for Ireland.
Brady's free kick is parried away, but O'Shea lofts the ball back into the box from out wide.
Ivanovic mishits a clearance and it falls to Hendrick, whose shot deflects in off the Chelsea defender.
Interestingly, Roy Keane told Hendrick in the build-up to this game that he needed to score more.
That effort was the perfect response from Burnley's new signing.
Danger for Ireland as Serbia find space out wide.
The cross falls to Tadic, but he hesitates, and the danger is averted.
Ivanovic has somehow just escaped a booking for a very late challenge on  Glenn Whelan.
Randolph's subsequent free kick sails over the head of Long and goes harmlessly out for a goal kick.
The long ball to Shane Long has been tried a few times now, but it's not really sticking at the moment.
Ireland need to keep the ball a bit better.
A lovely backheel from Mitrovic creates space for Kostic, but the attacker's shot from outside the area is straight at Randolph.
Serbia have looked the slightly more threatening of the two sides since the goal.
Stephen Ward appears to win the ball, but he follows through with his right foot and gets booked as a result.
Randolph deals with the ensuing free kick unconvincingly, and Ireland clear nervously.
Ireland are coming under a good bit of pressure now.
Kostic's shot forces Randolph to parry the ball away.
Hendrick has just been booked for a rather innocuous 50:50 headed challenge, after the Serbia player goes down holding his face.
The official certainly needs no invitation to produce a yellow card.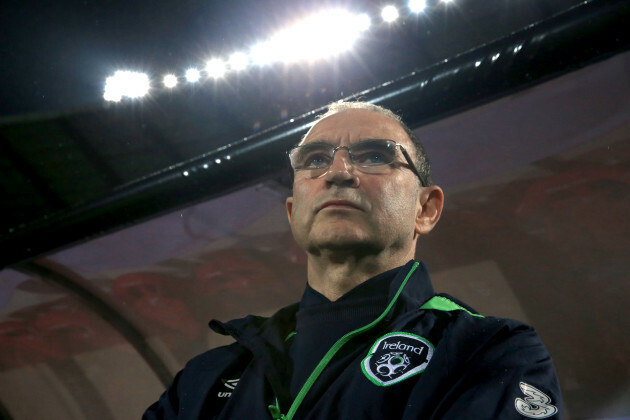 Source: Nick Potts
Martin O'Neill watches on in Belgrade.
Here's a look at the goal that's put Ireland in front.
Source: Edal Black/YouTube
More panic in the Ireland box, as Keogh mis-kicks a cross.
However, fortunately for Martin O'Neill's side, the ball then deflects harmlessly out of play.
Poor play from Ireland.
Hendrick and Brady play a one-two from a corner, only for the former to be caught offside.
The visitors need to make better use of their set pieces, as it's probably their best chance of a goal.
Chance for Ireland!
Brady's free kick from out wide finds the head of Walters, but Rajkovic does well to parry the effort away.
Ireland are having serious problems keeping the ball.
Jeff Hendrick is the latest culprit with a stray pass, as his side are put under further pressure as a result.
Serbia are increasingly dominant in terms of possession and territory.
As I type however, Hendrick and Long break, and the Southampton star wins a throw-in.
Sam Vokes has just given Wales a 1-0 lead over Moldova in a game that kicked off at roughly the same time as this one.
Looks like there won't be a surprise result there.
HALF-TIME: IRELAND 1-0 SERBIA
There was another chance for Serbia just before the break there.
Randolph could only parry a cross, and the ball fell to Mitrovic, but the Newcastle striker couldn't sort his feet out in time, and the chance was wasted.
Boos from the home crowd greeted the half-time whistle.
So it's 1-0 to Ireland at half-time, but the Boys in Green have been less than convincing.
The Irish side have struggled to keep the ball, and Serbia have upped the pressure as the half wore on and will ultimately feel they're unlucky not to be level after spurning a few decent chances.
It's as if Ireland have been hindered rather than boosted by the early goal, as Serbia have grown since then, while the visitors have played as if they've something to lose.
The introduction off the bench of Wes Hoolahan could come sooner rather than later, as Ireland need someone to get the team passing the ball.
The second half is underway…
The second half is continuing where the first left off so far.
Serbia are dominating possession and territory, while Ireland are sitting back with two banks off four.
Good play from Walters, who wins a free kick in a tight space, relieving the pressure on the defence in the process.
Ireland need more of that type of play if they are to hang on to this lead.
It's now 3-0 to Wales against Moldova.
That game is effectively all over.
Ireland find themselves in a good position, but McClean tries to take on two men when the cross is on and loses it cheaply.
Ireland's decision-making on the ball has been very poor in this match.
The ball breaks to Rukavina on the edge of the box, and his curling effort goes just wide.
There are shades of Bosnia away, and Sweden and France at the Euros. The opposition keep applying the pressure and you feel as if a goal will come eventually.
Coleman has just been penalised for a foul throw.
There have been so many similar incidents of sloppy play from Ireland tonight.
IRELAND 1-1 SERBIA (KOSTIC 61)
1-1 and it's more than Serbia deserve.
O'Shea fails to clear and it breaks to Kosic, who makes no mistake from close range.
It felt inevitable, given how negatively Ireland have been playing.
Strange as it may seem, that goal could be a wake-up call for Ireland.
Already, they seem to be playing with a bit more positivity and are getting greater numbers forward.
Another chance for Serbia.
Randolph parries a cross, and the ball is played back in to Tadic, whose weak shot is easily saved by the West Ham stopper.
IRELAND 1-2 SERBIA (TADIC 69)
Tadic strikes a penalty into the roof of the net.
It was a dubious decision, as Kosic went down under a challenge from Walters, but there appeared to be minimal contact judging by replays.
Stephen Quinn has replaced Stephen Ward.
It looks like Robbie Brady will go to left-back now.
The ball is in the net, but it's ruled out for offside, as Walters headed Hendrick's cross home.
It was a good decision, as the replay revealed.
Ireland win their first corner of the second half and second overall.
15 minutes remain, as Daryl Murphy replaces Jeff Hendrick.
Brady crosses and McClean's diving header goes over.
It's getting desperate now.
IRELAND 2-2 SERBIA (MURPHY 81)
Murphy, whose made a big difference since he's come on, heads home Robbie Brady's corner.
What a time to get his first international goal!
Time for a late winner?
Another heart-in-mouth moment!
Coleman plays Ivanovic on, and is forced to clear the Chelsea defender's effort off the line after Randolph's initial save.
Serbia look the more likely side to score now.
A number of Irish players look exhausted.
Shane Long hobbles off to be replaced by Ciaran Clark.
Martin O'Neill is clearly happy with the draw.
FULL-TIME: SERBIA 2-2 IRELAND 
So Ireland secure a somewhat fortuitous draw.
The visitors seemed to play for a 1-0 win after scoring early on, but ultimately did well to secure a point.
Serbia will feel disappointed given the chances they wasted, but they were lucky to get the penalty, so perhaps a draw was a fair result.
Right, that's all from me.
Thanks for reading and commenting, and stay tuned for more reaction to follow.
Contribute to this story: