THERE WERE MOMENTS over the course of the last month when Shane Finn was simply not himself.
The young Dingle man confesses he is normally full of conversation and the first for cracking jokes, only in the early mornings of his 24 marathon challenge he would come face to face with a different person entirely.
"Sleep was hit and miss", he says.
"Some nights I'd sleep great and others I wouldn't. I struggled particularly with a split-personality disorder that developed after a few days. I'm a very sociable, chatty guy – I like talking to everyone and having the craic.
"But some mornings I would wake up literally hating everybody and hating myself, not wanting to do anything, feeling almost hungover.
I would be waking up at 7am, turning over in my bed and just feeling pain everywhere from my shoulders to my back and legs. At that moment I'd just have 90 minutes to transform myself where I'd be in the frame of mind to go and run a marathon.
Source: Videos-treasure/YouTube
"I'd be getting up for breakfast and not wanting to speak to anybody and just wanting to be on my own. Then I'd put on my shoes and shorts at half nine and start running, and would be a completely polar-opposite person."
He needed to make that change fast. The 25-year-old was in the midst of running an astonishing 24 marathons in 24 days – just over 1,000km across the length and breath of Ireland in aid of Spina Bifida Hydrocephalus Ireland (SBHI).
The physcial pains of blisters, sores and cramps could all be cured by massages and ice-baths, and he admits that despite the physical and mental anguish of the journey he never once entertained the possibility of giving up.
Each day there were a thousand motivations running through his head, but first and foremost was his cousin Mary Evans, who suffers from both Spina Bifida and Hydrocephalus.
Shane Finn alongside his cousin Mary Evans.
Shane says the challenge was motivated simply by the fact that he is in a position to make a change. His bruises will heel and the pain of running 1,000km would eventually pass. It is those who suffer with a disability like his cousin Mary, he says, who have to endure 24 hours a day.
"Mary suffers from both conditions and she has been my main source of motivation. I ran my first marathon when I was 17 for SBHI and have been fundraising for them ever since.
They are a very small organisation and don't get a huge amount of funding, so that would have motivated me to do something and make a change. I am grateful for the fact that I can get up in the morning and come to the gym and do everything that I need to do in life.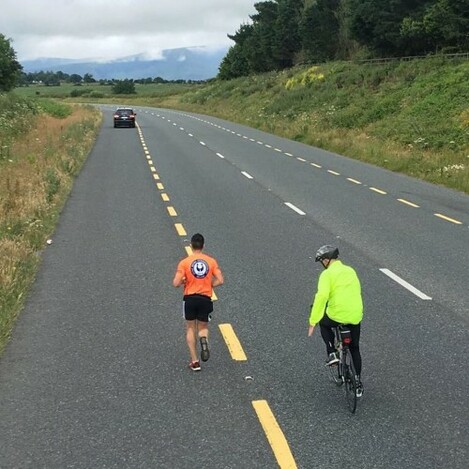 "I would be waking up at 7am, turning over in my bed and just feeling pain everywhere from my shoulders to my back and legs."
"But there are others who can't do anything for themselves and require 24-hour a day care – and that's where I came up with the number 24.
You don't just have Spina Bifida from when you wake up until three or four in the afternoon – you have it 24 hours a day, every day of the week, every month of the year until the day you die.
"That's why I chose to do 24 marathons, each one for an hour in the day that somebody with a disability has to live with their condition."
Shane completed all 24, from marathon one on 22 June, to crossing the finish line just over three weeks later on 15 July, travelling alongside a support crew inside a camper van which featured his mother and father by his side every step of the way.
Spina Bifida is a condition which affects the spinal cord, leaving many people with significant mobility issues, continence problems, as well as additional concerns like pressure sores and social effects such as isolation and loneliness.
For those with Hydrocephalus, their body is unable to drain away the fluid in their brains. This builds pressure which is usually relieved by a shunt, a rubber tube which is fitted internally and drains the fluid away into the stomach.
"You don't just have Spina Bifida from when you wake up until three or four in the afternoon - they have it 24 hours a day."
Shane has seen the firsthand affects of both conditions on his cousin Mary. He has come to realise that not only does a disability affect the person suffering from it, but also their family and support network too.
"We are very close. I can see the things that she struggles with and have seen how tough life is for her and for her family – it affects her father, her mother, her brother. It's tough for everybody.
There were times during the 24 marathons where I had to dig deep and find things to help keep me motivated and focussed, and Mary was always in my thoughts pushing me on."
He took in every county in Ireland bar Clare and Limerick, 24 in total – a funny coincidence, he remarks – taking in different SBHI branches and getting the opportunity to meet with people affected by the conditions – the very people he was running to raise funds for.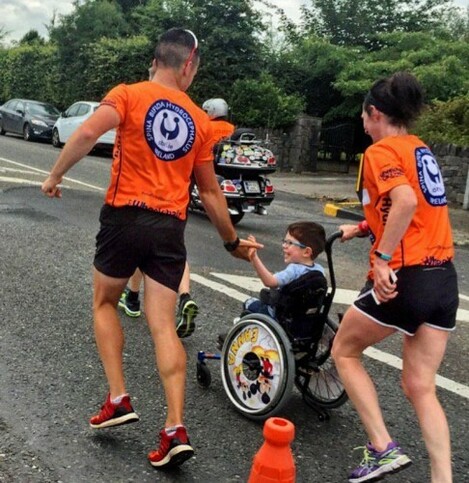 Shane Finn is cheered on by a young supporter.
"We wanted to take in as many big towns as we could and get to as many branches across the country to meet as many people affected as possible.
We did that and got the chance to meet a lot of families and kids. I went through incredible suffering in the last month, but when you look at the suffering that different people go through with disabilities…  it makes you grow a pair of balls and toughen up.
"What I went through for the 24 days is nothing compared to the things that some people suffer through every day of their lives.
After the marathon challenge my life went back to normal whereas the people that I ran for… their journey doesn't end after 24 days, it's 24 hours a day every single day for their whole life."
Dropping out of college, the Kerry native became a self-made and self-motivated entrepreneur shortly after, starting on a budget of less than €500 before opening up the highly successful WK Fitness Training Centre & Gym in Dingle at the age of 21.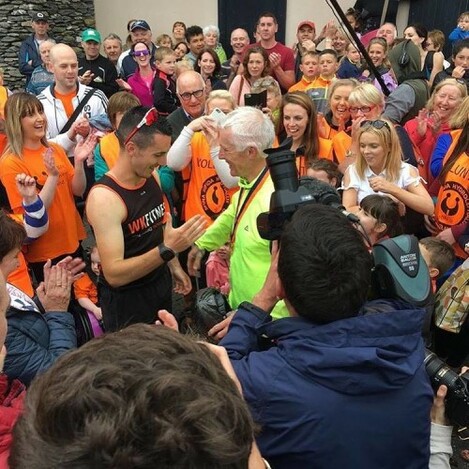 Shane is met with hundreds of supporters after crossing the finish line in Dingle following his 24th consecutive marathon.
Now 25, the fitness instructor knew he could make a difference having ran 12 marathons in 12 days in previous years, but was also motivated by the funding cuts suffered by disability charities across Ireland in recent years.
"SBHI's funding got cut again last year and will probably get cut again this year", he said. "I felt that I was in a position to make a change and represent them.
"It annoys me that the government cuts money from people who can't actually defend themselves and can't fight for themselves.
They won't take €20 a week off a guy who's on the dole milking the system sitting in his apartment watching Netflix Monday to Friday. But they will take it off somebody in a wheelchair who needs it more.
"That would have motivated me too because things like that do piss me off. We just thought we can do this, we can actually make a real change."
Raising over €100,000 to date and with more large-scale donations to come in over the next few weeks, Shane's efforts will raise approximately €210,000 for the charity.
Meeting children suffering from the conditions was fuel for motivation to see the challenge out. Even when the opportunity to meet a hero arose, the runner had other priorities in mind on one particular stop in Naas after marathon 10.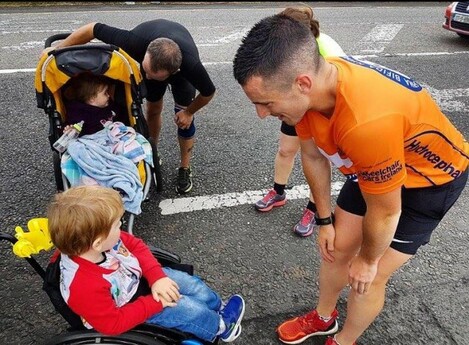 "It annoys me that the government cuts money from people who can't actually defend themselves."
"On night 10 we were supposed to meet Conor McGregor's coach John Kavanagh. We got out to Naas and got into the facility where they were holding the get-together with John and we were playing with all the kids before he arrived – three-legged races and piggybacks and games like that.
After about 10 minutes I said to my cousin to cancel the meet-up with John simply because getting the chance to spend that time with the kids was more important to me in that moment.
"I would have stayed there until 11pm playing with the kids and chatting with their parents. We did end up meeting John Kavanagh the next night but getting to see kids who are affected by these conditions was more important.
It reminded me why we were doing what we were doing and showed me why it mattered to raise this funding. I came away from that night in Naas even more motivated to see it through."
Crossing the finish line in his home town of Dingle was a special moment, even crossing his family home en route where emotions began to take hold as the magnitude of his achievements began to set in.
"We actually passed my family home during the last marathon and I got a small bit emotional there because they had even brought my dog down the driveway to see me run by.
Finn runs through the streets of Dingle. "I got a small bit emotional there because they had even brought my dog down the driveway to see me run by."
"Crossing the finish line in Dingle was incredible. My business partners Mark and Chris were there for that and even just with the two lads we've been through so much together over the last four years. So to get to share that moment with them was special because without them the whole thing wouldn't have happened.
They asked me beforehand what I wanted at the finish line and I told them all I wanted was my family and my support crew and Mary. The fact that how many hundred other people showed up at the finish line was just fantastic.
"It was a bit weird because you want it to be over but at the same time you didn't want this amazing journey to end."
Spina Bifida Hydrocephalus Ireland requires €200,000 each year to operate, with Shane likely to raise well over this amount through his marathon challenge alone.
With plans to expand his gym nationally and internationally, as well as other exciting business ventures, he says that if he could raise more funding for SBHI with another marathon challenge he would jump at the opportunity.
"I love pushing boundaries – whether it's physically or mentally, or in business", he says.
"I like pushing myself and I like pushing the people around me. With the gym they told us we wouldn't last six months in a small town like Dingle with a 7,500 square foot training facility, and yet here we are four and a half years later.
If you told me that if I started all over again and would raise another €100,000 running 24 more marathons in 24 days across Ireland", he says.
"I'd do it. I'd leave for Donegal tomorrow morning."
You can donate to Shane Finn's 24 marathon challenge by following this link and can fundraise for Spina Bifida Hydrocephalus Ireland here.
The42 is on Instagram! Tap the button below on your phone to follow us!