SHANE KEEGAN FONDLY remembers making one of his first predictions as Wexford Youths manager back in 2011.
"It was an interview with the local radio station down here and I said in my first week that we had a four-year play to get promoted," he recalls.
"They still like to remind me of that, so thankfully it has worked out very nicely!"
At 29 years of age, the Laois man replaced Noel O'Connor to take the reins of a club which had just finished second from bottom in the League of Ireland's second tier having accumulated four wins all season.
Fast forward to last Friday night, and Keegan watched his young side clinch the SSE Airtricity League First Division title and with it a place in the top flight of Irish football.
Both feats were firsts for the club, which was established as recently as 2007 by developer and independent TD Mick Wallace.
"It has taken a bit of time to sink in and it might take getting the trophy presented to us next week before it really does," Keegan tells The42. "It has been brilliant, absolutely fantastic what the lads have managed to do this year and we are delighted."
While there have been plenty of well-wishers, Wexford's promotion to the Premier Division hasn't been welcomed across the board.
Former LOI manager Dermot Keely recently suggested in The Irish Sun that they shouldn't be admitted due to their amateur status but such criticism has only helped motivate the players, according to Keegan.
"There are a lot of people who were quite slow to give us credit but have been very quick to do so towards the end. That's fair enough.
"Then you have articles with Roddy Collins trying to wind us up heading into the Waterford game and Dermot Keely, whatever his gripe seems to be. There are a lot of people who have had a little bite here and there but it just makes the team talks easier every time.
"You're trying to portray a sense of the underdog and thankfully these little articles with people underrating us have made it handier."
The achievement was made even more impressive by the fact that Youths began the season with back-to-back lewgue defeats — to newcomers Cabinteely and local rivals Waterford United.
While Keegan points to Cabinteely's appalling pitch for the loss on the opening night, he holds his hands up for the latter loss and explains that it was possibly the wake-up call they needed.
"It led to some serious questioning and conversation," he says. "In hindsight, it does appear to be the best thing that could have happened because everything got ramped up another few gears and from then until now we haven't lost two games in a row.
"I didn't think we were doing a whole lot wrong but we had an open and honest chat that week and we knew we had to turn it around very quickly."
Youths' progression under Keegan's guidance has been a steady one. Continuing the community-focused ethos of the club, he has used his knowledge of junior football to recruit young, hungry talent from the local area and mould them into a close-knit unit.
"We've concentrated on trying to hoover up the local junior talent in Wexford, Kilkenny, Waterford, Wicklow, Carlow and that kind of area," Keegan says.
There has been a brilliant local feel, even if that does mean five or six counties. It has very much been a south-east thing.
"We don't have a large budget so you have to think outside the box. Our way of doing that is going after these types of players, who aren't coming in for the money and they have no pre-conceived notions about themselves as they hadn't been at this level before.
"They are arriving in with a point to prove and that makes motivating a team very easy."
One case in point is defender Lee Grace, who was brought in from Carrick United at the start of the year.
"Up until eight months ago, he was playing junior football and he has been arguably one of the centre-backs in the First Division this season."
Previous generations may have looked to nights out on the booze to help form bonds within the squad, but, much to his own surprise, Keegan says he is indebted to striker Danny Furlong for his suggestion that they set up a team WhatsApp group.
"Any manager in any code who has had success is going to talk about the team spirit and they all think theirs is the best they've ever seen," he says. "I'm going to be no different in that respect, but it really has.
"It has been phenomenal and it has really only come to light since last Friday night in the manner in which this group of boys enjoyed the weekend and the carry-on that has gone on our WhatsApp group over the three or four days!
"I wouldn't be the most technically-wonderful so Danny came to me at the start of the season to explain what WhatsApp was and how it was going to work.
A day doesn't go by that there's not a couple of messages with somebody getting the piss taken out of them."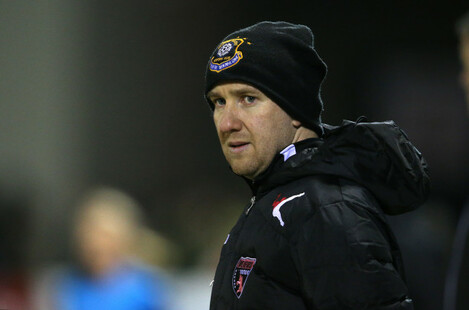 Keegan has been in charge of Youths since 2011. Source: Cathal Noonan/INPHO
And it's not the only thing 25-year-old Furlong can take credit for.
The Rosslare native, who began his League of Ireland career with his local club and had one disappointing spell at Corky City before returning, increased his tally as the club's all-time top scorer with an incredible 28 goals this term.
"He has been nothing short of amazing," remarks Keegans. "Any man who can average more than a goal a game deserves plaudits.
"What's easily forgotten is that Danny went through a two-month period around May/June, where he couldn't do any group training.
"He had a persistent injury where he was being looked at by our sports science staff and our physio, who were managing him from Friday to Friday.
"He would score two goals on Friday night and he wouldn't be able to train for the week. Then he would go out and score two more the following Friday. It's amazing what he was doing during that period.
He's an unbelievable finisher but he has got a lot more to his game than that.
"He went to Cork previously and would feel that he didn't get a fair crack at it down there. So he is really looking forward to being back in the Premier Division with team-mates who believe in him 100% and whose game-plan is geared up to creating chances for him to put in the back of the net."
The league's youngest manager at 33, Keegan shares that appetite to test himself against the country's big guns.
Having realised from an early age that his talents as a coach outweighed his playing abilities, he was managing teams from his late teens onwards but began to take it seriously at the age of 21 when he started his coaching badges.
Time involved with underage teams in Kilkenny was followed by a move to Carlow FC before ambition brought him to Wexford.
Next season, he is likely to come up against two former players of his in Shamrock Rovers striker Mikey Drennan and Sean Maguire of Dundalk.
"I would have managed them at the Kennedy Cup and they've been slagging me with texts about what they are going to do!"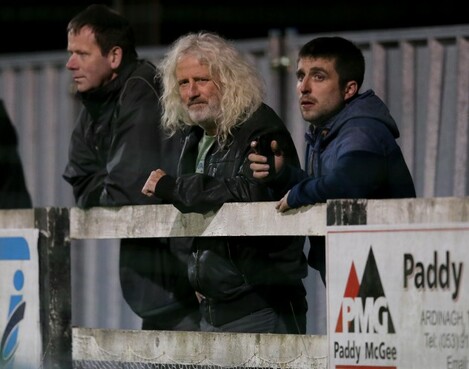 Club chairman Mick Wallace. Source: Ryan Byrne/INPHO
Wexford's club founder and chairman Wallace literally built the club from scratch and the outspoken politician remains just as passionate about the project as he did on Day 1.
That said, while he is still involved with the underage teams, Youth's first manager makes sure not to interfere with Keegan's work on the field.
"Wexford Youths have been fantastic," he says. "The club and, in particular, Mick have given me that room to make mistakes and to learn from them as I go along.
"I've bought myself a bit of time in that there has been a clear line of progression year after year.
"Mick wouldn't have given me four years if we weren't doing something right but at the same time he has been brilliant in that he has taken a complete step back and allowed me to run everything on the football side from top-to-toe.
If I make a bad call, I don't get a phone call saying 'what the hell are you doing?'. Nobody within the club questions what I do. So I'm learning from those mistakes and there are plenty more to make yet."
The final two league matches are yet to be played but Keegan is already chomping at the bit to welcome the country's best sides to Ferrycarrig in 2016.
He accepts there could be bad days but believes they can be competitive over the course of the season.
"I can't wait. There is every chance that we could be beaten 6-0 away to Dundalk on the opening day and then the doubters will be saying 'look how right we were'. I think we will have days when we might take a hammering against a big club.
"But I'm pretty sure there are going to be days when we beat a Shamrock Rovers or a Cork City at some stage over the season.
"It is the group below them that we have to focus on. This season has been unbelievable with the amount of teams involved in the relegation scrap and it will be how we acquit ourselves in those games against the teams from sixth place down."
At last able to offer top flight football, the great hope is that Youths will now be able to entice more fans through the gates and a positive start to life in the Premier Division would certainly help .
"We're on the cusp of a wave at the moment and we need to grab that big time," adds Keegan.
"There has been tremendous good will towards the club in recent months with former players around the place and spectators returning.
"We've always had a tremendous small but hardcore support, whether you are bottom of the league or top. But there is real opportunity to grow this now and see how far it can be taken. There's an awful lot of working goin on off the field to get people in the gate.
"Whatever about that, it is essentially going to come down to how we perform on the field next year.
"That's why a decent start would be brilliant as you would expect to get good crowds for those first home games.
"If you acquit yourselves well in those and get a shock here or there then the people will keep coming back, so that is what we have to aim to do."