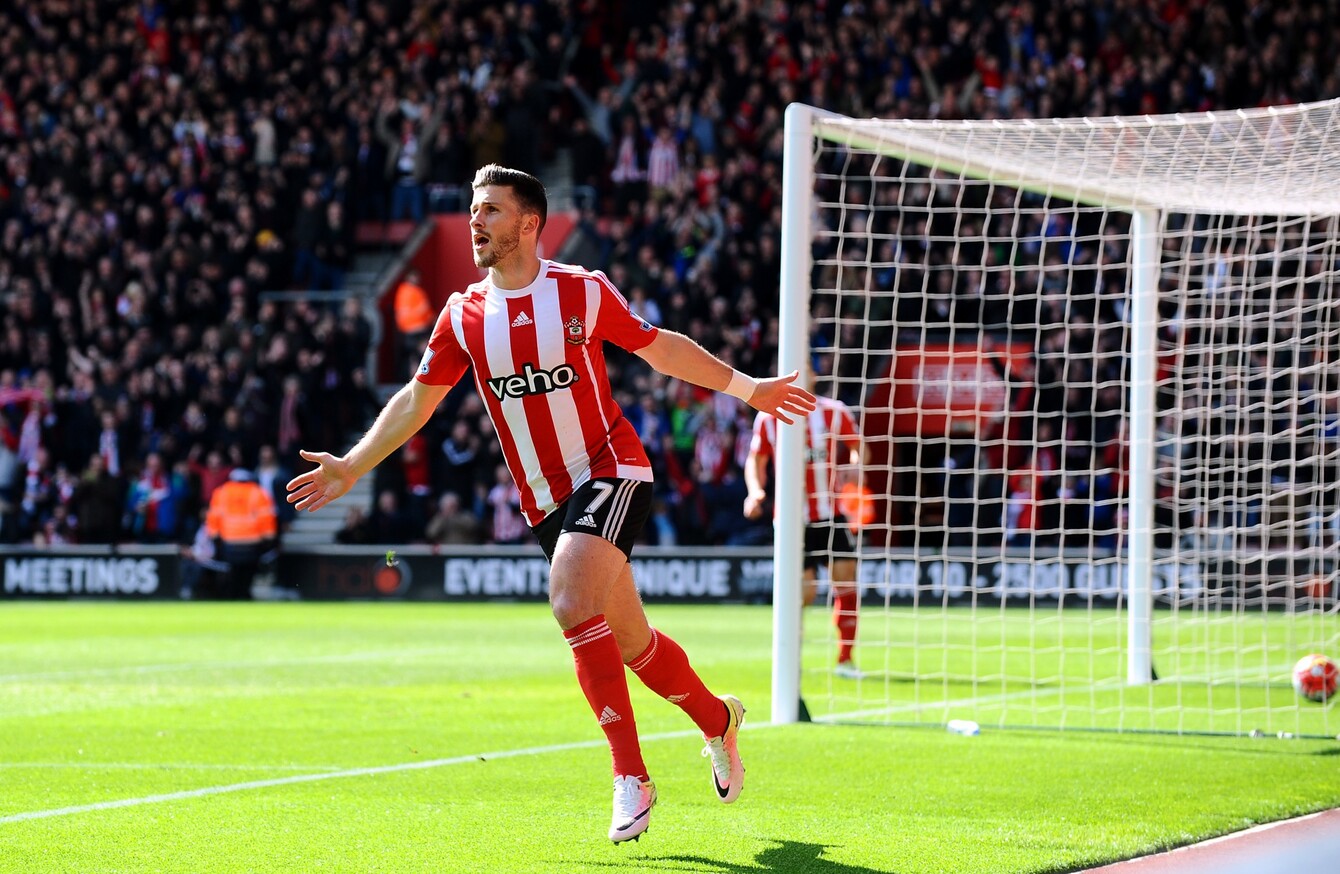 Shane Long has hit career-best form of late.
Shane Long has hit career-best form of late.
1. Shane Long developing into top-class striker
SHANE LONG HAS always been an extremely talented player — Southampton would not have spent £12 million on the Ireland international if this wasn't the case.
Nevertheless, there has been a lingering suspicion that the Tipperary native needs a couple of chances before finding the net.
Having been in and out of the team and used from the bench regularly during his first season at the club, Long has recently established himself as a key player for the Saints.
The first half of the season was a frustrating, injury-interrupted period, but since he scored twice in Southampton's 4-0 defeat of Arsenal on St Stephen's Day, Long has been playing with considerable confidence and enthusiasm, helping lift the Saints to seventh in the table following a fine run of form lately.
The 29-year-old Ireland striker has 10 goals in 26 Premier League appearances this season compared with five in 32 last year, while managing 16 goals in all competitions including the winner in the Boys in Green's famous defeat of Germany back in October.
If he can keep this form up, Martin O'Neill's side will be a threat to most teams in France this summer.
2. Possession isn't nine-tenths of the law
Generally speaking, it is believed that top teams need to keep hold of possession in order to be successful.
Barcelona and Bayern Munich among others in recent years have enjoyed plenty of success by dominating the ball and gradually tiring out their overworked opponents.
Yet this season, Leicester's success has proven that titles can be won without the ball.
Claudio Ranieri's side's counter-attacking strategy has been heavily reliant on route one football, with Leicester having the third-lowest possession on average in the league as well as the lowest pass completion rate out of all 20 teams in the top flight.
A key player has been N'Golo Kante, who has made the most tackles and interceptions in the Premier League this season, while his driving runs have also been instrumental in the Foxes' quick-fire attacks.
Therefore, without the lightning pace of Kante and main striker Jamie Vardy, Leicester's tactics wouldn't work, while their proficiency from attacking set pieces has also given them an alternative route to goal.
3. Young players are in vogue again
Following years of young players being largely ostracised and ignored by Premier League teams in favour of more experienced pros, the homegrown rule appears to finally be having the desired effect with a number of youngsters coming of age in the top flight this season.
Some teams in particular seem to be leading the way in this regard — Tottenham, Liverpool and Man United are among the sides who have not been afraid to blood inexperienced players, with all three teams in question featuring in the top four of the Premier League's youngest teams.
In many instances, the trust in young players has been more a case of accident than design — Tottenham, for instance, need to save funds as they prepare to move to a new stadium, and so have little choice but to place faith in inexperienced stars rather than spending excessively on high-profile foreign imports.
Nevertheless, regardless of why it's come about, this development is surely a positive for the long-term health of the Premier League, and watching stars such as Dele Alli, Kelechi Iheanacho, Marcus Rashford and Divock Origi undoubtedly makes games more attractive and exciting to watch.
4. Seamus Coleman and James McCarthy have much to ponder in the summer
It's been a difficult season for Everton culminating in the sacking of Roberto Martinez during the week.
While the manager has suffered ultimately, barring Romelu Lukaku, more or less all of the club's star names have underperformed to varying degrees this season.
Seamus Coleman and James McCarthy have long been considered vital not just to Everton but also to Ireland. Yet at 27 and 25 respectively, both players are not far off the peak of their career.
Coleman and McCarthy have both been linked with moves to bigger clubs in the past 12 months, and with Martinez now gone, question marks over their future are only likely to intensify.
So do they want to stick around at a club going through a transitional phase, or perhaps more pertinently, would a bigger club be willing to take them on given their recent lacklustre form?
5. Fans have lost faith in Arsene Wenger
Arsenal, in many ways, have been extremely consistent in recent years. This season, they qualified for their 18th successive Champions League and the Gunners have been a permanent fixture in the top four at the end of each season since Arsene Wenger has taken charge.
They have even never finished below bitter rivals Spurs since the Frenchman's reign began — although that statistic looks set to change tomorrow.
For the London club's fans, consistency without big trophies has made recent seasons feel a little too close to Groundhog Day for comfort.
Each season seems to follow the same maddening pattern — more or less every year since their famous 'Invincibles' 2003-04 team won the league by going the entire campaign unbeaten. Initially, Arsenal tend to go on an impressive run of form and look like serious contenders, before they ultimately unexpectedly drop points against a couple of inferior sides and end up having to settle for Champions League football rather than first place.
The problem with Wenger is that his teams simply seem to be making the same mistakes over and over, and even in the most open Premier League title race in years, Arsenal have again floundered when it mattered most.
There have been murmurs of discontent for some time now, but increasingly of late, it seems that those backing Wenger to continue as manager are now in the minority.
6. Big English clubs hampered by fatigue
It's surely no coincidence that twice in the past three seasons now, a club with no European football to worry about has significantly overachieved (Leicester this year and Liverpool in 2013-14).
Particularly in a league as physically demanding as England's top flight, where players are increasingly required to have Olympic athlete-esque levels of fitness, it seems that having no European football to worry about can be a blessing in disguise.
Leicester played significantly less games than their rivals and consequently were able to field roughly the same starting XI for each game.
Man City, by contrast, had an especially unforgiving fixture list, playing the maximum number of games in the Capital One Cup and reaching the Champions League semi-finals.
Even something as seemingly insignificant as the regular rigours of travel to obscure foreign locations can make a big difference over the course of a long season, so perhaps when Manuel Pellegrini's side recently delivered an especially tepid second-leg semi-final performance against Real Madrid in the Champions League, it wasn't because the players were disinterested, it was more due to the fact that they were exhausted.
This problem can also perhaps explain the marked inconsistency of other big sides such as Man United, Chelsea and Arsenal over the course of the campaign, with the Premier League now more competitive and intense than ever.
7. Jurgen Klopp turning Liverpool into a formidable outfit
Hiring a new manager is always a risk on some level, but following his appointment last October, the acquisition of former Borussia Dortmund manager Jurgen Klopp is already looking like one of the Liverpool owners' more astute decisions.
Despite having little chance to bring in his own players to the club, Klopp has already left an obvious stamp on the team.
After Brendan Rodgers' sacking left them languishing in 10th place in the league, it was always going to be a struggle for the German coach to significantly improve their position in the table and instantaneously enhance morale levels within the club.
However, since Klopp's arrival, there have been plenty of encouraging signs, as the Reds have slowly but surely become an impressive, cohesive unit after the early season chaos undermined the progress of recent years.
And next week, to cap off a promising few months, Liverpool could earn a place in the Champions League by beating Sevilla in the Europa League final.
Klopp was also unfortunate not to have his first taste of silverware as Liverpool boss earlier in the season, as they were beaten by Man City in the Capital One Cup final on penalties.
Numerous players, including Divock Origi, James Milner, Adam Lallana and Roberto Firmino, have all improved significantly under Klopp's guidance. And consequently, the future is starting to look much brighter for Liverpool since the German's arrival at Anfield.
The42 is on Snapchat! Tap the button below on your phone to add!