SHAUNAE MILLER BROKE the pain barrier for the Bahamas in the women's 400m, badly grazing her hip after lunging headfirst at the tape to snatch Olympic gold.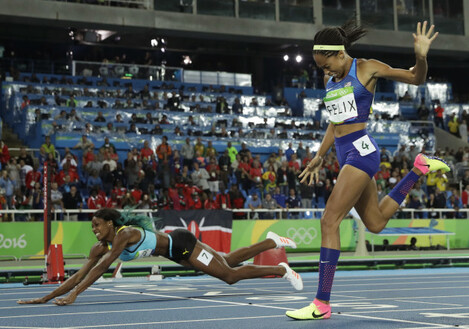 Source: Matt Slocum
The 22-year-old admitted she had no idea if she had pipped American star Allyson Felix after she went sprawling on the Rio track — until she heard her mum screaming.
"I still don't know what happened," said Miller, who was declared the winner of last night's final after an agonising wait for the official results to flash up on the scoreboard.
"When I was on the ground, I didn't know if I had won or not until I heard my mom screaming. When I heard her scream, I knew I had to have won the race."
Miller, who won with a time of 49.44sec after hurling herself across the line, revealed that her dramatic swan dive had happened instinctively.
"It just kind of happened. It was just a reaction — my mind just went completely blank," she smiled after denying Felix a record fifth gold medal.
"I've got a few cuts and bruises but I'm okay.
"I didn't see anyone until the last 20 metres," added Miller, silver medallist behind Felix at last year's world championships.
Source: Martin Meissner
Source: David J. Phillip
"The only thing going through my mind was that I had to get the gold medal. It was such an amazing feeling to look up and see the scoreboard."
Still riding a wave of euphoria after beating Felix by seven hundredths of a second, Miller showed off her battle scars, the worst a nasty abrasion on her right hip bone.
"It really hurts," she winced, draped in her country's flag after winning a fifth Olympic athletics title for Bahamas.
"All the cuts are kicking in now and they're really burning, but I'm still so thankful."
Miller, whose great-uncle Leslie Miller competed in the 400m at the 1968 Olympics in Mexico City, looked to have blown a comfortable lead after going out all guns blazing, only for Felix to reel her in over the last 100 metres.
But Miller's last-gasp acrobatics proved decisive, leaving Felix choking back tears after the race.
"We've been training so hard for it all year," she added. "And to finally be victorious, my coaches are so proud of me, my entire country is proud of me, so I'm ready to go back home and celebrate."
With her silver, Felix claimed a 20th track medal at the Olympics or world championships, but she felt in no mood to celebrate that statistic.
"It's a little bitter-sweet," she said. "I feel emotionally and physically just drained."
The42 is on Snapchat! Tap the button below on your phone to add!