FROM THE MOMENT Sinéad Goldrick starts speaking to a huddle of three reporters at the Lidl Ladies National Leagues launch yesterday, she makes one thing crystal clear.
Source: Morgan Treacy/INPHO
2017 has been and gone.
After three years of heartbreaking All-Ireland senior final hurt, Dublin finally got over the line and got their hands on  the Brendan Martin Cup. But that's done and dusted now, it's in the past.
All eyes are on 2018 and defending that crown. First though, there's the matter of the league where they'll face the likes of five-in-a-row Division 1 champions Cork, and last year's respective championship and league finalists Mayo and Donegal.
And they're yet to get their hands on that league silverware. Understandably, ending that drought is a big goal.
Firstly, we'll take a quick look back on 2017 and the highlights it brought for Goldrick — All-Ireland glory and the brilliant RTÉ documentary Blues Sisters among them — before moving onto 2018 and what to expect going forward.
2017
"It was a brilliant 2017," she begins, when asked if starting out in as reigning All-Ireland champions will be any different this time around.
"We got our All-Ireland title eventually so it was amazing. That's something that drives you on to train harder. You know that people are going to be trying to get that title from you.
"If you look at the league though, Dublin have never won the league ever before. It'll be interesting to see where we are, the standard.
"We had a great year in 2017 but it's 2018 now."
There we go; clear as day from the outset.
The opening exchanges of 2017 varied. Division 1 of the league was quite mixed for all involved, there was a mixed bag of results. Mick Bohan was new at the Sky Blues' helm and wanted to see as many players as possible throughout the campaign.
They exited at the semi-final stage to Cork, a six-point defeat in the end. Disappointed, and facing down the barrel of another championship campaign. Fourth time lucky?
And then the idea of Blues Sisters was put to them.
"As a unit, we weren't in the best place," she explains, telling of the approach. "We had just lost the league semi-final.
"But we decided to do it as a panel, it was something we wanted to do to promote the game.
"We took a risk. We thought it might give us motivation to get the best out of us and I'm just thankful that we got over the line and it was a fairytale ending!"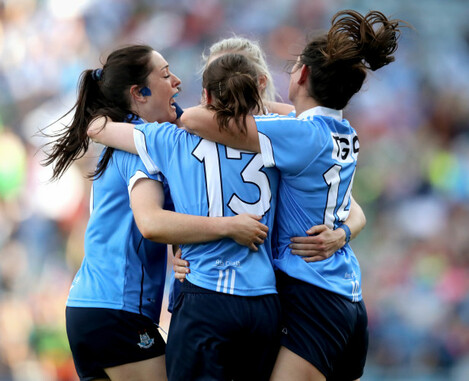 Source: Ryan Byrne/INPHO
She adds, when questioned on stories that resonated with so many across the length and breadth of the country that dark December night it first aired: "That's just the Dublin ladies story.
"All club teams have that throughout the country. We're just grateful that we got the platform to show what the sport is about and people realised how professional it was and how much we train.
"It is something that we are proud of as a team."
What about their male counterparts? Would they ever be as open as that?
"I don't think so," she grins."We gave an insight into our team but we didn't give away our secrets.
"They're not in the position of Ladies Gaelic Football that they kind of need to promote the game but I feel that, as a ladies footballer, that's what we need to do.
"Hopefully by giving that glimpse within the changing room, that will encourage more people to come out to our matches."
She looks back fondly on those few months, that journey and how that interruption didn't really effect the set-up — apart from the slight added pressure of not missing efforts on camera.
She also speaks glowingly of the interest and recognition the documentary attracted across the board, from kids and adults alike, male and female.
"There's 1,200 people in our office," the Vodafone employee smiles, as she tells one particular story.
"People who I haven't spoken to at all, (were) coming up to you just saying, 'I watched it over Christmas Sinéad, you had my whole family crying!'"
2018
But that's all over and done. In the past. Treasured memories stored away.
Dublin currently have a 43-woman squad and Bohan aims to hold that for the duration of the league.
Siobhán McGrath — a central player when the Sky Blues were crowned All-Ireland senior champions for the first time in 2010, or 'the Dublin legend,' as Goldrick notes – has returned to the set-up after some time in Australia.
Former minor star Muireann Ní Scanaill and Na Fianna's Lucy Collins are among others to rejoin the group after some time away, as well as Goldrick's own clubmate Emma McDonagh.
It's something the Foxrock-Cabinteely defender is excited about.
"The league is a great opportunity to give players coming in (a chance). That's going to give the increased intensity and competitiveness at training.
"It's going to be hard to get a jersey. As a team, it's going to be really competitive to try and get on that starting fifteen.
"As a unit we're going to be trying to win as many games as we can throughout the league with the ultimate goal of getting to the league final and winning it."
Goldrick also shares her obvious delight at the double headers announcement earlier this month for the Lidl Ladies National League Division 1 — they face Cork and Kerry at Croke Park on 10 February and 3 March respectively and travel to Mayo for a McHale Park meeting on 24 February.
Source: Seb Daly/SPORTSFILE
"It's brilliant," she nods. "We look back to last year, we had one double header against Mayo.
"I suppose, you've been around a few times at interviews through the years and everyone's saying, 'What do you think can improve the game?' and you keep saying curtain raisers.
"This year, we have eight within Ladies Gaelic football so it'll be interesting to see the attendance at those games. As a player, it's something that we're really excited about."
But first up on Sunday comes their first test of 2018 in the form of a finely tuned Donegal outfit who'll take to the field in Letterkenny.
A tough test in itself.
"Yeah," she grins. "I think we're leaving at 7am!
"It'll be interesting to see what team Mick picks. We've been back training maybe three weeks so we'll just see where we're at."
Nothing too crazy just yet. But one thing's for sure; 2017 has been and gone, it's all about 2018.
The42 has just published its first book, Behind The Lines, a collection of some of the year's best sports stories. Pick up your copy in Eason's, or order it here today (€10):