LAST YEAR'S ALL-IRELAND collapse has given Dublin a new focus as they look to break Cork's stranglehold on Ladies Gaelic football.
The Dubs have never won the National Football League title but they are the only unbeaten side in Division 1 and a win against Tyrone this weekend would guarantee their place in the semi-finals with a game to spare.
"In previous years we looked at the league to trial everybody and get going," captain Sinead Goldrick told TheScore.ie, "but this year we were going out to win each game as it comes.
"We've got a lot of fresh blood in with new players and the old, experienced players coming back so there's a really good mix there. After the preparation of previous years, we were ready to take the league very seriously this year."
Dublin are under new management with Gregory McGonigle, the man who led Monaghan to the All-Ireland final in 2011 and again last year, taking charge this season.
McGonigle's Monaghan were just edged out on both occasions by a Cork side who have steamrolled their way to eight of the last nine titles.
But it is last year's quarter-final, where the Reblettes came from nine points down with 20 minutes left to stun Dublin, that stings in the capital.
"Everyone just froze," Goldrick said.
"I think we learned a lot from that match. I've never been so disappointed. We played them two years before that and they had beaten us by a point so when we were up by nine, we had the ability to take it over the line.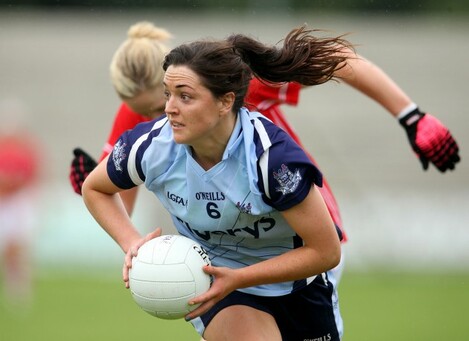 Source: Cathal Noonan/INPHO
"For the players on the pitch, we had to look at each and see what went wrong. A few months after the match we did take a look back at it but I think that will give us the motivation going into this year to learn from our mistakes.
"Even the new players who have come in, it's just in the back of everyone's minds that it won't happen again.
When you have a nine-point lead, there's nobody else to blame. Cork got on top and the points just kept ticking over. It was really hard to take and really hard to handle, and it does hurt you to the day when you think about it.
Dublin's new management have stepped up preparations not only in terms of their league focus but also when it comes to gym sessions and the number of pre-season challenge matches they played.
And Goldrick is hopeful that the county board's sponsorship deal with AIG, which brings the men's and women's teams together under one umbrella, will help to up their profile.
"Even wearing the same jersey as the men has given us a boost. It really has motivated us a lot more and when you're training that much, you just want a little bit of recognition.
"The profile is definitely improving but I do think there's a lot more can be done."
Dublin ladies football captain and GAA All-star Sinead Goldrick was on hand today to launch Under Armour's new footwear innovation Speedform Apollo.
The Dublin ladies captain promoted the game changing running shoe that is part of Under Armour's ongoing dedication to continually innovate and help make athletes better. Available from Lifestyle Sports Dundrum or online at  www.UnderArmour.com