SIVE BRASSIL HAS always loved sport.
As a child, she would write letters of admiration to Munster and Ireland rugby star Paul O'Connell. Now, she is representing her country on the world stage.
When we meet, she has only recently returned from Los Angeles, where the Irish modern pentathlete finished 14th overall in the Union Internationale de Pentathlon Moderne (UPIM) World Cup 2.
She has spent much of this week at home in Ballinasloe, describing it as "a guilt-free week off where I've eaten loads of cereal and slept a lot".
She has come from Galway to Dublin for shopping with her sister, an Arcade Fire gig and her first interview.
At the weekend, she will return to Paris, where she has lived for the past few months.
I know earlier in my career, I would have been like 'I have to be training all the time and I need to keep working hard, you're not doing it right if you're not miserable,'" she tells The42. "Whereas now I've matured a lot and realised you work hard when you work hard and you take a break, relax and that's a really important part of the work."
The past 12 months have seen a major breakthrough for the 24-year-old. Last year, she achieved her first top-20 finish at a World Cup event. Prior to LA, she also finished 14th overall at World Cup 1 in Cairo. These two achievements might not seem like a big deal to the casual sports fan, but for Brassil, they are the consequence of years of hard work.
In an average World Cup event, there are roughly 80 athletes competing. In two semi-finals, 15 athletes qualify automatically from each, with another six included depending on a points system.
"Before now, I've been scraping in on those 'best points,' but this was the first World Cup where I finished 10th in the semi-final," she says, referring to her LA trip.
Throughout the pentathlon season, there are four initial World Cups. The results from each are then tallied up, with the 36 best-performing athletes qualifying for a World Cup final.
As a result of her two encouraging performances so far, Brassil is ranked seventh in the World Cup standings and has "basically done enough to qualify for the World Cup final".
There are also the European and World Championships to come later this year, so Brassil will have a competition every month to focus on from now until September.
It has been an eventful period. Last September, she graduated from University College Dublin with a 2:1 bachelor's degree in French and Spanish.
"Languages were my favourite thing when I was in school. I thought I shouldn't do something like Sports Science, I want to have more strings to my bow than just being an athlete or a jock. I thought it'd be nice to do an Arts degree and keep that part of my brain working as well.
"I had always wanted to go and spend time in France and train in France anyway. But when I was in college, the opportunity didn't really arise. I think I wouldn't have been ready for it either, I wouldn't have had the maturity to enjoy it. I probably would have been a bit scared and helpless out there. I said I'd go over for a couple of months this year and once I got there, [I thought] we need to try to extend this, I love it here."
Brassil grew up idolising Munster and Ireland star Paul O'Connell. Source: Billy Stickland/INPHO
Brassil is currently training with the French pentathlon team while also improving her language skills in an unfamiliar setting. With the World Championships in Mexico City this year, altitude training is one priority.
"They use a place in the Pyrenees called Font-Romeu," she explains. "We went there around Christmas time and it was my first taste of altitude. I was so tired doing anything over there."
Brassil lives in what she describes as "a massive sports village just outside of Paris," replete with basketballers, footballers and other athletes competing in various sports.
"It's kind of like what [Ireland's National Sports Campus] Abbotstown would hope to be in 20 years. It's actually quite unique, I don't know that there are many places like it in the world.
"People live there and eat there as well, you're friends with the different athletes."
Living in this environment represents a significant step having spent "five years pretty much going hell for leather" in the sport. She has come a long way from when she started out back in Ireland in Pony Club at the age of seven, subsequently competing in tetrathlons (riding, shooting, swimming, and running) before graduating to modern pentathlon, which consists of fencing, swimming, riding, shooting and running.
I'm the youngest of five siblings, so I was basically just following whatever my brothers and sisters were doing," she recalls. "We were big into ponies and Pony Club. They found out that there was a thing you could do that was running and swimming and horse riding for U12s. So they started that and once you're 12 and over, they introduce the shooting as well."
Given the impressive achievements of the likes of Natalya Coyle and Arthur Lanigan-O'Keeffe in events including the Olympics in recent years, it is easy to forget that the sport in this country is still in its infancy, with an Irish team first established in 2005.
Brassil, meanwhile, jokes that she is the "black sheep" of her family, having gone against convention by opting to pursue sport on a full-time basis.
"Pretty much since I was a kid, I just felt like 'I'm going to do sport,'" she says.
"My oldest sister did physiotherapy and my three other siblings are all doctors now. Everyone was asking: 'Are you going to do Medicine? Are you going to do Medicine?' I was like: 'Oh no, I want to go to the Olympics. I want to do pentathlon.'
"I'm the black sheep, but they love me anyway, because I'm the youngest."
She previously tried to qualify for the 2016 Olympics as "a very long shot," and while failing to fulfil this ambition, Brassil still gained invaluable experience going to Rio as the training partner for Coyle.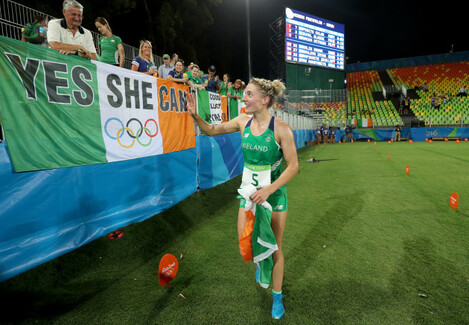 Brassil was Natalya Coyle's training partner at the Rio Olympics. Source: Dan Sheridan/INPHO
Her long-term goal of competing at Tokyo 2020, however, is starting to look an increasingly realistic aim, given Brassil's impressive recent results.
There is no room for complacency though, and the Irish athlete is well aware that certain aspects of her performance in particular need to be improved upon.
"There are lots of different ways to be a good pentathlete. Some people are really mentally strong and really good at the fencing and shooting event. I'm definitely more of a physical beast — I love the swimming and the running.
"But it's about trying to calm down and focus my mind for the fencing and shooting event and trying to get the best out of those.
I think I always [felt nerves], but I've learnt a lot from the athletes I've been around this year, all the training and the hard work is for the competition and the competition is kind of like your chance to celebrate and it's the prize you've earned for all the hard work you've done.
"So I've taken that onboard this year and I've tried to make the most of every moment in the competition and just try to be more positive and enjoy my work. I find that helps me, so I try not to be too nervous, I try to be chilled and relaxed. I don't need to work myself up, because I do that enough [instinctively], I need to trick myself into being calm.
"I think it's probably the same for every athlete. I look back on every competition and say 'you could have done this, you could have done that'.
"In the last few competitions, I've shot very poorly. The shooting standard is getting better and better. People are just shooting five out of five shots in 10 seconds for each round. Whereas my shooting in the last few tournaments was quite slow and a bit nervy. I'd start off missing a lot and then I'd settle into it a little bit.
"I'm working on my shooting a lot this year. I've started from scratch with it over in France, that's probably why it's taking its time as well — I'm working on a new technique, slowing everything down and focusing on accuracy a bit.
"Pentathlon is all about dividing up your time wisely and it's different for everyone. Someone's going to need to swim five times a week, someone's going to have to run 10 times a week — maybe for me, it's a few more fencing lessons and shooting every day and not even shooting every day in sessions, but taking my gun out in my room and practising against the wall just for muscle memory."
Incase you missed it @sivebraz had a coming of age performance yesterday at the World Cup in Cairo finishing in a huge 14th in the final! #teamireland pic.twitter.com/tMfCOnvPIy

— Arthur LOK (@ArthurLOK1) March 3, 2018
She continues: "I pretty much run at least once a day every day now. We do a drill session with this guy who used to be an Olympic hurdler, but he does running drills with us and also fencing and swimming — different exercises and drills to strengthen the different muscles we need for the different sports. Then a swim. Then lunch. Then an afternoon nap. And then fencing in the evening.
"So we do at least four sessions every day, but some of them are bigger and some smaller. You usually wouldn't have more than two running sessions in a day. If you run hard on Wednesday, you won't swim hard on Wednesday, you might swim hard on Friday and do an easy run on Friday."
Of the afternoon nap, she jokingly adds: "I'm really good at it, it's one of my strongest events. It's nice because at the moment, I'm just doing full-time training and because everything is on my doorstep as well, I can just go back to my room — I have about an hour and a half, two hours, where I can just lie down in a dark room and sleep if I want to.
"Some people if they're working as well, they don't get [time to sleep] as much, but it is really important, because we're athletes, we're really looking to have eight-plus hours of sleep a day."
Aside from living away from Ireland, what also makes this year special is that it's the first time Brassil has received funding from the Irish Sports Council, after improved results in 2017 led to her breaking the top 50 in the world in modern pentathlon.
Even since then, there has been a real sense of momentum and progress, and Brassil is 32nd in the latest pentathlon world rankings, just six places behind Irish colleague Coyle.
[The funding] covers my living and training costs for the year in France, but then, the things we have to pay for ourselves are travelling to competitions — flights or fees or things like that.
"It's such a relief and nice this year. Maybe that's part of why I'm more relaxed and happier and performing a bit better, I know that I have funding — I can turn around and give that to my parents as a small token to what they have been doing. At least now, I feel like I'm contributing to my cost.
"All that stuff is really important as well, not just in the financial sense, but also you feel like you've arrived and you're one of the big-level athletes now, so it's cool."
Still, it requires significant mental fortitude to compete in what is predominantly an individual sport that mainstream media generally pays serious attention to only once every four years and with funding never comparable to the more illustrious likes of elite-level soccer or golf.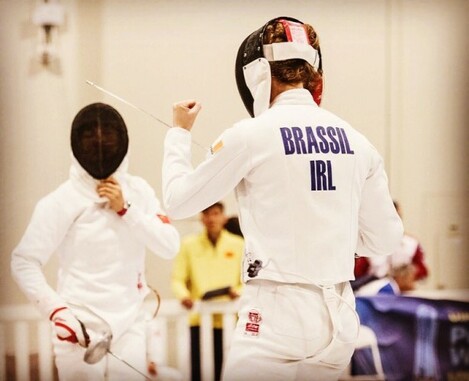 Brassil pictured competing in fencing. Source: Krzysztof Kuruc
In these circumstances, Brassil wouldn't be human if she didn't at least have occasional moments of doubt.
"In the first World Cup in Cairo, in the fencing event, I was thinking 'it's okay, I'm going to move to Canada, I'm just going to leave this all in the past, start studying physio and forget about sport or do rugby sevens or something'. But you just have to put those things in the back of your head. It's never going to be a quick journey, it's a vocation really, it's going to take years of hard work and grind — I wouldn't still be doing it now if I didn't really want it.
"Sometimes you do have to tell yourself, 'that's it, I'm quitting, I'm finished' and half an hour later, you're like 'no, no, it's fine.'"
In addition to the mental toll, there are also social sacrifices that inevitably need to be made.
It wasn't so bad for me because I've basically been doing it all along and I've always wanted to do it. It's not like I'm missing my previous crazy social life. But for sure, my college experience was very different to that of my brothers and sisters — they'd be going on J1s and travelling every summer, whereas I'd be going to Moscow and staying in a hotel and competing and coming home. But it's worth it, you're still getting a great life experience, it's just a very different one.
"It definitely means you can't party all the time and it keeps you off the drink."
But unlike in certain other sports, dieting is not such a big deal or ultra-strict in anyway.
"For pentathlon, you do so much that it's hard to eat too much. You don't have to be as careful with what you're eating because you usually need quite a lot of calories after all the training you've done. I guess it's just about eating the right things as well and trying to be healthy 70% of the time and then heading to McDonalds after a tough night of fencing training.
"I like to reward myself with junk food after competitions. Even before competitions, I have a friend who competes for France, the night before her finals, she'll go and eat a meal in McDonalds. It doesn't really matter at the end of the day, once you're around a competition, once you're getting in carbs, it doesn't matter if you're getting in rice or a burger or whatever."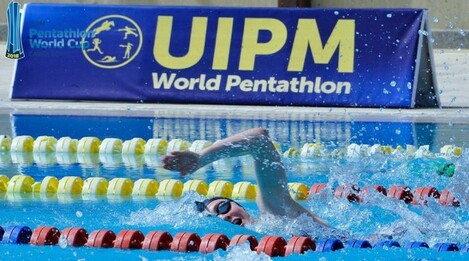 Brassil considers swimming and running as her strongest events. Source: UIPM
In addition to a passion for pentathlon, a quick scroll through Brassil's Twitter timeline underlines her interest in gender-related issues, with references to International Women's Day and the Me Too movement among other topics. Has she ever had any negative experiences in sport specifically, owing to her gender?
"I think in Ireland and our sport, the women are treated equally to the men," she says.
"Maybe it's more of a cultural thing, but we go abroad and you're always meeting different athletes from different countries. If it's male athletes from certain countries, they'll shake Arthur's hand and they'll shake our male coach's hand, but they won't shake my hand or Natalya's hand. That's kind of weird, but I'm fortunate that our mum kind of brought us up with almost reverse sexism in that she was like 'the girls are almost more important than the boys'. We were always sport mad and I always thought all of it can be for me as much as it can be for my brother or for a boy or whatever."
She adds: "I think [my parents] were secretly delighted that one of their kids was going to do something a bit different.
They knew from early on that all I wanted to do was go to the Olympics and do sport, and they knew obviously that that wasn't going to be an easy road or a quick one, but they've always been completely supportive.
"It sounds really cheesy, but [you should] do what makes you happy, because you'll do that really well — you'll do the thing you enjoy well and I've even found this year, I'm a lot happier and I'm a lot more relaxed and at ease and I'm genuinely enjoying competitions and the results are just flowing from that. Not even just for sport, but for young people in general, just try to follow a thing that you enjoy and I think you'll land on your feet."
The42 is on Instagram! Tap the button below on your phone to follow us!