Source: World Rugby/YouTube
THE VERY PRESENCE of Sophie Spence's name on Ireland's bench yesterday was a statement of intent writ large that big replacement impact was of the utmost necessity.
England men's coach Eddie Jones has attempted to rebrand his replacements as 'finishers' in recent years, but it was Tom Tierney's women who brought a very literal definition to that new moniker.
Tierney used just half his bench in seeing out an excruciatingly tight World Cup opener, yet the three forwards sent into the fray made absolute certain that their presence was felt.
Spence, the 2015 World Player of the Year nominee, ended up scoring the winning try. Ciara Griffin's hunger to carry over the gainline was insatiable and her power put Ireland back in the lead after the Wallaroos threatened to heartlessly spoil the party. In front of all that was tighthead Ciara O'Connor, getting through a mountain of ruck work along with shoring up the scrum in her 30 minutes on the field.
With the sweat dried and backroom team turning heads toward fluids and all that a four-day recovery requires, Spence spoke in the utmost professional terms after a match which seemed to cry out for her brand of physicality to match the brutally tough Wallaroos.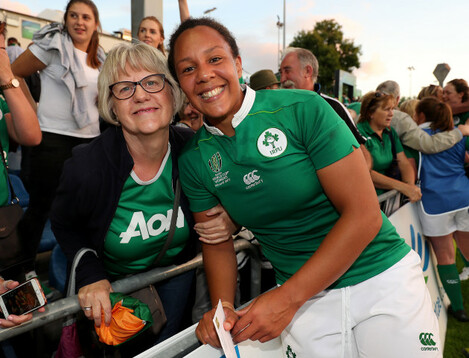 Myrtle Spence celebrates victory with her daughter. Source: Dan Sheridan/INPHO
"Everyone's always itching to get on the pitch, you want to bring what you bring to the game, but I have every faith in everyone on the pitch and in the squad to do their job. When we're at a point where I can help, I'll do that," Spence said.
The second row is philosophical about her reduced role in last night's win. She's won a Grand Slam and played through a World Cup, so she's all too aware that physical limitations exist even for players who feel at the peak of their powers on day one.
You've got to be realistic. It's a five-match tournament, you can't play every minute, you're body's not fit for it really. Everyone's going to have a bit of rotation. I'm happy with the job I did: I brought impact, I supported the girls, they supported me and I think that's the best thing we can do in the 28."
While Australia proved to be a much better-rounded and better-organised outfit than many expected, many elements of Ireland's display left room for improvement ahead of pool clashes with Japan and France. Showing the ability to dig deep is a huge positive to take away from opening night, but Spence wouldn't have argued if the game had been over by the time she crossed the whitewash.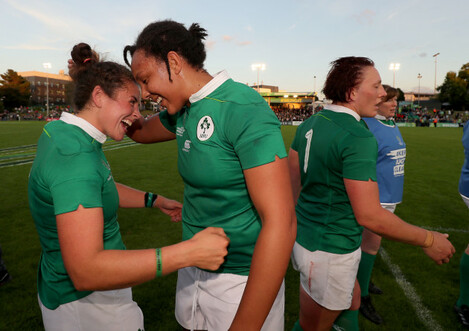 Source: Dan Sheridan/INPHO
"Hopefully we won't have to do that again," she jokes, "but it shows what resilience we have as a team. And to have each other's backs for that time period. we have intelligent players, brilliant leaders who have brought us to that level."
With around a half an hour under her belt, Spence will be among those at the very front of the queue for a starting role against Japan on Sunday.
After a thoroughly bruising meeting with Australia, bumps, bruises and fatigue will have to be gauged to determine who joins her. The use of only four replacements today at least ensures there will be nine completely unscathed bodies ready for action from the start or as 'finishers' on Sunday.
Fair dues to whichever remaining women are able to dust themselves down four days after an epic tussle and take a starting World Cup berth again. But on last night's form Ciara Griffin and O'Connor will surely be offered a chance to impact from the off and test Japan's resolve to fight an uphill struggle in this tournament.
The42 is on Instagram! Tap the button below on your phone to follow us!