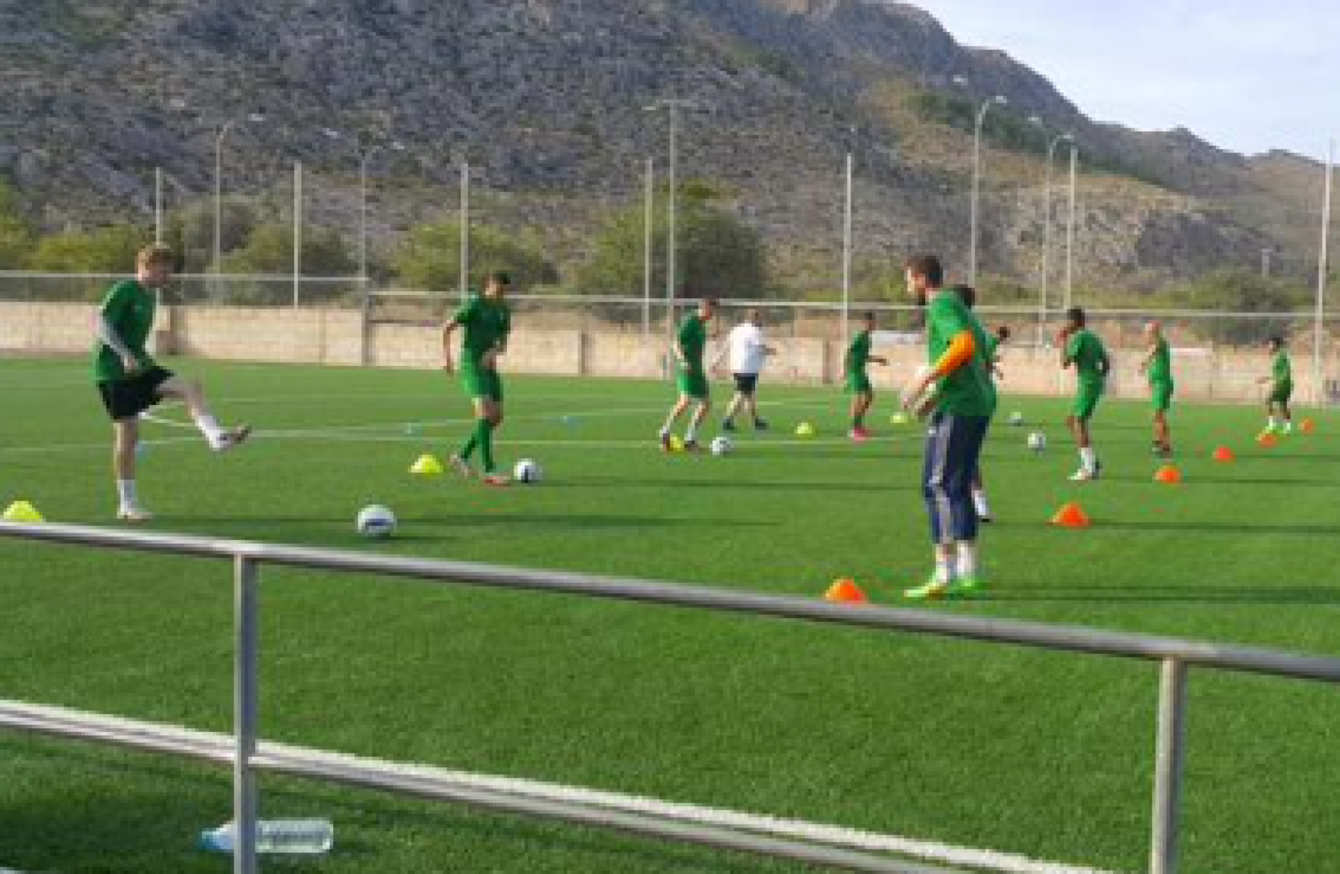 Players pictured training in the Mallorca football academy.
Players pictured training in the Mallorca football academy.
Updated at 09.25
IRISH FOOTBALL IS full of Terry Malloys. Like Marlon Brando's iconic character in On The Waterfront, anyone who has spent even a small length of time in the schoolboy soccer scene has probably heard at least one story about a supremely talented individual who "coulda' been a contender".
However, a new full-time football academy in Spain seeks to provide an opportunity for future talented Irish players who, for one reason or another, will slip through the net and go unnoticed by the top football clubs.
The academy in question is situated in Mallorca. It has been operating for three months so far and is open to players from around the world.
Michael Keane, the Dublin-born former Preston, Hull City, Rotherham and St Pat's player has been hired as the academy's Irish recruitment manager. As part of the project, Keane is forming a team of people in Ireland, which currently includes Kevin Pendergast (personal assistant), Gerard Jordan (recruitment officer), David Dunne (head coach) and Wayne Waldron (fitness coach and dietician), while he is looking to add more recruitment officers in various counties around the country to his expanding contingent.
Footballers between the ages of 16-23 are eligible to take part in the scheme, and the players are given the option of spending either one, four, six or nine-month stints at the complex.
The aspiring footballers pay a fee to join, which covers everything from food and accommodation to Spanish lessons and trips to watch top La Liga sides such as Barcelona and Real Madrid.
23 players are currently at the academy, one of whom is understood to be on the verge of signing a professional contract with a "lower Spanish club". Meanwhile, Harry Ryan, a six foot one inch goalkeeper from Limerick, who's just turned 17, is expected to be confirmed as the first Irish recruit in the coming days.
The complex includes a swimming pool, cafes and a 4G pitch, while the beach is just a two-minute walk away, and players are dropped to and from the facility daily. In addition, rather than being given set meals, the young footballers are granted a monthly food supplement as well as dietary advice.
"The Paris St Germains, the Chelseas, any of them that come over want to use our facility. That's how good it is," Keane tells The42.
Once (the aspiring footballers) pay a deposit, contracts are signed, so what happens is, we have a solicitor who basically does up the contract — one copy for the player and his family, one for myself as the recruiter and a third copy for the Spanish academy. So once you pay the deposit, your place is secure for whatever date you choose and how long you want to go for."
The academy has a number of links with the professional football world. Ross Anderson, its director, spent 12 years working at Barcelona, while his assistant Allan Milven has built up a large network of players and coaches during time involved in football all over the globe, and in Canada and the US particularly. Meanwhile, Bolton scout and ex-Premier League footballer Leon Cort is the latest person to become involved in the project.
Spanish side Mallorca, naturally, have first preference on any young player that develops sufficiently, while the people working there have already established relationships with a number of clubs, including Man City, Barnsley, Chesterfield, Ipswich Town and Celtic. If a player attracts the eye of one of these clubs, the individual in question will be offered a trial, and potentially, a professional contract.
"Do you ever hear people, when they're older, saying: 'He would have made it if he got the chance?' We worked off that basis — to give those players an opportunity," Keane explains.
Having a trial for a couple of days is not ideal. You can be nervous for the first few days — so we feel that a month at the academy gives you a realistic chance to show what you have. The season is from 1 September to 31 May, so our priority at the moment is to get them there for the start of the year.
"We've only been in Ireland for two-and-a-half weeks, but already there's big interest and it's just going to grow and grow."
One of the advantages Keane has as a recruitment manager is that he can genuinely relate to the dilemmas that all these talented teenagers must face — as a youngster, he was chased by a number of English clubs, before deciding to join a David Moyes-managed Preston side at the age of 16.
"If there's a player interested and the family wants to meet me, I can relate to the families because I've been in that situation and I'll always ask questions and things like that," he says.
Keane believes the "technical" style of football that the academy favours "might suit a lot of Irish footballers". Having spent a considerable portion of his career playing with various Ireland underage teams, Keane suggests the current coaching methods in this country, despite having improved of late, remain flawed. Irish players, he claims, "aren't getting (adequate) training at the younger ages," citing late developer Wes Hoolahan as an indictment of the system.
"A good friend of mine, Weso Hoolahan, was playing at Blackpool and couldn't even get into the team. He was a late developer, which is a problem for Ireland, to be honest.
"If you watch Barcelona and their 10-year-olds, you'd see the difference. The difference is starting them young, so they're used to it. They just do it naturally, whereas Irish players are more or less known as hard workers more so than skillful footballers."
Keane says that he ultimately hopes to establish a link between the academy and the FAI, while suggesting there is a long way to go before the standard of underage football in Ireland is at an acceptable level. And studies, which cite Irish youngsters' poor technical ability and lack of game intelligence, back up the former player's assertions.
Our coaches (in Mallorca) are fantastic on positioning — it's about what you do after the ball is released. Some players in Ireland get the ball, pass the ball and stand still. You look at the Barcelonas and the way they play — they'll outpass you, they'll outpace you, they'll outrun you, they'll do everything. It's (down to) footballing intelligence.
"There are a lot of big clubs in Ireland that have improved, but they haven't improved enough.
"It could be that we haven't got the coaches and that it's down to the training that they get. I don't think there's enough put into the grassroots of football in Ireland. The FAI should be doing more — it should be the main objective for the future of Irish football."
Keane and his team are also aiming to work with players under the age of 16 in Ireland, eradicating any bad footballing habits they may possess before potentially agreeing a deal to take them to Spain.
"There's some very good talent out there, but it never all gets seen. There are a lot of scouts in Ireland now, but the majority of them are probably housed around Dublin. Down the country, you never get any people at the matches, so you've no chance."
And the time spent in Mallorca, Keane explains, helps the players develop both as footballers and as people.
It's a great experience and learning curve for teenagers who are basically looking after themselves. It makes them grow into men.
"Some teens get away with murder with their ma and da, me included when I was younger. You'd keep doing it. But now, they've got to take that next step. So it's a phenomenal thing to do."
Keane, of course, is well aware of the vital need for footballers to develop life skills. After bursting onto the scene as an 18-year-old with Preston, his career ended in controversial circumstances at St Pat's.
After signing for the Dublin side, Keane was subsequently sacked by the club amid claims he was overweight. However, an FAI panel later ruled that Keane had been unfairly dismissed, with the player awarded a six-figure settlement in compensation as a result.
I was being touted as the highest paid player in Ireland and all this crap," he recalls. "There was a lack of professionalism at the club. You have to look after your players. One minute, they sign you, the next, they're trying to get out of the contract. You need to honour contracts — that's what they're there for.
"I was in a bad situation, they were trying to come with an accusation that wasn't true about my body weight and things like that. But I had all my results done through professional people to prove that what they were saying was completely wrong. They were just trying to get out of the contract."
Unsurprisingly, given his past experiences, Keane can find few positives when assessing the current state of the League of Ireland.
"There are no people going to the games and there's no money at any of the clubs," he says.
There doesn't seem to be a realistic plan, although the 17s and 19s leagues will help. The players that they bring in — unless they look after them the way, for instance, I was looked after when I went to Preston as a 16-year-old, they're going to end up leaving. How often do you see now —'League of Ireland club haven't paid so and so in so many months.' It's disgraceful.
"There's no proper plan. You need people with experience. It's like anything, you do it the right way or you don't do it at all. With me being from Ireland, it's very disheartening."
He also feels the inability to recognise talent early on is a serious problem for Irish football.
It kills me. I was recommending Jonathan Walters for a long while before he ended up in the Ireland set-up. I saw Mick McCarthy and I told him about Walters. I know Mick and met him at an airport and he was asking me about a certain player and I was saying: 'Jonathan Walters, you want to get him, he's going to be big.' But we're only getting a few years out of him. Wes Hoolahan, Jonathan Walters, we're getting five years out of them when we should be getting 10.
"Walters has actually been the bright spark for Ireland (in the Euro qualifying campaign). He's been the one. He's a lease of life. His attitude is spot on. He trains the same way he plays. He's a very physical player and he's the nicest player you could meet off the pitch. But he has that winning mentality. It is in a lot of Irish players. There has to be a Jon Walters throughout the team. He will work his absolute socks off.
It's like me. At Preston, I was the fittest player. I signed 17 years ago for Preston. I was back there last week. I've only turned 33. They love me still. Why? Because I gave it absolutely everything. When I came off after each match, I'd be in bits for two or three days, because I never ever stopped. You can't beat hard work regardless of what happens out there. If you run yourself into the ground for your teammates, no one can say anything other than 'unlucky'."
Consequently, Keane says that factors such as drive and work ethic are even more important than ability for those hoping to make it as professional footballers — and these characteristics will come under close scrutiny once players sign up for his academy.
We're not an agency or agents, we're basically laying on the opportunity — the players are paying fees to get that opportunity. It's a massive thing because if you speak to players and parents, they would give everything for the opportunity. And this is it, basically.
"The thought of an Irish player going on to our academy and then going on to big things, like being a top international player, would really please me. I've seen too many good players slipping through the net and not being noticed. I don't want that to happen now I've stopped playing and I want to help the Ireland team."
For more info on the Mallorca Football Academy, you can visit their website here, you can check them out on Facebook here, or you can follow them on Twitter @mallorcafa. For any queries, email: mallorcaacademy@myself.com or contact 0852858220.
Part two of our interview with Michael Keane, in which he discusses his playing days and David Moyes' influence on him, will appear on the site at 9pm tonight.