FEW CARTOON CHARACTERS divide opinion as much as SpongeBob SquarePants.
For some, he's an adorable creation full of boundless optimism with an unshakable belief in the power of the imagination.
SpongeBob SquarePants. Source: PA Archive/PA Images
For others, his annoying laugh — and that same boundless optimism — are reason enough to hate the show and to dismiss it as childish nonsense; candyfloss for the brain.
On the surface, it's easy to see why people feel this way as SpongeBob SquarePants is a show for children, created by Stephen Hillenburg, who died this week at the age of 57.
But below, in the depths of Bikini Bottom, Spongebob was a show that challenged gender norms, social constructs, and frequently highlighted the difficulties that come with wanting to life to be one way, but it's the other way.
Take SE03 EP15, The Great Snail Race.
As SpongeBob is coaching his pet snail Gary for an upcoming race he says:
"Looks like training is gonna start early, ladies. I called you a lady to humiliate and demean you. It's a motivational tool we coaches use."
The scene cuts to another part of Bikini Bottom where the show's main female character, Sandy, says:
"Hmm. I don't know why, but I think I'll kick SpongeBob's butt tomorrow."
Even a child would realise that what SpongeBob said was sexist. But that was the whole point, exposing everyday sexism for how stupid and unhelpful it is.
There are countless other examples of how Hillenburg used SpongeBob subversively.
SpongeBob's boss, Mr. Krabs, is a single father raising an adopted daughter while, in the episode Rock-a-Bye Bivalve, SpongeBob and his best friend Patrick adopt a scallop showing that kids don't need traditional families to thrive, they just need someone to love and care for them.
But, perhaps, the best example of how Hillenburg used SpongeBob to convey all sorts of messages was Frankendoodle, in which a magic pencil descends upon the unwitting residents of Bikini Bottom.
SpongeBob uses the pencil to play god, arrogantly assuming he can both bring a crude version of himself to life and control it. Unfortunately, his frankendoodle becomes too chaotic for his inventor to handle.
A bit like Jacksonville Jaguars and Blake Bortles.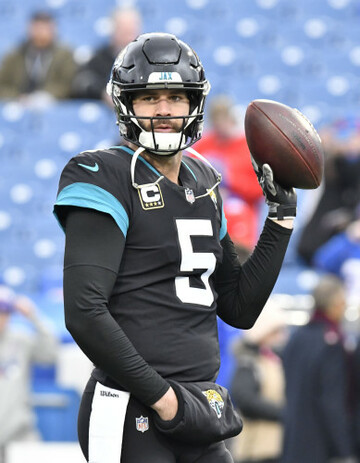 Blake Bortles. Source: SIPA USA/PA Images
Their arrogance that they could build a Super Bowl contender around a terrible QB in the face of all available evidence has finally, and painfully, come home to roost.
The former third overall pick finds himself alongside the likes of Joey Harrington and Mark Sanchez in terms of being historically bad.
But, like the Broncos' during Peyton Manning's second Super Bowl run, the Jaguars believed they could win it all as long as their quarterback played just well enough. And, to be fair, they came within a quarter of winning the AFC last year.
This offseason, Jacksonville had options to move on at quarterback. As I've written before, they're clever enough with free agency and the salary cap and they could have taken a run at any number of players from Alex Smith to Kirk Cousins.
Instead, they tried to pretend that the quarterback position didn't matter.
In a world where teams are drafting the likes of Mahomes and Mayfield, in a league where Brady and Brees still dominate, Jacksonville tried to succeed with their own crudely rendered version of a quarterback.
And, like SpongeBob, their creation came back to haunt them.
Week 13 picks (season record 108-69-2)
Sunday – 6pm (H3)
Baltimore Ravens @ Atlanta Falcons
Two teams that, at times this season, looked like playoff contenders only to fall by the wayside. If last week's performance against the Raiders is anything to go by, the Ravens can take some heart from the fact they appear to have found their quarterback of the future.
Pick: Ravens
Carolina Panthers @ Tampa Bay Buccaneers
The Panthers have now dropped three straight and it's difficult to know just how good Ron Rivera's team actually is. The Bucs snapped their own losing skid last weekend but it was against a 49ers team starting their third-string quarterback.
Pick: Panthers
Chicago Bears @ New York Giants
It's unclear if Mitchell Trubisky will return to the starting lineup this week as he continues to nurse an injured shoulder. However, if he doesn't — and I can't believe I'm writing these words — the offence is in good hands with Chase Daniel who appears to have an excellent handle on Matt Nagy's playbook.
Pick: Bears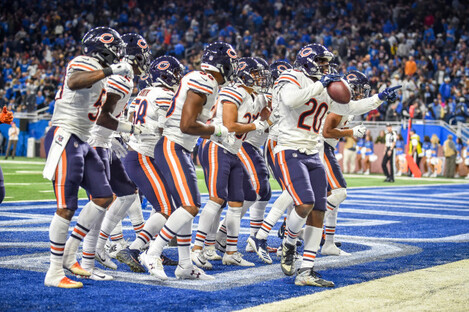 Source: Steven King
Buffalo Bills @ Miami Dolphins
Despite being 5-6 and, according to Football Outsiders, ranking 21st in defence and 23rd on offence, the Miami Dolphins still have a shot at making the postseason with just five weeks left. Which kind of shows how wild a season 2018 has been.
Pick: Dolphins
Indianapolis Colts @ Jacksonville Jaguars
The Colts are winning because the continue to keep Andrew Luck upright. In fact, the former number one overall pick has been sacked just once in his last six games. The Colts have won five of those fixtures and will make it six wins in a row this Sunday.
Pick: Colts
Cleveland Browns @ Houston Texans
Cleveland has now won two straight for the first time since 2014 which, coincidentally, is also the last time they won at least four games in one season. Houston, however, have won eight straight games and made a massive step towards the divisional title on Monday night.
Pick: Texans
Denver Broncos @ Cincinnati Bengals
I'd like to apologise to Denver for calling them a terrible team. They've shown over the past two weeks that they can live with some of the best teams in the AFC so should make light work of a Bengals outfit seemingly giving up on head coach Marvin Lewis.
Pick: Broncos
LA Rams @ Detroit Lions
After back-to-back 9-7 seasons — not to mention a visit to the playoffs in 2016 — the Lions decided to sack Jim Caldwell this offseason. Under Matt Patricia they swing from looking like the worst team in the NFC all the way up to third worst. So that's going well.
Pick: Rams
Arizona Cardinals @ Green Bay Packers
The internet would have you believe that Aaron Rodgers is on a one-man tanking mission to get his head coach, Mike McCarthy, fired. Personally, I think that's nonsense but If they drop a home game to the worst team in football, then I might start to believe the earth really is flat.
Pick: Packers
Sunday – 9.05pm (H3)
New York Jets @ Tennessee Titans
If the Titans are still suffering a hangover from beating the Patriots, then they've a great chance to recover against a Jets team that has lost five straight and seem intent on just showing up for the rest of the season.
Pick: Titans
Kansas City Chiefs @ Oakland Raiders
I was at the Oakland Coliseum on Monday night but they wouldn't let me in to have a word with Jon Gruden. Unfortunately for Raiders fans, they won't be able to keep the Chiefs outside this week and this one could get ugly.
Pick: Chiefs
Kansas City Chiefs quarterback Patrick Mahomes. Source: Kelvin Kuo
Sunday – 9.25pm (H3)
San Francisco 49ers @ Seattle Seahawks
This season was supposed to be the start of a great rebuilding project for the 49ers but, instead, the team has been decimated by injuries. Seattle — a team that was expected to struggle in 2018 — are suddenly legitimate playoff contenders.
Pick: Seahawks
Minnesota Vikings @ New England Patriots
The Vikings haven't won in New England since 2000, when Daunte Culpepper and Randy Moss were leading Minnesota's attack and Drew Bledsoe was keeping a young upstart named Tom Brady out of the lineup.
Pick: Patriots
Monday – 1.20am (H3)
LA Chargers @ Pittsburgh Steelers
Two teams who have suffered at the hands of the Broncos in recent weeks. However, only one had a quarterback spend the following week blaming everyone but himself for the loss.
Pick: Chargers
Tuesday – 1.15am (H3)
Washington @ Philadelphia Eagles
Despite losing three of their last four games, Washington still has a winning record and holds on — barely — to the last remaining playoff spot in the NFC. With Colt McCoy at starter, that's unlikely to continue for too much longer.
Pick: Eagles
– A version of this post first appeared on 29 November.
Subscribe to our new podcast, Heineken Rugby Weekly on The42, here: