1. My mother was part of a resourceful generation of working-class women who grew up with so little that they were magnificent at making something out of nothing. The older I get, the older my kids get, the more I marvel at how she kept the show on the road.
Despite rearing four children on a bank porter's wage, she always found money for new soccer boots when they were needed.
A beautiful piece by Dave Hannigan on his own blog. A must-read.
2. James McClean's refusal to turn and face the English flag as the national anthem was sang ahead of West Bromwich Albion's pre-season friendly in America was insulting, stupid and hypocritical.It was an act of defiance that asks the question, if you do not like the British so much, because that is what your behaviour suggests, why have you spent the vast majority of your career living and working in England, the country at the heart of Britain's 'colonial power'?
Luke Edwards' thought-provoking piece for The Telegraph on James McLean's decision to snub the England flag.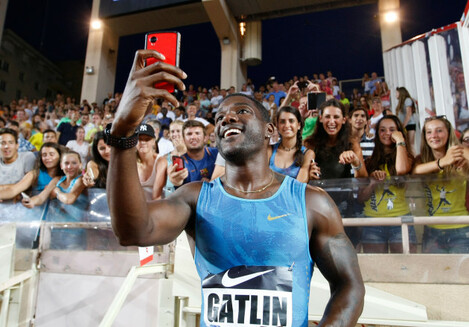 Justin Gatlin is causing disbelief. Source: Associated Press
3. The top 10 fastest male sprinters in the world stopped improving as a group by about age 25 for the 100m and 23 for the 200m. Gatlin's times and improvement are, it is safe to say, unprecedented among these groups of runners.
I have now expanded the analysis one step further. The following two graphs show the "age progression" of the 10 fastest sprinters, male and female, at 100m, 200m and 400m. Here the curves show the average times of these 10 sprinters for each age.
In a data-heavy article for Sporting Intelligence, Roger Pielke Jr. outlines why 33-year-old Justin Gatlin's sprinting performances are literally incredible.
4. It is just after 10am, a few rays of sunshine are breaking through the clouds and Swansea's players are beginning to sweat as pre-season training gets serious. "Push to the line, all the way," Monk shouts. "Don't sell yourselves short."
There are four double sessions a week during the start of pre-season and today is one of them. Training in the morning is fitness-orientated and the afternoon drills revolve around the ball. During the four-hour break in between each session many of the players get their heads down at the training ground … in an inflatable hotel room.
Stuart James' excellent piece for The Guardian provides insight into how Premier League side Swansea manage their pre-season.
Vern Cotter has called John Hardie into his Scotland squad to much criticism. Source: Cathal Noonan/INPHO
5. The breathtaking cynicism that abounds in modern sport can be summed up in a single job title: International Resettlement Adviser for the Scottish Rugby Union.
Among the key accountabilities listed on the job description are "To advise and assist Scottish Rugby with the identification, recruitment, relocation, resettlement and integration of professional rugby players, coaches and other employees (and their families, as required) from overseas, particularly those from the Southern Hemisphere."
As the debate around international eligibility rules in rugby rumbles on, The Telegraph's Daniel Schofield looks at Scotland as a pertinent recent case study.
6. Now, McClean's politics might not be to everyone's taste, and nor might his methods of expressing them. But in an age when footballers are becoming increasingly anodyne, there is something refreshing about one who believes in something; anything. Not that you know it from the furious reaction.
One of the great things about social media is that it allows you to find out what idiots are thinking without actually having to talk to them, and sure enough McClean's gesture provoked the sort of anger that the internet has turned into a performance art.
As a counter-point to the above piece on McLean, The Telegraph's Jonathan Liew says the level of criticism has been absurd.
7. ESPN president John Skipper has said that he is committed to keeping Grantland alive and untouched, but staffers feel otherwise. Right now, Grantland continues to plug along, but without its fearless leader and the man who helped bring the site to fruition, it faces a rather uncertain future.
A short piece by Ken Fang on the future of Grantland after the loss of Bill Simmons.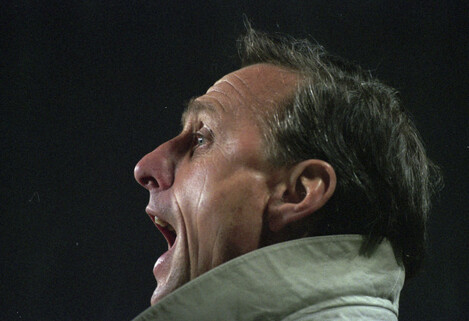 A great of the game, but is Cruyff a fading force? Source: Associated Press
8. Cruyff decided Overmars was buying too many players instead of promoting youngsters. No matter that Ajax can afford to buy: it is Europe's most financially secure club, according to the financial information provider S&P Capital IQ, with nearly €87 million in the bank.
No matter, either, that the many homegrown kids in the first team don't look like world-beaters.
Simon Kuper, writing for ESPN, details how the legendary Johan Cruyff is fading on the sidelines.