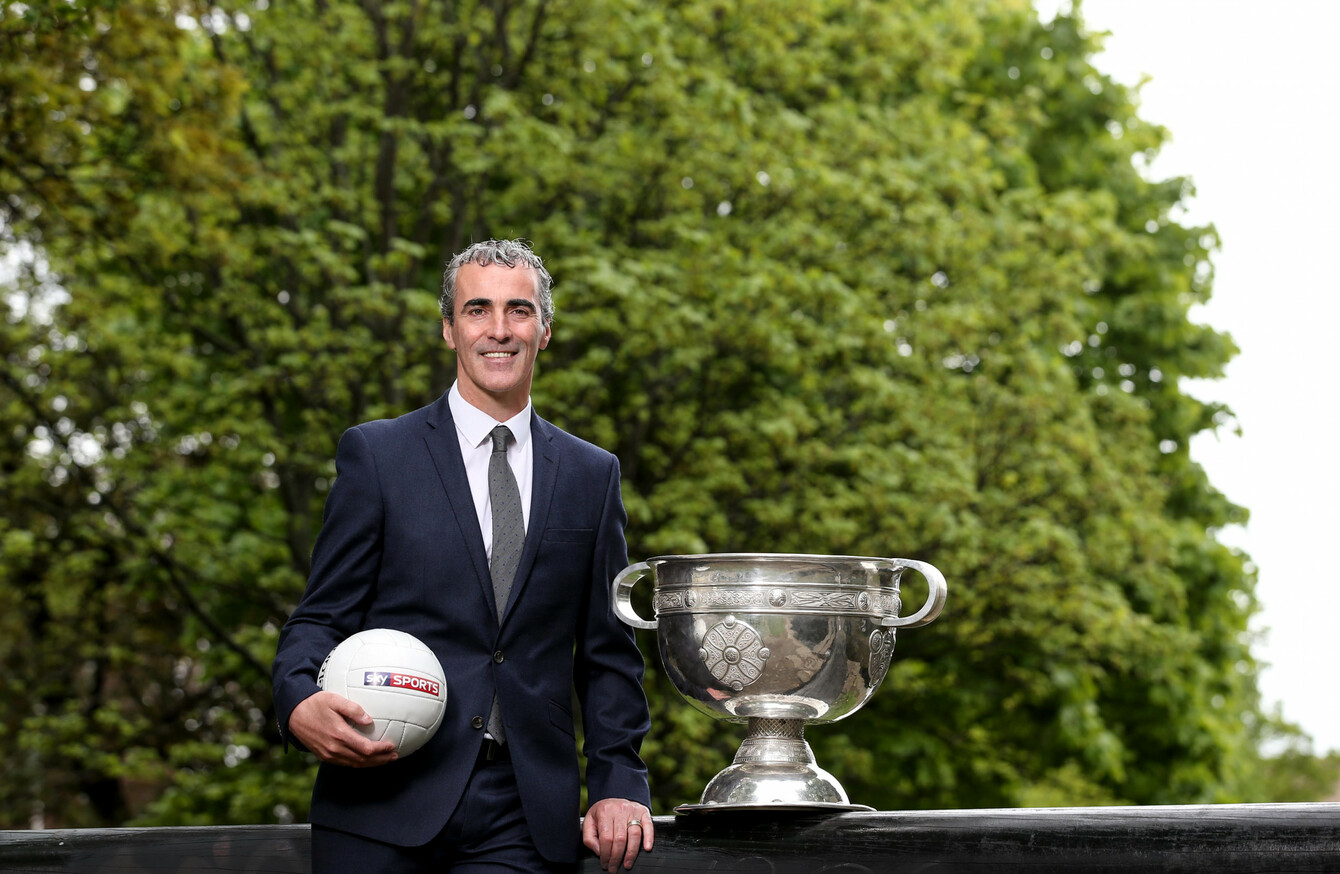 McGuinness.
Image: Dan Sheridan/INPHO
McGuinness.
Image: Dan Sheridan/INPHO
1. Needless to remark, you were in Rome/Geneva/Disneyland Paris to meet some sporting luminary who has noticed you from afar like a lonely sheep farmer at a dance would long after a local maiden, and you spent several hours in their company exchanging stories of how insightful each of you are before you were ferried off to a conference on sports performance where some random (but very inspirational) non-athlete was the lead speaker. (E.g. Bear Grylls, Neil Armstrong or Grover from Sesame Street)
Great minds like yours are often sparked into long rambling anecdotes by some small external agent that would be overlooked by a lesser mortal, such as the way in which the pilot drives the plane but is also part of a team or some such nonsense.
We don't want to write the article for you but something like "As I was sitting waiting for my connecting flight from Murmansk to Bilbao where I'd just met Gerard Houllier for a cheeky Stella Artois after a conference at which the Dali Lama was the key note speaker, I couldn't help but admire the way the bar tender followed a long established process for cleaning the brass bar top on which our beers sat as I gazed down to catch a reflection of my deep piercing eyes"
Over on askmetank.wordpress.com, they've trawled through Jim McGuinness' Irish Times columns to show you how to write a GAA article like the Donegal football legend in four easy steps
2. That summer changed my life and my career. 
Because that's also when I first met Romário. He was obviously someone who I grew up watching as a striker, and between him and Zico, I just thought, That's what a player looks like, on and off the field. When I got to camp that summer, Romário was always so attentive to the younger players … especially me. Maybe because we were both strikers, or he saw in me the same dedication and drive, I don't know. But there'd be so many times after practice that we'd just talk. It was weird, but I felt like he saw the sport like I did: That it could be this evolution, a series of steps that you'd take until you could make the next one. And the next one. Until you were the best of the best.
And the next step, he told me, had to be Europe.
One of footballs all-time greats, the story of Brazilian Ronaldo is told in his own words on The Players' Tribune
3. He was wearing a white T-shirt and dark shorts. His body, which a coroner measured at 6′ 5″ and 236 pounds, hung suspended from a half-inch-thick white rope. Judging by the state of him, he had died several days before—perhaps on Sunday, the last time he was known to be alive. He left no note for his wife and two young daughters, and though his computer was set to Japanese, a deputy determined that no document had been recently created. No one suspected foul play. "The manner of death is suicide," concluded the autopsy report, filed two mornings later. Fourteen Julys after he had debuted on the mound at Yankee Stadium in front of 52,000 fans, and nine years after he'd thrown the last pitch of a major league career that had tailspinned from promising to punch line, Hideki Irabu, 42 years old, had died desperately alone.
Sports Illustrated's Ben Reiter on the complicated life and death of former Japanese baseball player Hideki Irabu, who died in 2011 
4.There has been a lot of talk about supporting athletes post-retirement for mental health and, right now, I need that support. I am feeling lost and with no direction, no purpose, no career, no identity and who the hell do I go to? I want to provide for my family, to be a strong role model and feel like I belong somewhere and be part of a team again. Mentally, I am not sure I can cope with more rejections, more obstacles, more feeling like I am losing. I don't know where to turn.
I know sport and I know athletes. I have lived it, breathed it, been part of PR campaigns, ambassador for brands. Yet some hungover idiot told me to go and get a marketing diploma and couldn't give a crap that I was there trying to convince him that I would be a valuable asset to his sports marketing team. Some people don't reply to my emails or messages and take two to three weeks to get back to me. All normal in the business world apparently, but to someone who is panicking and worried about next month's bills, it's two to three weeks too long.
British Olympian Gail Emms gives her brutally-honest thoughts about the struggles that retirement brings on The Mixed Zone
5. London in 2017, fuelled by the City's influence in the world's financial markets, is a global destination for big business, tourists and economic migrants. It is a city apart from the rest of the country, one in which property prices continue to climb to levels unaffordable to most.
Back in the 1970s and 1980s, London was still littered with bomb damage from the Second World War, but now the building works on new stadia only mirror the forest of cranes that already fill its skies, projects of regeneration and gentrification.
While much of the rest of Britain bears the scars of economic crises in the early 1980s and 1990s and, most recently, the global crash of 2008, London gets richer and richer, though inequalities also widen. The working class populations that once filled grounds in the old First and Second Divisions have been pushed out to the suburbs and beyond.
Within football, the past quarter of a century has been a time of snowballing modernisation, from the dawn of the Premier League in August 1992 right through to today's multinational super-clubs attracting global audiences and collecting £8 billion in TV revenues.
John Brewin of ESPN asks: Is London football losing its soul as clubs move home? 
6. Every reporter in Dallas has a great story about Jerry Jones. My favorite comes from Dale Hansen, the Channel 8 sports anchor and survivor of the Ron Burgundy era of local news. One night at training camp years ago, Jones and Hansen decided to go for a beer. First, Hansen had to deliver his late sports report to viewers back in Dallas.
As the sportscast began, Hansen spoke into a camera while Jones stood a few feet away, just out of the shot. Hansen loves slashing commentaries. And that night, he decided to launch into one about Jones. Hansen remembers calling the Cowboys a "Mickey Mouse" operation.
It's not every day the NFL's most powerful owner watches his evisceration live and in person. But when the newscast ended and the TV lights dimmed, Jones didn't storm off. He looked at Hansen and said, "You want to go grab a beer?"
Jones is being inducted into the Pro Football Hall of Fame this weekend because he won three Super Bowls and became a singular figure within the NFL. But his relationship with the media is — to borrow a Jerryism once lavished on Tony Romo — a meer-a-cle. Jones talks to reporters more than any owner in the league. The reporters interrogate him, make fun of him, and occasionally light him up, Hansen-style. Then Jones reappears the next day, apparently no more wary of the press than before.
In The Ringer, Bryan Curtis on how Dallas Cowboys owner Jerry Jones became God's gift to the sportswriters 
The42 is on Instagram! Tap the button below on your phone to follow us!