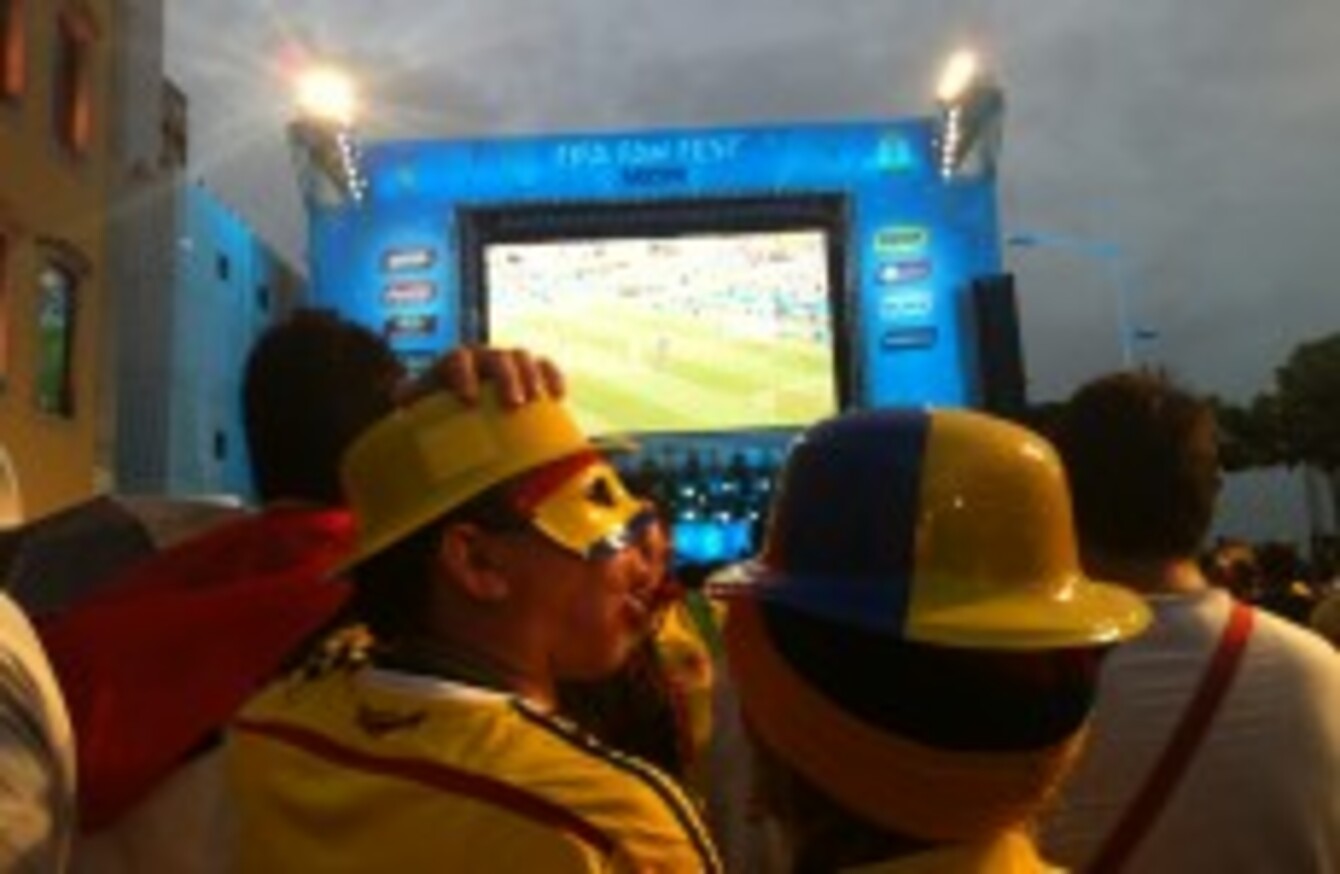 Image: Mikey Stafford
Image: Mikey Stafford
Mikey Stafford reports from Recife
MAYBE THEY WOULD have braved the elements for a first choice Colombia team, but there they sat in the shopping centre food court waiting for their beloved "Los Cafeteros" to kick off against Japan.
The Recife fan fest was yards away, they would not even have had to walk — three escalators would have carried them out into the square — but Jose Pekerman had made eight changes for their final Group C match and they were happy to sit nervously in their red, yellow and blue wigs, among the dining Brazilian families.
Outside in the rain it was all kicking off.
Colombia will not play in Brazil's easternmost city and could only have done so in a second round game this Sunday if they had finished as runners-up in Group C. From the moment they riddled Greece in their first game that never looked likely, yet the fan fest was packed with nervous Colombians mingling with relaxed Mexico fans, who had seen their team secure their passage at Arena Pernambuco 24 hours earlier.
The sizeable clusters of Japanese could be explained by the fancied Asians playing their opening game in Recife before fatally drawing with Greece in nearby Natal, yet no one could offer an explanation for the huge numbers of Colombians, neither in the fan fest nor the nearby food court.
"We are trying to colonise Brazil," was one jubilant gentleman's reasoning after watching James Rodriguez inspire Colombia to a 4-1 win over a technically proficient if unthreatening Japan in Cuiaba.
Be part
of the team
Access exclusive podcasts, interviews and analysis with a monthly or annual membership.
Become a Member
Another explanation might be the cheap flights available between his homeland and Recife, northern Brazil's hub airport.
The hordes did not bring the weather with them. Even after our hearty lunch of meat skewers, beef sandwiches and cheese pastries we were stood in front of the big screen, shivering in the wind and rain.
To take our minds off the weather we danced, we cheered and we drank the cans of beer being sold out of ice-filled shopping bags by entrepreneurial teenagers.
Good Friday
To the howls of those behind them some soft souls tried to open their umbrellas. The wind instantly snapped the brollies out of shape, to the cheers of those behind the same soft souls.
Stood in the elements, drinking cans and watching sport in a town square. A fan fest in these conditions gives us a glimpse of what we would all be doing if the All-Ireland finals were played on Good Friday.
Eventually the rain gave way to goals and, surrounded by our new South American friends, we exulted at Juan Guillermo Cuadrado's penalty and slapped our foreheads as Shinji Okazaki was allowed to head home with the last touch of the first half.
The interval gave more entrepreneurs, of the juggling variety, an opportunity to earn some of our spare change but Colombian nerves were still on edge. If we had ventured back to the food court we might have seen pizza slices pushed away by anxious wig-wearing fans. Safe from the elements but too nervous to eat.
For Pekerman's men to surrender top spot in the group Japan and Ivory Coast, playing Greece, would have had to win by margins large enough to overturn the four-goal advantage Colombia held over the African side.
Even when the rain stops football fans — including supporters of teams who are good at the game — struggle to adopt a sunny disposition. The calmest people in the crowd were two ladies in yellow ponchos sat with a quiet brown dog, but that may have been because they had no view of the screen from their camping chairs.
Be part
of the team
Access exclusive podcasts, interviews and analysis with a monthly or annual membership.
Become a Member
Not long after the jugglers had put their batons and lighter fluid away Rodriguez had laid two goals on a plate for Jackson Martinez, before the Monaco man himself completed the rout with a delightful jink and dink.
By the time 43-year-old Faryd Mondragon replaced David Ospina in goal to become the oldest player in World Cup history it was raining again. On a changeable day in Bairro do Recife beer was now falling from the sky as the Colombian invaders toasted their progress to a second round encounter with Uruguay in the Maracana.
In the food court they may have been ordering celebratory ice creams but out in the fan fest one man was contemplating a trip to Rio de Janeiro.
"I will have to ask my bank account," he said, as beer rained down upon him.
Be part
of the team
Access exclusive podcasts, interviews and analysis with a monthly or annual membership.
Become a Member