Updated Nov 18th 2018, 8:49 AM
THE WORLD LOST one of its great creative minds this week when Stan Lee died at the age of 95.
As a writer, editor, and publisher, Lee was responsible for iconic characters such as Spider-Man, Thor, Iron Man, Black Panther, the X-Men, and the Fantastic Four.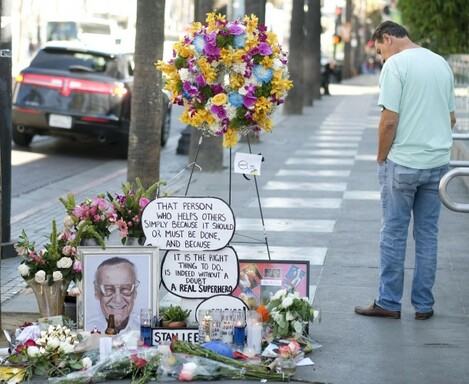 Tributes were paid to Stan Lee this week. Source: Ringo Chiu
But earlier this year, Lee needed a real life superhero after one of his dogs, a mini Pomeranian by the name of Charlotte, went missing.
When the dog failed to return home after a few hours, the comic legend's family canvassed his Hollywood Hills neighbourhood and posted 'lost dog' flyers everywhere.
After a few days passed with no leads, Lee was said to have resigned himself to the fact that Charlotte was gone for good.
At the same time, a mile away, NFL Hall of Famer Jim Brown and his wife, Monique, found a terrified white dog with no collar in their front garden.
Brown, of course, made his name as the Cleveland Browns' running back; the sort of nominative determinism you'd expect from a Marvel character.
His statistics with the Browns are incredible. Sent to the Pro Bowl in each of his nine seasons in the league, Brown dipped below 1,000 rushing yards just twice — in his debut season and in 1962 when he fell four yards shy. It was the only year he was not named as a First Team All-Pro.
Over the course of his career, he averaged 104 yards per game, though that dropped dramatically to 60 yards in each of his four playoff appearances. Unsurprisingly, the Browns lost all four.
Jim Brown. Source: Rich Graessle
Brown, along with Bobby Mitchell and Leroy Kelly, are the only Browns running backs enshrined in the Pro Football Hall of Fame.
And while there's more chance of Earth opening a portal to Asgard than him wearing a gold jacket, it is another Cleveland running back, Peyton Hillis, who remains the only Browns player to grace the cover of Madden.
You probably only have a vague recollection of Hillis, and I don't blame you. A perennial back-up to Darren McFadden and Felix Jones at Arkansas, Hillis totalled just 960 rushing yards in 44 collegiate games.
Surprisingly enough, he was drafted by the Denver Broncos, though not until the seventh round as the 227th (of 252) pick.
In 26 games with the Broncos, Hillis managed fewer than 400 yards and, in 2010, found himself in Cleveland following a trade that moved Brady Quinn in the other direction.
In his first season with the Browns, he exploded; running for 1,177 yards (41.5% of his career total) and 11 rushing touchdowns (48%).
The remarkable thing about Hillis ending up on the cover of Madden a few months later is that he wasn't the rushing leader that year. In fact, no fewer than 10 players had more ground yards than Hillis, and five players had more all-purpose (rushing and receiving yards).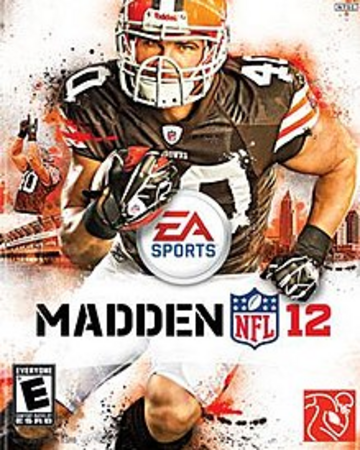 Source: Wikipedia.
But that didn't put fans off and, to this day, Hillis remains the only player to grace the cover of Madden without either a trip to the Pro Bowl or a First Team All-Pro selection on his record.
But with great power comes great responsibility and Hillis's descent from hero to nobody was quick and painful. Despite his efforts in 2010, the Browns won just five games which resulted in the sacking of Eric Mangini. Pat Shurmur was the new head coach and his West Coast offence does not suit fullbacks.
Over the next four years with Cleveland, Kansas City, and the New York Giants, Hillis played just 14 games, rushing for 1,258 yards and six touchdowns. By the start of the 2015 season, on the advice of doctors following a number of concussions, his career was over.
Because of the acute angle of his descent, Hillis is often held up as the perfect example of the so-called Madden curse. But I'd argue — given the quality of players he beat out to get there — he was exceptionally lucky to get on it in the first place.
Oh, and speaking of luck. After emailing their residents' association about the dog they'd found to no avail, Jim Brown and his wife took her to a local vet who found a microchip. However, it was unregistered.
Undeterred, they reverted to an old-school postering campaign and, on their rounds, found Lee's posters, called the number and Charlotte was soon reunited with her owner.
So while Cleveland has long a history of unhappy endings, at least Brown could provide a happy one for Lee.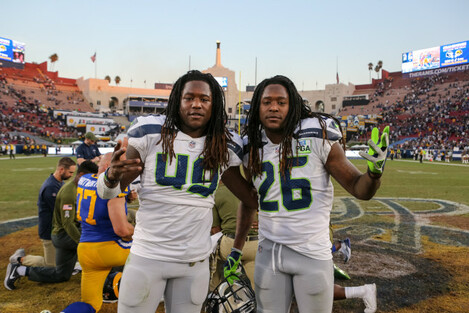 Seahawks' Shaquem and Shaquill Griffin. Source: SIPA USA/PA Images
Week 7 picks (season record 88-58-2)
Sunday – 6pm (H3)
Cincinnati Bengals @ Baltimore Ravens
The Bengals' reaction to last week's humiliation at the hands of the Saints was to fire defensive coordinator Teryl Austin, replace him with head coach Marvin Lewis, and then hire specialist in failure Hue Jackson as an advisor. As a strategy it's certainly interesting.
Pick: Ravens
Dallas Cowboys @ Atlanta Falcons
You'd need a degree in psychology to figure out these two teams. Atlanta's recent win streak came to a shuddering halt at the hands of the Browns while Dallas bounced back from humiliation at the hands of Tennessee to defeat the Super Bowl champions last weekend.
Pick: Falcons
Tampa Bay Buccaneers @ New York Giants
We've never seen a performance like the one Tampa put in on offence last weekend, gaining 500 yards but scoring just three points. The Giants are showing a little bit of fight in recent weeks, taking them out of contention for the number one overall pick but not achieving very much else.
Pick: Bucs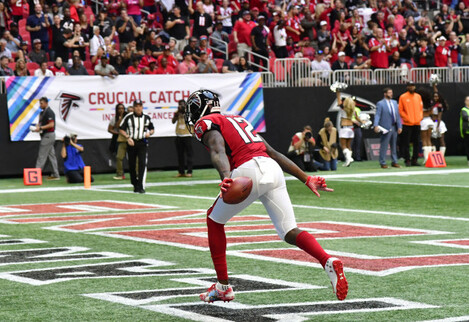 Atlanta Falcons wide receiver Mohamed Sanu. Source: UPI/PA Images
Pittsburgh Steelers @ Jacksonville Jaguars
The Steelers are probably the second best team in the AFC, have won five on the spin and just laid 52 points on the Carolina Panthers. Jacksonville's loss to the Colts last week probably put paid to their playoff hopes. And yet… this has all the makings of a trap game.
Pick: Jaguars
Houston Texans @ Washington
Washington has played nine games this season that have, remarkably, not featured a single lead change. If I was Bill O'Brien, I'd take the opening kick-off and kick a field goal as soon as I got within range — regardless of down — to take the win.
Pick: Texans
Tennessee Titans @ Indianapolis Colts
Both these teams need a win to keep pace with the Texans at the top of the AFC South but this division might produce a wildcard team come the postseason anyway. Tennessee's win over the Patriots was impressive, but the Colts have won 16 of the past 19 meetings between the two.
Pick: Colts
Carolina Panthers @ Detroit Lions
Despite their shellacking at the hands of Pittsburgh last week, Carolina are a dangerous football team and one that will easily account for a Lions team already thinking about next season.
Pick: Panthers
Sunday – 9.05pm (H3)
Denver Broncos @ LA Chargers
The Chargers may not have the flair on offence as the Chiefs or Steelers, and may not have the experience of the Patriots, but they could well be a more complete outfit than all three. Denver have limped along to another nothing season and are unlikely to cause much of a fuss in this divisional match-up.
Pick: Chargers
Oakland Raiders @ Arizona Cardinals
Imagine actively choosing to watch this game, a fixture where it suits both teams to lose in order to secure better draft position.
Pick: Cardinals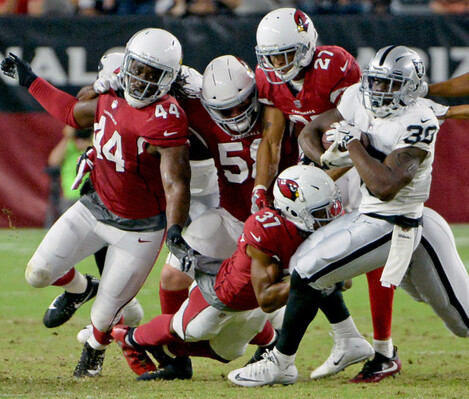 The Raiders and Cardinals won't be a great affair. Source: UPI/PA Images
Sunday – 9.25pm (H3)
Philadelphia Eagles @ New Orleans Saints
Before the start of this season, I felt the Eagles were an even better team than the one that won the Super Bowl last year. Statistically, their offence is better but they just can't seem to keep their players healthy on defence.
Pick: Saints
Monday – 1.20am (H3)
Minnesota Vikings @ Chicago Bears
The NFC North goes through… Chicago; just like everyone expected. The Bears have a chance to take a massive step towards winning their division as they take on the second-placed Vikings. This Minnesota defence will pose questions that Chicago is more than capable of answering.
Pick: Bears
Tuesday – 1.15am (H3)
Kansas City Chiefs @ LA Rams
This game between two 9-1 teams was due to take place at a neutral site giving it the real feel of a Super Bowl preview. Despite the move back to LA, would anyone be shocked if these two provided the best game of the season and ended up meeting again in February?
Pick: Chiefs
Subscribe to our new podcast, Heineken Rugby Weekly on The42, here: