Reproduced with permission from Action81
The fundamentals
I'm going to tell you a few things before we get philosophical. Some of these are obvious, some aren't, and some might seem downright odd. All of them are necessary.
Vaseline up your feet
We getting straight to the icky stuff and believe me this isn't the worst. No matter what quality footwear you have, there's going to be some level of friction between your foot and whatever it touches. Preventing blisters during the race is vital so rub plenty of Vaseline on the soles of your feet before putting on socks or shoes.
About those socks and shoes
Ideally you will have a decent pair of runners you are comfortable with and some good socks. If you don't have the former, well it's too late, but going to Amphibian King in Bray can fix the latter.
I walked 500 miles in 2009 in special socks I bought there and I suffered a total of one blister in the whole month walking. You only need to survive a day. Be smart, get good socks.
Put plasters over your nipples
You've probably heard of athlete's foot, well athlete's nipple can be really irritating. Friction again is the issue here.  Not to get overly icky but the cold weather will make this a nasty problem. Putting plasters on before you start will save you a pair of bloody and painful memories. Just to be clear, I meant regular Band Aids or Elastoplast one, not blister recovery ones like Compeed. The latter would be a bad idea.
Sip don't gulp
Eamon Coghlan, former world champion over 5,000 metres, is the source of this little nugget. Essentially when you pick up water along the way don't give into the urge to have large mouthfuls, or indeed regular sized mouthfuls.
Remember your body is in a mode where it's in an athletic activity not in cafe/pub mode. Take a bunch of tiny sips. It's just as effective and far kinder to your innards.
See that pub over there, go to the toilet in it
The biggest rookie mistake, one I was guilty of back in 2000, is thinking the only toilets are the portaloos you see at certain spots. Every pub, let me emphasise this, EVERY PUB on the course is a toilet.
Go in, don't feel bad about it, don't ask staff for permission, just go in and do it. They are expecting you, they won't put up a fight, indeed one or two will act as impromptu stewards and direct you towards the bog.
Keep calm and carry on
You may be worried about whether you will finish, or your time, or well anything. It's more than likely going to be fine. I am much bigger than the vast majority of people reading this column and in four of the eight marathons I've completed, I was nowhere near properly prepared.
Literally put one foot in front of another
If you aren't a regular runner or jogger you probably won't be too sure of what you're doing. You'll find that you'll find the pace comfortable if you jog by taking tiny paces literally just in front of each foot every time and not extending your stride. It takes a while to get used to but trust me you'll keep a constant pace for longer.
Those of you who plan on walking rather than jogging should walk at a comfortable and reasonably brisk strolling pace. Power walking may feel effective but that's only because it hurts, you'll end up over-exerting needlessly and slowing up. I know this first hand, having done a fair bit of damage talking this approach in 2006.
Listen to your body
If you feel an ache, slow down. If you are finding it hard to maintain your pace, slow down. If anything seems to be amiss, slow down. The vast majority of problems will be solved by slowing down. I'll deal with the wannabe speed merchants later. For the rest of you just slow down.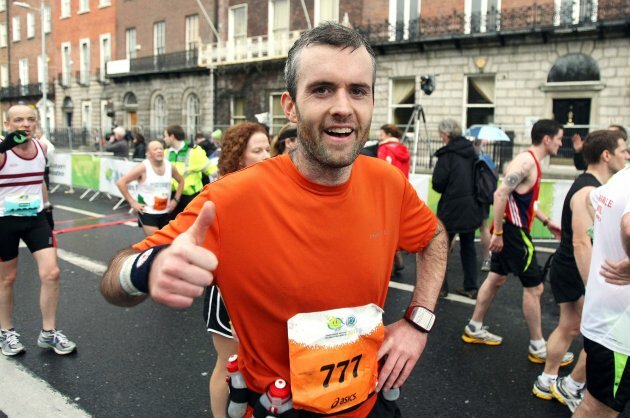 Off The Ball presenter Eoin McDevitt after last year's race. Pic: Inpho
Know the course
I've completed four of the last five Dublin City Marathons and there have been no drastic changes to the course in that time. Here are the areas you need to keep in mind. For the most part the course is flat and easy on participants but try to conserve energy at two particularly challenging points.
- The hill at Chapelizod: When you come out of the Phoenix and cross a bridge. A short while after that comes the single most energy sapping climb of the race, just shy of the nine-mile mark.
- Three miles of torture: While the climb at Chapelizod is steeper, the stretch from the 18-mile mark to the 21 mile mark is the toughest part of the course. It goes from Milltown Road, through Clonskeagh, up Roebuck Road, to Foster's Avenue. Most of that stretch is uphill and will tire you out. It's important however not to over-accelerate on Foster's Avenue. That's a steep downhill likely to be covered in water bottles from the station nearby, so you need to make sure you don't trip.
No, that really is a bad idea
Most of you should be fine if you pay attention to half of what's above, especially the Vaseline and plasters bits. This part is for those of you who still think you can't learn something from a guy who has finished eight of these and walked 500 miles in 4 weeks with a 13kg load on my for the whole of it.
If you are worried about your time don't speed up. The best case scenario is you'll vomit on the road. That's not just far from classy, it's also going to make continuing quite difficult. Last year a friend of mine's father ended up in an ambulance because he got overly ambitious. My friend finished a few minutes behind him but in much better shape. Don't be an eejit. Listen to your body and stay in one piece.
It's not over until you're in a bath
A final word of advice. When you get to the finish line try to keep moving. Yes it will be great to be finished and you'll want to rest but seizing up is nasty.
Stay mobile, even pacing on the spot, until you are either in some form of transportation home or, if you plan on walking home, until you get in the door. Head straight for a bath and then chill out.
It's 26 miles and 385 yeards. You will enjoy the day, the crowds will make sure of that, and you can totally lord it over your friends afterwards.
Be sensible, take it easy, and look after yourself.