ALL BLACKS HEAD coach Steve Hansen says there were several refereeing decisions in their win over Ireland that his team could justifiably complain about.
The widespread perception in Ireland after the 21-9 victory for the Kiwis was that referee Jaco Peyper and his television match official Jon Mason had made a number of poor calls in New Zealand's favour.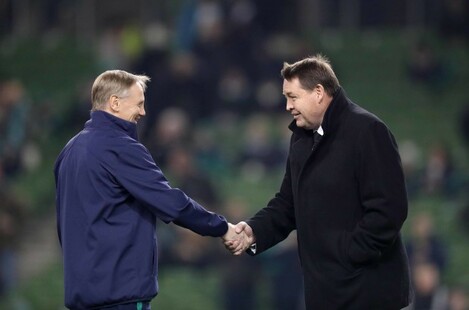 Hansen shakes hands with Joe Schmidt before the game. Source: Billy Stickland/INPHO
However, having reviewed the game this morning, Hansen suggested that the All Blacks were hard done by in a number of cases.
The Kiwi boss said he agreed with the yellow card dished out to Malakai Fekitoa for his high tackle on Simon Zebo, and also argued that the correct decision had been made in the incident where Sam Cane's high tackle concussed Robbie Henshaw.
The All Blacks gave up 14 penalties in total, with Ireland conceding just four.
"It was a good Test match by both sides and plenty of attitude from both teams," said Hansen. "Obviously the discipline has gotta improve. The Rob Henshaw tackle was a head clash. I just reviewed it again there this morning and they have collided heads.
It wasn't a high tackle, so he was knocked out as soon as they knocked heads, but Mala [Fekitoa]'s one was high. He just needs to have a look at that. It's clumsy and it's not the way we want to play. He will be spoken to but it was a physical Test match.
"That's what you expect when you get two good sides playing each other. There was plenty of things on both sides. There was neck rolls and all sorts of things going on that were missed and that we could sit and complain about, but when you get a physical Test match you get a physical Test match and that's what it was.
"No quarter asked and no quarter given."
Asked if he was surprised at the scale of outcry around the match officials' performances yesterday, Hansen pointed out that the likes of Peyper have an exceedingly difficult job.
Hansen felt the refereeing was poor on both sides. Source: Dan Sheridan/INPHO
"It doesn't surprise me," said Hansen. "It's a tough game to ref. They're human and they're going to make mistakes. You just hope they make them consistently."
The All Blacks move on from Dublin this morning, destined for Paris and a clash with Guy Noves' France side.
Hansen was encouraged by the attitude of his players in bouncing back from their first-ever defeat to Ireland in Chicago two weekends ago, and pointed out that the squad will have learned a huge amount from the two Tests against Joe Schmidt's side.
Well, they're a young side," said Hansen. "As everyone knows, we lost a lot of experience after the World Cup. Northern Hemisphere rugby is different to Southern Hemisphere, it's a lot more non-compromising and physical, and very much a hard grind up front.
"The environment causes that, it's not always nice and dry and there's a bit of snow about occasionally, it creates a different animal and a different beast.
"The games aren't as free-flowing, you've got to grind them out and it's been good for this group to go through some of that and feel what that feels like, and then find an answer for it."
There had been much discussion after last year's World Cup about a perceived gap in quality between the Northern and Southern Hemisphere sides, but Hansen never bought into the theory.
Hansen shakes hands with Garry Ringrose. Source: Dan Sheridan/INPHO
He feels recent weeks have underlined the fact that the best teams in the world are all separated by fine margins.
"I don't think there's any gap between the top team and you can go down eight or nine slots," said Hansen. "If you have a bad day, you are going get hurt. Ireland, England and France are good sides. Wales on their day can hurt you and Scotland have already shown what they can do.
We can get carried away with the scoreboard at times but it's not really relevant because what happens one day doesn't necessarily happen the next. Everyone is striving to be better and that is great for the game of rugby.
"If we can have real competition among the top eight or nine teams in rugby, then it's good for the supporters and it makes us all get better."
The42 is on Instagram! Tap the button below on your phone to follow us!