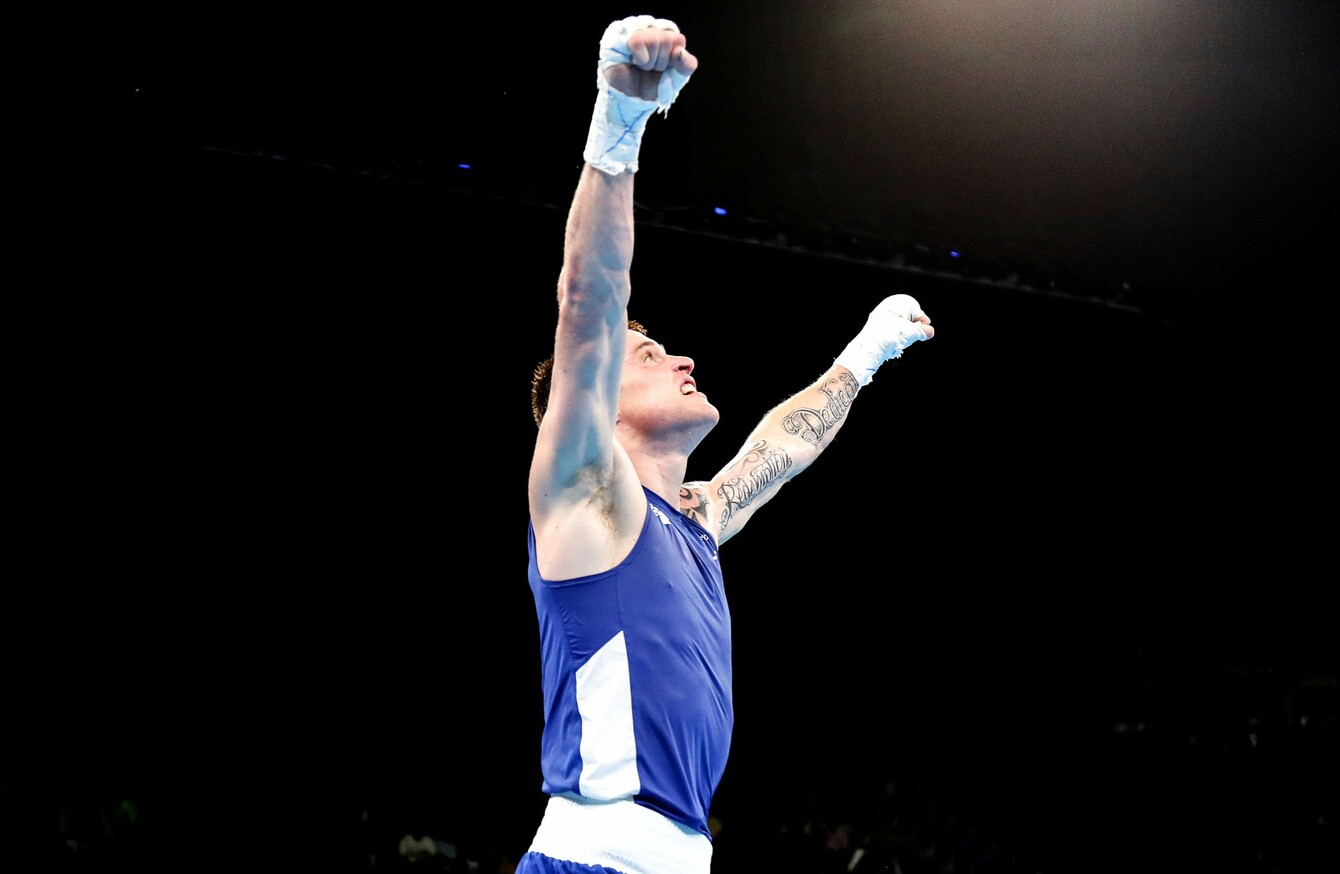 Donnelly: boxes for the guarantee of an Olympic medal on Saturday afternoon.
Image: Dan Sheridan/INPHO
Donnelly: boxes for the guarantee of an Olympic medal on Saturday afternoon.
Image: Dan Sheridan/INPHO
– Niall Kelly reports from Riocentro, Rio de Janeiro
STEVEN DONNELLY BATTLED his way into an Olympic medal showdown — and dedicated his win to Ireland's boxing coaches.
Donnelly came out on the right side of a slugfest against Mongolia's Tuvshinbat Byamba and edged a split decision in the welterweight last 16.
Reigning world champion and top seed Mohammed Rabii now stands between the Ballymena fighter and the guarantee of a medal in Saturday's quarter-finals.
The win was a timely lift for the Irish team, whose preparations have come under scrutiny after a glum few days in which three boxers crashed out and Michael O'Reilly was sent home in disgrace.
Meanwhile, former high performance chief Billy Walsh has already collected his first medal of the Games with the USA men's team.
But Donnelly was quick to defend Ireland's coaching trio of Zaur Antia, Eddie Bolger and John Conlan.
"We needed that. In the last few days, things haven't gone our way and the pressure was on Zaur and the coaches.
But as I said all along, these lads are world class coaches and they deserve all the praise they get.
"I did that for them."
Two ringside judges had the scores level between Donnelly, 27, and the dangerous Byamba heading into the final round.
But it was the Irishman who did enough to win 28-29, 29-28, 27-30.
"I felt better in that fight than I did in the first fight," he explained. "There wasn't as much pressure on me at all.
The first fight there was pressure on me but I was chilled in the dressing room and I just listenened to the plan.
"I always knew I was ahead, just about, and then in the last round I was making him miss and fall through the ropes and I knew I had it in the bag then.
"I knew he was strong. I watched vidoes of him on YouTube. I knew he was going to come at me so I knew I had to be on my game.
"I just used my jabs, feints, side steps, and kept it long."
"He's world champion for a reason," he added, looking ahead to Saturday's clash with Rabii (4.15pm Irish).
I believe in myself but I will go in and give it my all and I'm in a win-win situation from now on.
"Really, I can't wait until Saturday and I will give it 100% and be happy."