Murray Kinsella reports from Bilbao
IT'S NOT DIFFICULT to remember Stuart Lancaster at the press conferences after England's World Cup defeats to Wales and then Australia at the 2015 World Cup.
His cheeks reddened, his lips almost quivering with the strain of maintaining a poker face under the intense disappointment and the red-hot pressure that came with it.
That was the 48-year-old in the low points of his career and those memories made it impossible not to be pleased for Lancaster as he celebrated with Leinster's coaching staff and players after last night's dramatic Champions Cup win over Racing 92.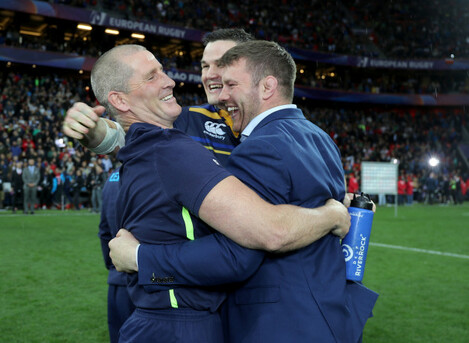 Lancaster celebrates with Johnny Sexton and Sean O'Brien. Source: Dan Sheridan/INPHO
Even more heartwarming was the sight of Lancaster seeking out his family in the crowd and posing for photos with them and the trophy, sharing the moment of joy with the people who supported him through the dark days in 2015.
Written off as a failed coach at that stage, even ridiculed by some, Lancaster has bounced back in the most impressive style with Leinster.
"It means a huge amount to me, obviously, but it means a huge amount to my family and friends," Lancaster told BT Sport in the immediate aftermath. "They were the ones who all stood by me in the tough times after the World Cup.
"They never once wavered in their belief in my ability and that's the nice thing. I'm trying to find my wife, she's here somewhere, and my son, and Sophie's at home. It's for them really."
There were others who didn't waver in their belief that Lancaster was a top-class coach in the wake of that World Cup.
Leinster understood that he had real coaching ability and certainly didn't buy into the narrative that Lancaster was for the scrap heap because his England team had lost to Wales and Australia.
Famously, Johnny Sexton texted Lancaster after Leo Cullen had first contacted the Englishman, with the out-half stressing to Lancaster that he was wanted by Leinster's players.
"I obviously spoke to Guy Easterby and Leo Cullen beforehand!" said Sexton, underlining that he had been part of a collective ploy to bring Lancaster to Leinster in 2016. "Well, I didn't send randomly send him a text. It wasn't divisive or anything."
Lancaster with the Champions Cup trophy. Source: Dan Sheridan/INPHO
And speaking with the Champions Cup trophy sitting alongside him at San Mamés last night, Sexton highlighted why they had felt Lancaster was the perfect man to join Cullen's coaching team.
"If you know rugby and you looked at England, he did an unbelievable job with that team," said Sexton. "When he was in charge, they won four out of five games [in the Six Nations] two or three years in a row.
"We did it that for two years [2014 and 2015] and got two championships out of it.
"You look at the Wales game in the World Cup, the bounce of a ball and a decision on the halfway line that could go their way, Faz [Owen Farrell] could make the kick and England could win the World Cup.
"We found with Ireland against the teams that he coached that they were very hard to defend against. They were really hard to attack against too. He played a big part in that.
"If you take some of the media reaction about him leaving England away from it, he is obviously a very good coach. I had spoken to a few of the English guys, mainly the Farrells, they spoke of him very highly and that's why I texted him really."
Leinster spoke of their love affair with the Champions Cup last night, but there has definitely been a love affair for the players with Lancaster's coaching too.
Their gushing praise for the Englishman has been a constant theme since he joined in September 2016, and the feeling has clearly been reciprocated.
The Englishman has been brilliant with Leinster. Source: Dan Sheridan/INPHO
While Cullen has taken care of the management duties and coaching of the forwards, Lancaster has guided Leinster's attack and defence, as well as working closely with the players on technical and tactical skills.
Tuesday training sessions are generally the most important for any professional team and the fact that Leinster's are known as 'Stuesdays' says a lot about his importance in this set-up.
The English media have continually linked Lancaster with a return to his native land as a head coach since the rebuilding of his reputation in their eyes, but he has continued to insist he is happy where he is.
Leinster are certainly happy they reached out when they did.
The42 is on Instagram! Tap the button below on your phone to follow us!