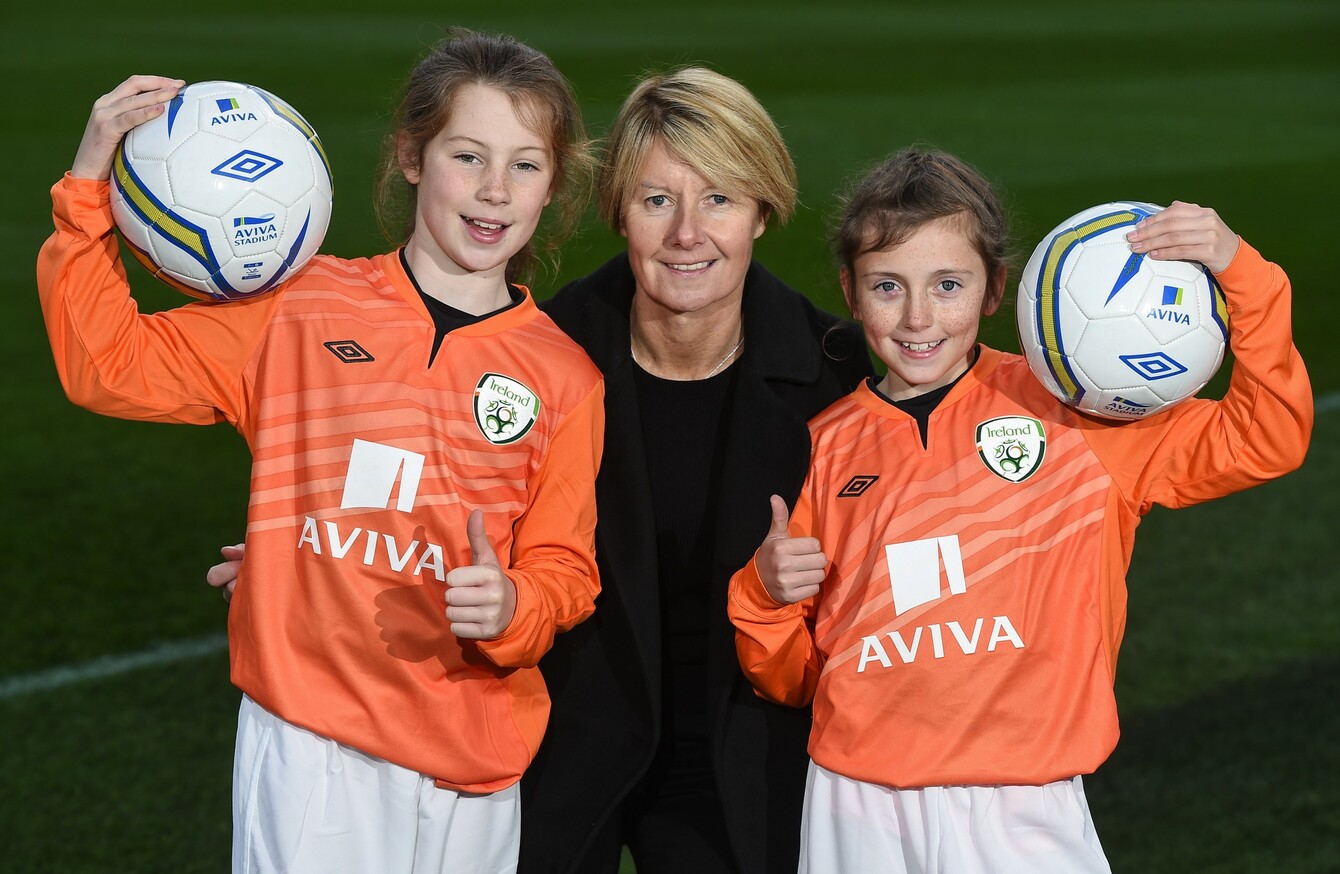 Sue Ronan will coach the national side for the final time today.
Image: Cody Glenn/SPORTSFILE
Sue Ronan will coach the national side for the final time today.
Image: Cody Glenn/SPORTSFILE
SUE RONAN ISN'T planning any poignant dressing-room speech for her last game in charge at Tallaght Stadium today (3.30pm).
After six years as manager of the Ireland women's team, she's anticipating an emotional moment when she steps onto the sideline for the final time. And even after all this time, the goosebumps are still expected to rise when the Amhrán na bhFiann is played.
But in her humility, Ronan rejects any notion that the occasion should focus on her: "It's about the game, it's about them, it's not about me."
That's her mantra when it comes to football.
Thoughts about stepping down started forming in her head in the months before Ireland failed to qualify for next year's European Championship. She started contemplating things a bit more after they were eliminated against Portugal in September and with an opportunity to become the head of women's football in Ireland, Ronan settled on the decision to leave.
Ronan has cultivated a legacy over her time coaching the national U19 and senior sides, and her successor will be acutely aware of her impact on women's football in Ireland. But there's one significant omission in her CV. Taking the seniors to a major tournament will forever be the goal which evaded her during her term and the small margins that kept them out, deepens the pain a bit more.
Injuries and luck leaning towards the opposition certainly contributed to their misfortune but on reflection, Ronan suspects that psychological barriers could also have been a factor.
"At one point, I was thinking that maybe it was a mental block that we had never made that progression and some players didn't believe enough,"she told The42.ie at the Soccer Sisters launch, which was sponsored by the Aviva Stadium.
This last group definitely believed but just performances weren't good enough at the right times ultimately. Results is what matters at the end of the day and we just didn't get them."
Today's friendly in Tallaght against the Basque Country is naturally her immediate concern, but she already has targets outlined for her new role in 2017.
"We want to improve the club and league structure around the country and that's even away from the National League. There's a lot of local leagues where most of our underage players, certainly from U7s down play so it's trying to strengthen them, improve them and improve the coaching of them, improve the competition they're getting."
Ronan adds: "Some of the areas are quite barren and don't have a lot going on. You look at the north east region, there's very little activity going on up there and only two leagues at underage level, there's no senior football at all. It's about trying to bring them all up a level whatever that might be for a niche region.
"Coming from the elite background, the National League would be a particular grá of mine so I'm certainly trying to work with the director of the League and trying to bring that level of that up in terms of strengthening clubs on and off the pitch."
Ireland striker Stephanie Roche also attended the Soccer Sisters Launch. When Roche entered a dressing room to meet some of the young female players who were invited to the event, their mentors noted that the children had never been quieter such is the respect they have for the Sunderland player.
Roche's 2014 goal for her former club Peamount United has propelled her into celebrity territory and Ronan is already ahead of the beat in terms of utilising Roche's status in order to improve the profile of the sport in Ireland.
"We're trying to create an ambassador programme where we use the likes of Stephanie (Roche) Denise O'Sullivan, Emma Byrne and Leanne Kiernan as well you could say. The home-based players are great, it's not just the players abroad. That's something we want to create in each region. Savannah (McCarthy) is from Listowel and they love her down there.
"We want to make it more recognisable. At the games in Tallaght Stadium, you see the kids hanging around waiting for the photos and the autographs. The players are so accessible for them, that would give them the interest to want to stay in the game or inspire them to want to be the next Stephanie Roche so that is important."
Engaging with the fans is something the players enjoy according to Ronan. Even after they were defeated by Portugal in September, they suspended the dejected emotions to sign autographs and pose for photos. Ronan didn't have to order that gesture, there's just a genuine appreciation among the players for those who turn out for the games when support is sparse.
"They understand the importance of these kids seeing them as role models and hopefully it's going to help them stay in the game. They don't do it because they're told to do it, they do it because they want to. In fact I'm often waiting for them in the dressing room, to have a word about the game or to tell them what's coming up next. It's part and parcel of it and I think it's a good part of it."
Similar to other sports where gender inequality is stiffing the women's game, football has several strides to take before the balance is redressed. Ronan points to the morning of the 2016 Women's FAI Cup final as a recent example of this.
"I picked up one of the supplements in one of the papers that morning and in the 25 pages, there was one picture of a female and that was one of the reporters. That's across about ten or 12 sports. No mention of the girls who were going to be playing in the final while there was of the men. That needs to change from the press point of view. When that's going to change I don't know."
"It annoys me all the time. At All-Ireland cup level or international level, the really top level of the game, I don't see why players are not being recognised, whatever sport it is. When there's other stuff going that isn't even equally as important and yet it is important. But that's just life, it's not just in sport."
Staging matches at the Aviva Stadium is a possible remedy for this ill but Ronan sees it more as a long-term prospect rather than something they should be chasing at the moment. With the crowd numbers at women's games typically ranging between the low and mid thousands, the swathe of empty seats at the national grounds could create a negative atmosphere for the players.
Double-headers with men's matches is another option, and one that intermittently features in GAA games. To implement it in soccer would pose more complications,however. UEFA rules state that pitches must be cleared for 24 hours between games, meaning that it couldn't be applied for international fixtures. But there are other avenues to take.
"Success is definitely going to help and the national team being successful will help that if you have one club doing well in the Champions League you're encouraging more interest, you're encouraging more crowds. I don't think the equality problem is specific to women's soccer, I think it's women's sport in general."
Looking towards the challenge that the Basque Country will bring today, Ronan recalls their encounter two years ago where Ireland lost 2-0. The Spanish team employed the Tiki-Taka style of play that's become synonymous with their homeland. Ronan remembers it as a difficult learning experience for Ireland but the lessons learned will steal them for the second meeting.
"I think it blew some of the players away they wouldn't have been used to that but I think the squad we have now, we've gone up a level as well. Our own players have improved, the ones who are playing professionally and the ones who are playing at home have the National League now and they're training to a higher level. We'll be better able for them but it'll be a tough game."
Taking a seat during the games rather than patrolling the sidelines will make for a strange transition when Ronan walks away from management. She won't be leaving the scene entirely and will continue to foster the development of the game in a new way. It's simply time for a change.
"For the first game it'll feel strange but you have to get on with it. Once it happens the first time, I'm sure it'll be fine. I won't be a million miles away from which will be good. I already go to the underage games and I watch the managers talking to the players and I'm sitting up. Of course you'd like to be involved on the sideline but it's somebody else's time as they say."
The42 is on Instagram! Tap the button below on your phone to follow us!