Shutterstock / Arina P Habich Shutterstock / Arina P Habich / Arina P Habich
Updated at 08.30
SUPER BOWL 51 sees the New England Patriots clash with the Atlanta Falcons in Houston (11.30pm Irish time) and, as usual, there will be several places around the country throwing parties for the climax of the NFL season. 
Dublin
Buskers On The Ball (Fleet Street) – Situated in the middle of Temple Bar, Dublin's newest sports bar is showing the game on their giant eight-screen video wall as well as on the ten screens around the bar.
There will be free hot wings, mini burgers and nachos and all pints and bottles are €5. It's free in before 9pm and tickets are €10 after that. You can also purchase them now on Eventbrite.

The Square Ball (Hogan Place) – One of two Bodytonic sports bars with a difference along with The Back Page, The Square Ball sits just around the corner from Merrion Square and is well worth a visit.
They'll be serving their one-metre long Super Bowl sub-bench sandwich and there will be pitchers available and various prizes on the night. More info here.
Xico (Baggot Street) – The extremely-popular Mexican restaurant and bar is throwing another party this year from 8pm 'til late, with frozen margaritas €5 and 50 wings plus a bucket of beers for €50. You can enquire about bookings here.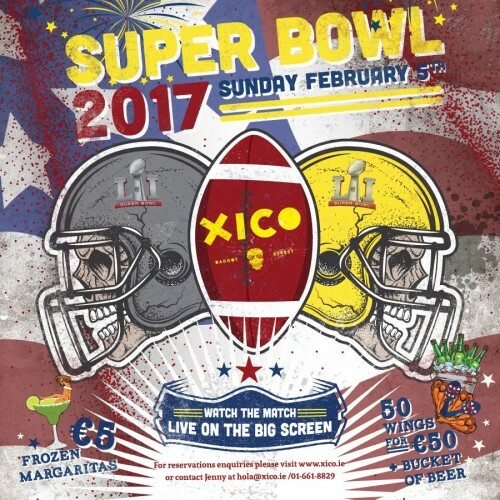 Harry's On the Green (South King Street) - It's free into Harry's and you can email info@harrysonthegreen.ie to make bookings.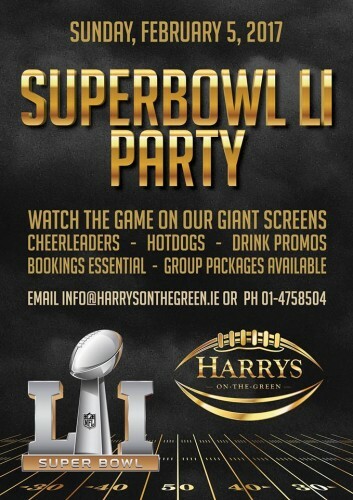 Copper Face Jacks (Harcourt Street) - Coppers is claiming to be home of "the ultimate Super Bowl party" with drinks token giveaways, free pizza and spot prizes. Tickets are €5 plus booking (you can buy them here) and you get a complimentary pint or bottle of selected brands if you show up before midnight. It's over 20s too.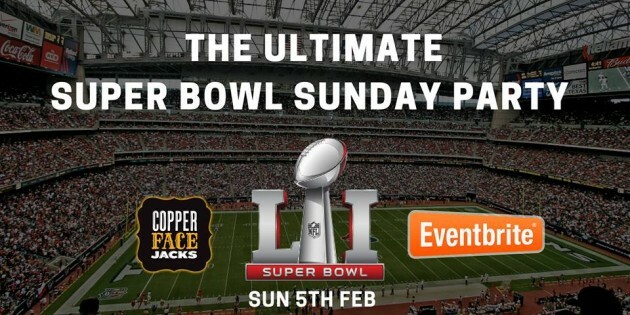 The Woolshed Baa & Grill (Parnell Street) – Free entry and drinks specials, plus there'll be a hot dog stand and the Hell Wings Challenge.

Sinnott's Bar (South King Street) – Just off St Stephen's Green, it's free admission into Sinnott's as usual.
The Odeon (Harcourt Street) - The Harcourt Street venue has teamed up with the Dublin Rebels, Coors Light and FM 104 for their ticketed event, which will feature DJs, drinks promotions, cheerleaders and complimentary food platters. Tickets are €10 plus booking.

Dtwo (Harcourt Street) - Promotions include a burger and pint for €10 plus a bucket of five beers for €20. Tickets cost €10. Buy them here or on the door.

Captain America's (Grafton Street) – €5 admission and there are special offers on food and drinks. Email sarah@captainamericas.com for bookings.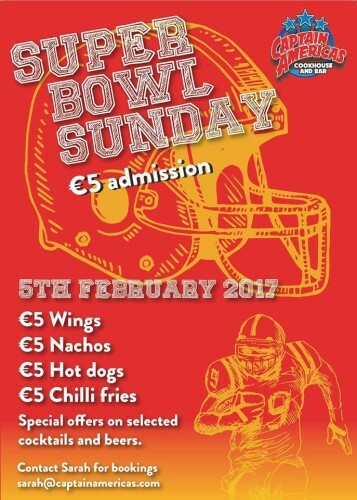 Peadar Kearneys (Dame Street) - Just like last year, your ticket (€10) also includes one pint and free pizza. Buy them here.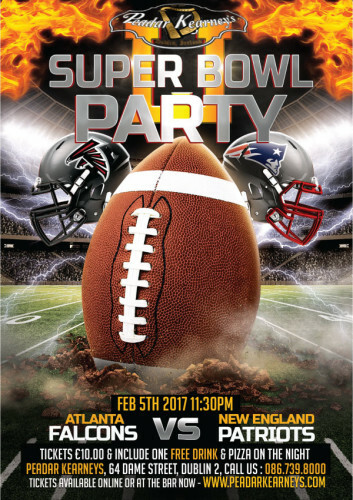 Adelphi (Middle Abbey Street) - Across the Red Line Luas tracks from Arnotts, they will have complimentary hot dogs and pitchers of beer for €12. Call (01) 872 8188 for group bookings of visit their Facebook page.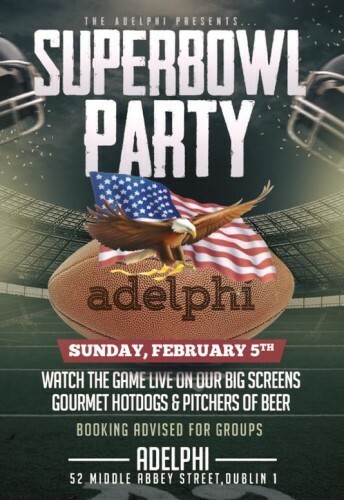 McGowan's (Phibsborough) – No admission fee or tickets needed, free hot dogs during the half-time show and you can book a table by emailing ciara@mcgowans.ie.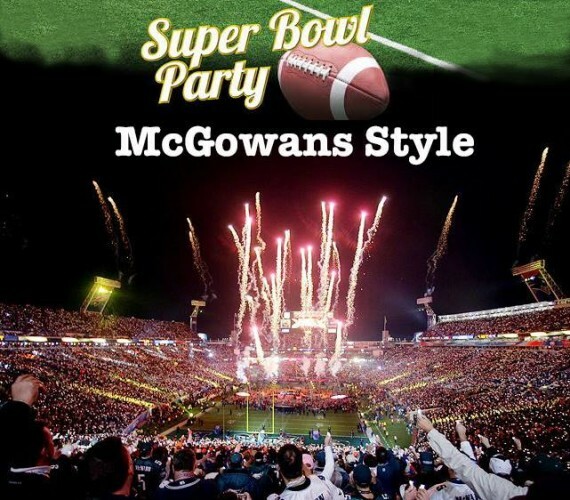 The Portobello (South Richmond Street) – Free in, drinks promotions and hot dogs. They're advising customers to arrive early to get seats and avoid disappointment.
McSorley's (Ranelagh) – Kicks off at 9pm and there will be hot dogs available.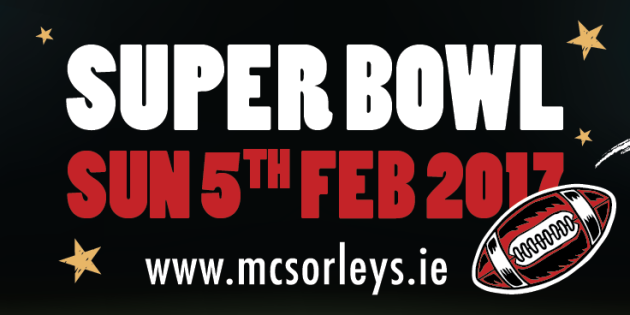 Trinity Bar (Dame Street) - Next to the Central Bank, they've got three floors, 40 screes and "the biggest ultra HD screen in Ireland". Make a booking here.
The Living Room (Cathal Brugha Street) - Just off O'Connell Street, there are giant screens and no cover charge.
Sam's Bar (Dawson Street) – No cover charge, email reservations@samsbar.ie to book your table.
Kildare
The Court (Naas) - Run by the South Kildare Soldiers, The Court in Naas will have big screens, beer pong, pitchers and live music. More info here.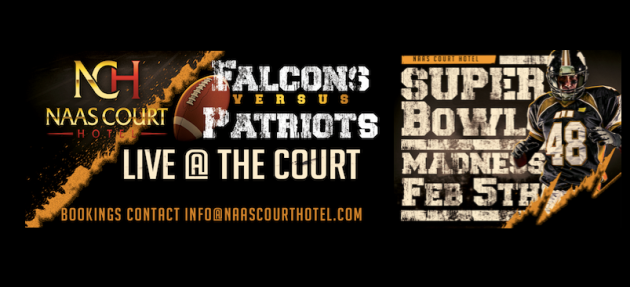 Cork
Dolphin RFC – The Cork Admirals night returns at the same venue as last year. Cover charge is €5. More info here.
Limerick
Flannery's Bar (Upper Denmark Street) - Run in conjunction UL Vikings and in its 11th year, Flannery's will have the obligatory late bar and BBQ.
 Galway
Garvey's Inn (Forster St) – The Galway Warriors are back at Garvey's Inn on Eyre Square.
Belfast
Madison's (Botanic Avenue) – The annual event from the Belfast Trojans kicks off at 9pm. Tickets are £10 and there's more info here.

If you know of anywhere else hosting Super Bowl parties tell us in the comment section below or email ben@the42.ie and we'll add them in
The42 is on Instagram! Tap the button below on your phone to follow us!