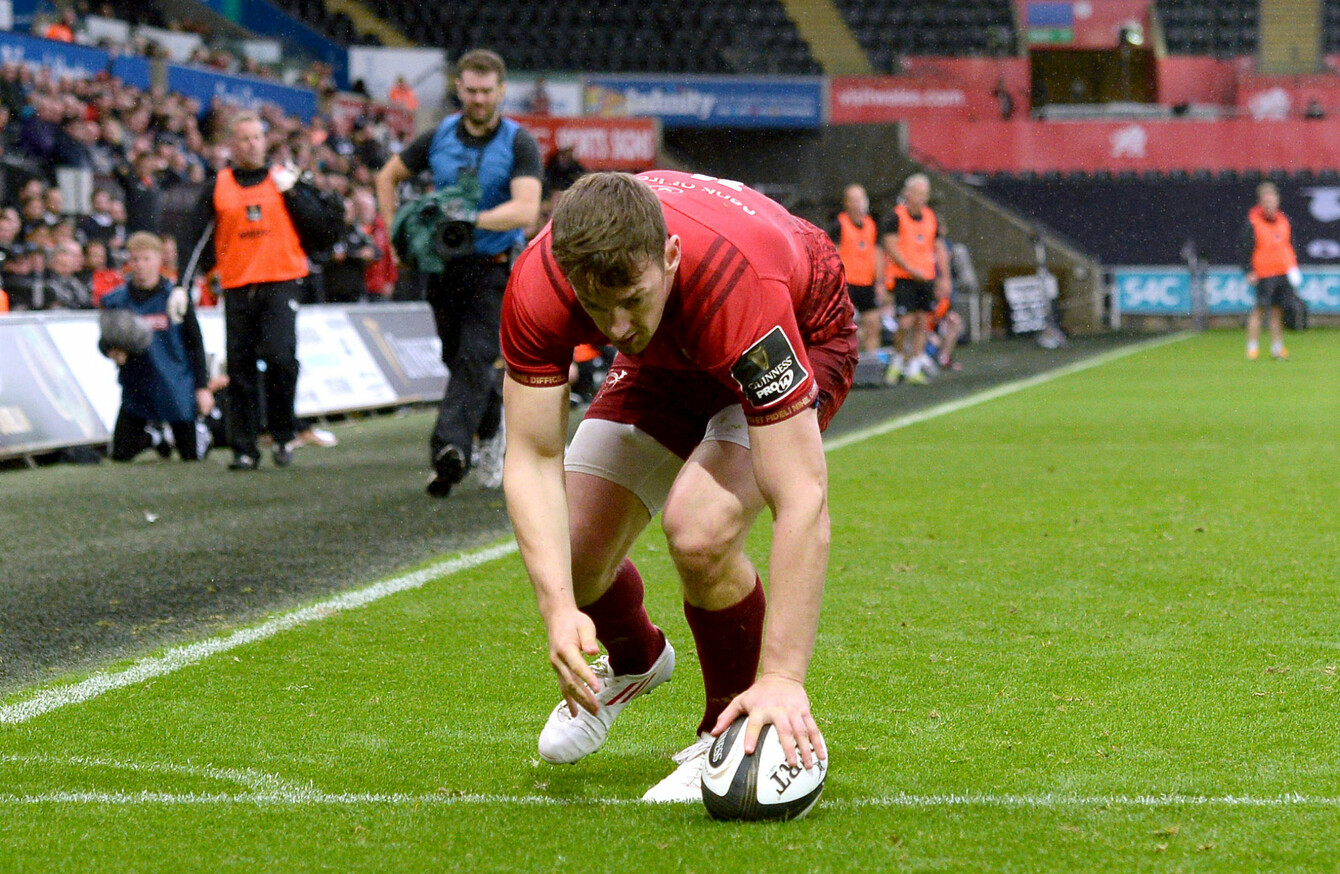 Image: Ian Cook/INPHO
Image: Ian Cook/INPHO
DARREN SWEETNAM PUTS his bright start in the Munster shirt down to the freedom to make mistakes that has been encouraged by Rassie Eramsus and his coaching team.
The Cork wing had a real break-out campaign last season and nailed down the starting berth on the right wing before injury struck against Leinster at Christmas. And after registering two tries from his three appearances so far this season, Sweetnam is hoping to kick on again.
But 12 months on from his major breakthrough, Sweetnam says the belief he has in his game is the big difference as the eyes a crack as Glasgow Warriors this weekend.
"I think confidence was my biggest thing. I wasn't the most confident player but after last season and playing those games definitely got me more confident. I just need to keep progressing at that and hopefully I have a good year again this year," said the 24-year-old.
"I think Rassie, Jacques (Nienaber), Felix (Jones) and Jerry (Flannery), they make it so easy to play. If you make a mistake or whatever, they make it so easy.
"They have this motto: 'you win some battles, you lose some battles'. That makes you play with so much more confidence, you are not afraid to make mistakes.
Let's say you miss a tackle, they say: 'laugh about it, you'll get it next time'. That makes me play with so much more freedom and definitely helps my performance."
Before his injury against Leinster on St Stephen's Day, Sweetnam had started all 15 of Munster games, and his good form saw him called in to train with Ireland in October. His finishing ability is hugely impressive, while his aerial skills have seen him forge a strong relationship with Tyler Bleyendaal, a tactic that is often embraced by Munster.
But despite having players like Keith Earls, Simon Zebo and Ronan O'Mahony still to return to the starting side, Sweetnam is happy to embrace the pressure to perform.
"I think it's good though, isn't it, to have all that competition? Especially in the back three there is so much competition at the moment with Alex Wootton playing so well, Andrew Conway, Zeebs is coming back now, Keith Earls, Ronan O'Mahony.
"It's one of the most competitive positions on the team. But look it's good, it drives everyone on and keeps us honest and makes us work hard.
"Yeah you can look at is as pressure as well, but I look at it on a positive note. As in we are a tight knit squad, the competition drives us on and gets the best out of everyone. I look forward to that challenge.
"I'm just concentrating on my own game, work hard and do whatever I can do, what's in my control really."
Subscribe to The42 podcasts here: