SYL O'CONNOR is the voice of Clare FM's GAA coverage.
And while his fellow Banner County native Marty Morrissey may have uttered the immortal words 'Holy Moses!' when Domhnall O'Donovan nailed a late equaliser in the drawn 2013 All-Ireland final against Cork, O'Connor's contribution on local radio was equally memorable.
Syl was so drained and utterly stunned by the magnitude of it all that he almost lost his voice alongside co-commentator and ex-Clare star Niall Gilligan.
Before we continue, have a listen here to that epic finale, courtesy of Syl and the Clare FM team:
Source: theclareherald/YouTube
Later today, O'Connor will find himself in the radio gantry at Cusack Park in Ennis, with his home club Sixmilebridge in action against Clonlara in the county final.
You might think he'll find it difficult to stay neutral but Syl insists that if O'Donovan steams forward late on for Clonlara to ping over a potentially decisive score, his reaction will be pretty much the same.
"I'll put it to you this way," smiles the 58-year-old.
"First and foremost, I'll always be a 'Bridge clubman but you have to put that to one side for an hour and a quarter.
"The person listening from Loop Head to Killaloe, from Ballyvaughan to Cratloe, wouldn't have a clue where I'm from.
"I certainly would like to think that I would portray an utterly unbiased approach to this.
"I would look upon it as my duty to bring the match back as how it happened, and who was on the ball.
"That's my approach to it, end of story.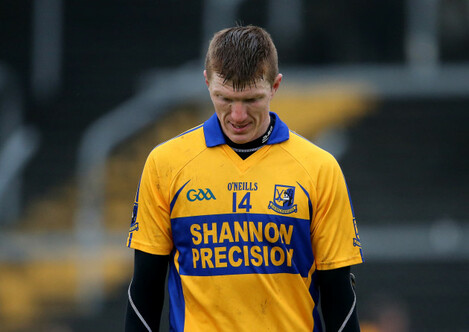 Niall Gilligan after Sixmilebridge lost the 2013 Munster club final. Source: Cathal Noonan/INPHO
"At 4.30 on Sunday, I'll be back shouting for the 'Bridge again or disappointed.
"If Domhnall O'Donovan arrives with a late winner for Clonlara, I hope he gets the same reaction as when he got the equaliser for Clare."
And that's how it has to be for O'Connor, as he leaves sentiment to one side for an eagerly-awaited Clare final.
It's a poignant day, too, for Clonlara boss Sean Stack, who happens to be a Sixmilebridge and Clare legend.
Stack's been down this road before, however, as in 1993, he was manager of the Toomevara team from Tipperary that contested the Munster club hurling final against Sixmilebridge.
Stack lined out for the 'Bridge and Toome came out on top, incidentally, on a surreal day.
Sean Stack was Na Piarsaigh manager against Sixmilebridge in 2013. Source: Cathal Noonan/INPHO
"Knowing Stack, he would look on that as being straight down the line," O'Connor insists.
Almost two years ago, another clash occurred when Stack was in charge of Limerick champions Na Piarsaigh in the Munster club final against Sixmilebridge.
Na Piarsaigh hammered a battle-weary 'Bridge outfit and Stack took little pleasure in the heavy nature of his home club's defeat.
"Sean Stack has been an unbelievable player from a 'Bridge point of view," O'Connor reflects.
"I don't think people, if they were being perfectly honest, could ever take from that in any shape or form.
"He had unbelievable dedication to the 'Bridge as a player for nearly 30 years and it would be like Clare playing Dublin when (Anthony) Daly was boss."
For Syl, his heart naturally lies with Sixmilebridge but he won't let that get in the way of a professional job in Ennis today. Let's just hope he doesn't lose his voice along the way!