Murray Kinsella reports from Sydney
TADHG BEIRNE HAS been rooming with Andrew Conway recently on Ireland's tour of Australia, catching up with a former Leinster team-mate but also getting to know a future Munster team-mate a little better.
The 26-year-old will join the southern province in a few weeks' time, after a well-earned break.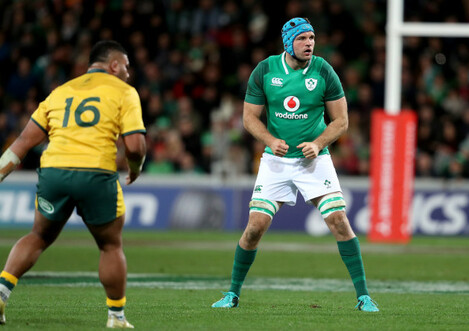 Beirne made his debut off the bench against the Wallabies. Source: Dan Sheridan/INPHO
That time off after a season in which he has already played 2,303 minutes will certainly be important for Beirne but, first, he is keen to finish out his involvement in Ireland's summer tour of Australia strongly.
Last weekend in Melbourne, Beirne got to experience what he calls "something special" when he came off Ireland's bench for his debut against the Wallabies, playing 17 minutes in the closing stages of a 26-21 win.
Beirne was feeling "pretty chuffed" afterwards and positively beamed with pride, having come on at blindside flanker for Peter O'Mahony and then moved into the second row when Devin Toner was forced off with cramp.
"It's something I've been working on hard since the two weeks I've been in," said Beirne of covering two positions.
"They told me they see me in both positions so it's been a lot of time on the computers, a lot of time talking to the likes of Dev, Pete, Quinn [Roux], all those boys, learning from them and them giving me a heads up.
"Even when I went out there I was having little chats with Dev on the way to lineouts just to double-check I was getting my role right and stuff like that because it's obviously pretty nerve-wracking going on for your first cap and you don't want to get anything wrong, do you? So they definitely helped along the way."
Beirne recalled one moment when the Wallabies' Reece Hodge almost handed him off in the Ireland 22 that "certainly woke me up" but he was content that he had fitted in after coming onto the pitch.
"Luckily I managed to hold him otherwise I definitely wouldn't be playing next week! No, look, once I got on, the ideal thing is just to sit in and get in the defensive line and maybe get your hands on the ball early. Luckily I didn't make any mistakes, I don't think."
There were joyful scenes for the Beirne family post-match as Tadhg went and found them in the stand at AAMI Park.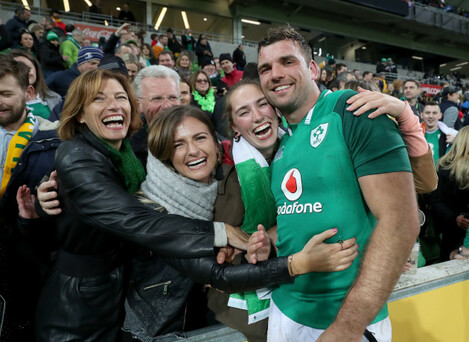 Beirne with his family. Source: Dan Sheridan/INPHO
His sister, Jennifer, moved to Sydney last year for a job with Amazon, while Beirne's parents, Brenda and Gerry, were joined in flying over from Ireland by Tadhg's two other sisters, Alannah and Caoimhe.
"Luckily they booked a couple of months back," said Beirne. "My sister moved over last year to Sydney, so if I didn't make the tour they'd get to visit her. If I did then obviously it's a win-win for them.
"So they were over here and at the last game and they'll be at the next one as well."
In truth, the only way Beirne was going to miss out on this tour was through injury, such was the quality of his performances for the Scarlets again this season.
One of the best players in the Champions Cup, the Kildare man earned his call-up through his turnover-winning, dynamic ball-carrying, hard-working form for the Welsh region.
Beirne spent a day in camp with Ireland during the Six Nations, and although it was "just an introduction really," it did give him a taste of what to expect under Joe Schmidt on this tour Down Under.
"I did a year with Joe in Leinster when I was in the academy and I think from then it's even another step up in terms of intensity of detail," said Beirne of working with Schmidt.
"It's just mind-blowing, I've found, the level of detail that goes into every single thing. Every move, like the phase plays, open play, everything we do, you have to get everything right.
"You can't give teams like Australia or any of these top-tier teams an inch because if you do they'll punish you."
Already Beirne is trumpeting Schmidt's mantra of Ireland focusing on getting better every time they take to the pitch. Clearly, he is fitting in well.
Beirne makes a tackle in the closing stages against the Wallabies. Source: Dan Sheridan/INPHO
There were countless messages from his former team-mates at the Scarlets before last weekend's game, as well as the Welsh side's coaching staff and "physios, doctors, everyone."
"To be fair, I wouldn't be here if it wasn't for those boys," said Beirne.
"I've been very lucky the past two years to be surrounded by such good players, such good coaches and at such a good club. It's a credit to Scarlets and I've got to thank them for this special day for me."
And even after an incredibly long season in which he has played all those minutes, Beirne is energetic about getting one more possible chance on the pitch before his summer holidays.
"The body's had a few bumps and bruises along the way but luckily I haven't picked up any serious niggles and touch wood it stays like that.
"There's one more game left to my season, potentially if I get picked, and then I have a break, so the body can hang on for one more 80 minutes if I get that opportunity.
"It comes down to a decider. It's pretty exciting for us and the fans as well."
The42 is on Instagram! Tap the button below on your phone to follow us!