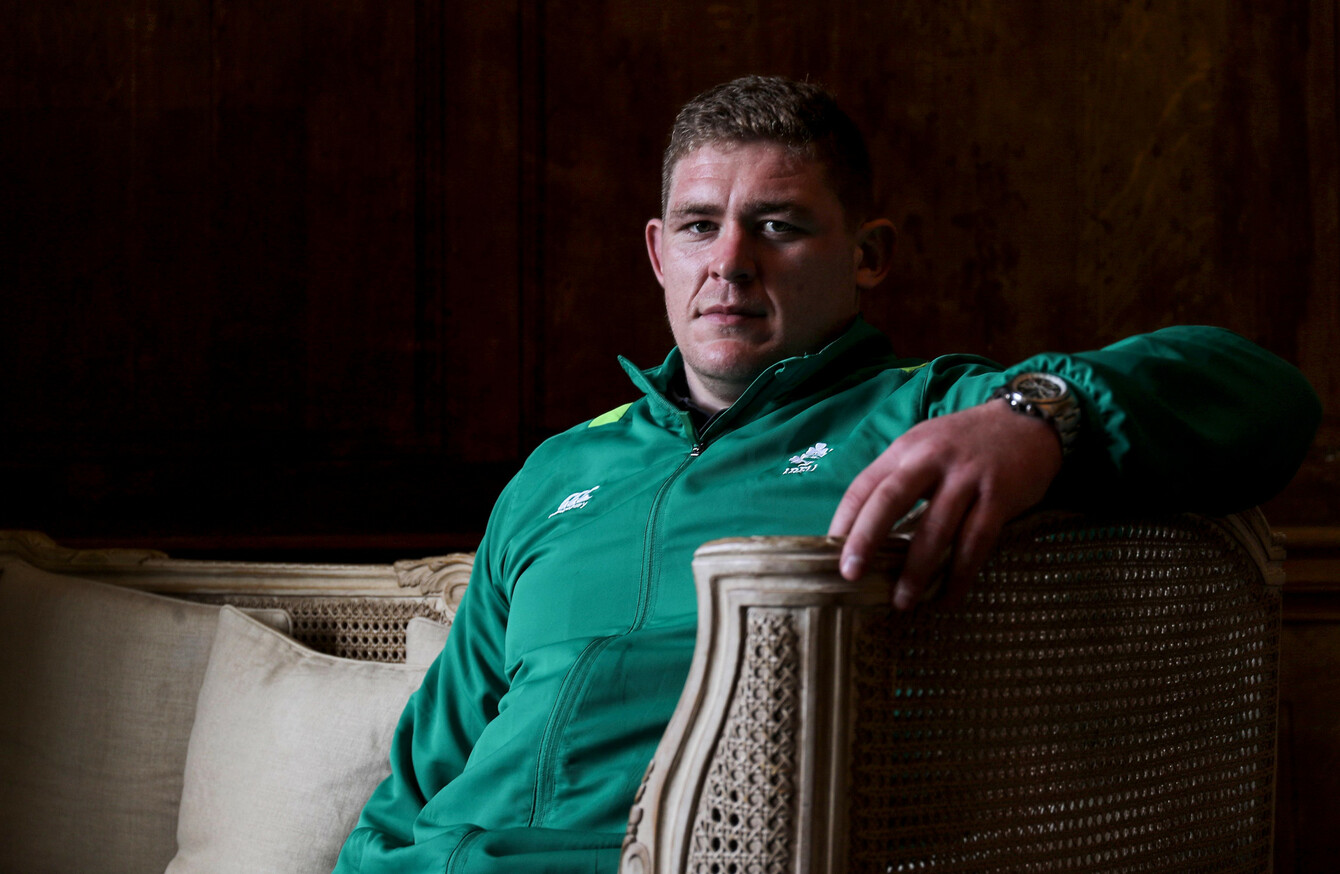 Furlong pictured at Carton House yesterday.
Image: Dan Sheridan/INPHO
Furlong pictured at Carton House yesterday.
Image: Dan Sheridan/INPHO
TADHG FURLONG BRIEFLY veers away from the script, allowing himself a moment to dream. It's another game, but not another game. A once-in-a-career opportunity, a chance for this generation of players to etch their name into Irish sporting history.
What's at stake at Twickenham on St Patrick's Day is not lost on the players, but the collective mindset is that Saturday's Six Nations grand finale is no different to any of the previous four games in this championship. 80 minutes of rugby, block out everything else.
"I know this sounds incredibly boring but you just need to go through the same process you do for every other game," Furlong says, remarkably calm and laid back considering the enormity of the occasion ahead.
"But obviously with the game that it is, you mightn't be consciously thinking of it, around the place, there is that extra buzz, there is that extra vibe, you're doing that little bit extra homework. Although you're doing nothing different, that feel around the group, that this is a big week.
"You do nothing different, you're build-up is the same, the way you prep, the week is structured, there is nothing out of the ordinary, there is nothing different, there is a game at the end of it with a lot on the line.
"I suppose if you think about it the grand scheme of things, we are Six Nations champions. There is nothing to lose in that respect. But that doesn't mean you go out and play your game different.
"You look at what's stood well for us over the last group of four games and trying to be consistent, hold onto the ball, put the opposition under pressure and be clinical in what we do. That part doesn't change at all."
As has been the message all week, Schmidt's Ireland will stick to their processes and systems. 11 consecutive Test victories and counting — why would you not maintain that winning formula?
But this grand occasion — on the national holiday, with so much at stake — carries added significance and added emotion. Ireland have only won the Grand Slam on two previous occasions. History beckons, as does a form of rugby immortality. It could well be a defining moment for this team under Schmidt.
Furlong continues: "I think, you know, we have a way that we play and I think everyone buys into it. The standards we set, you're not going to get onto the teamsheet if you're not doing what you're supposed to do.
"I wouldn't say it has been an easy week, it's been an incredibly focused week and we're going through what we always go through and trying to leave no stone unturned in our preparation so that we can give ourselves our best possible way of performing as well as we can.
"But there's always craic with the lads, there are 35 or 40 of us. We're not walking around like zombies. When we're on we're on, when we're off, we're off. Even in team meetings, there will be a few bits to lighten up the mood. There may be a few clips from the game where lads might have done something out of the ordinary or funny. When you're around a pack of lads, there is no extra incentive needed to lighten the load or have the craic."
And certainly no extra motivation is required for tomorrow, particularly for Furlong, who on his only previous visit to Twickenham, endured a difficult day as he was learning his trade as an international prop.
That World Cup warm-up fixture back in 2015, when Furlong came off the bench to replace the injured Simon Zebo for his second cap, is a million miles from where he finds himself now. Both he and the team have come along way in those three years.
The Leinster prop ended up playing the remaining 10 minutes in the unfamiliar loosehead position with Nathan White switching to flanker to allow Chris Henry cover for Zebo on the wing.
"It was an interesting experience," the Wexford native laughs. "It was a bit of a weird one really.
"Probably looking back, I don't think I was ever as nervous before a game of rugby as I was before that one. It was only my second cap. I had learned loosehead in the space of a week, a crash course from Cian Healy, pushing my hips into walls and stuff, weird scrummaging drills.
"Also then at tighthead you know your role and it doesn't change a massive amount around the pitch, but you are in a different position in the lineout, where you go and different phases, it changes completely.
"I remember just racking my brain, looking at my notes, thinking over and over again trying to get it right."
It must have gone well, though?
"I only packed down, there was one reset. It's actually a funny story," he recalls.
"So I was scrummaging loosehead, and I actually bound over the tighthead. So usually the loosehead binds under and the tighthead binds over the loosehead's bind then. But I bound over the tighthead's bind and he said 'mate, you know you're playing loosehead, yeah?'
"I just said 'Oh yeah', so we reset that one and went again."
And to think Furlong — one of the outstanding performers on last summer's Lions tour — is now arguably the world's best in the number three jersey.
Like so many of this Ireland team, tomorrow represents the biggest game in his career, no more so because his individual battles with fellow Lions Kyle Sinckler and Mako Vunipola will be a key battleground.
"Sinc's is a good scrummager, he's a very good ball carrier, he runs some very smart lines off nine," Furlong explains.
"You'll see him coming out to in and hitting hard and getting over the gain line. He has a lot of energy and enthusiasm. Mako, I got on really well with him over on the Lions tour. He's pretty laid back but when it comes to his rugby, he's professional and serious."
All of that will be put to one side for 80 minutes. Ireland are focused on the task at hand, primed for the challenge and confident they can pull off a remarkable feat.
"I think the group is under no illusion of what it means to the country, the team, our families and where we're from," Furlong adds.
"But, at the end of the day, it's ifs, buts and maybes, hypotheticals if we don't win the game of rugby."