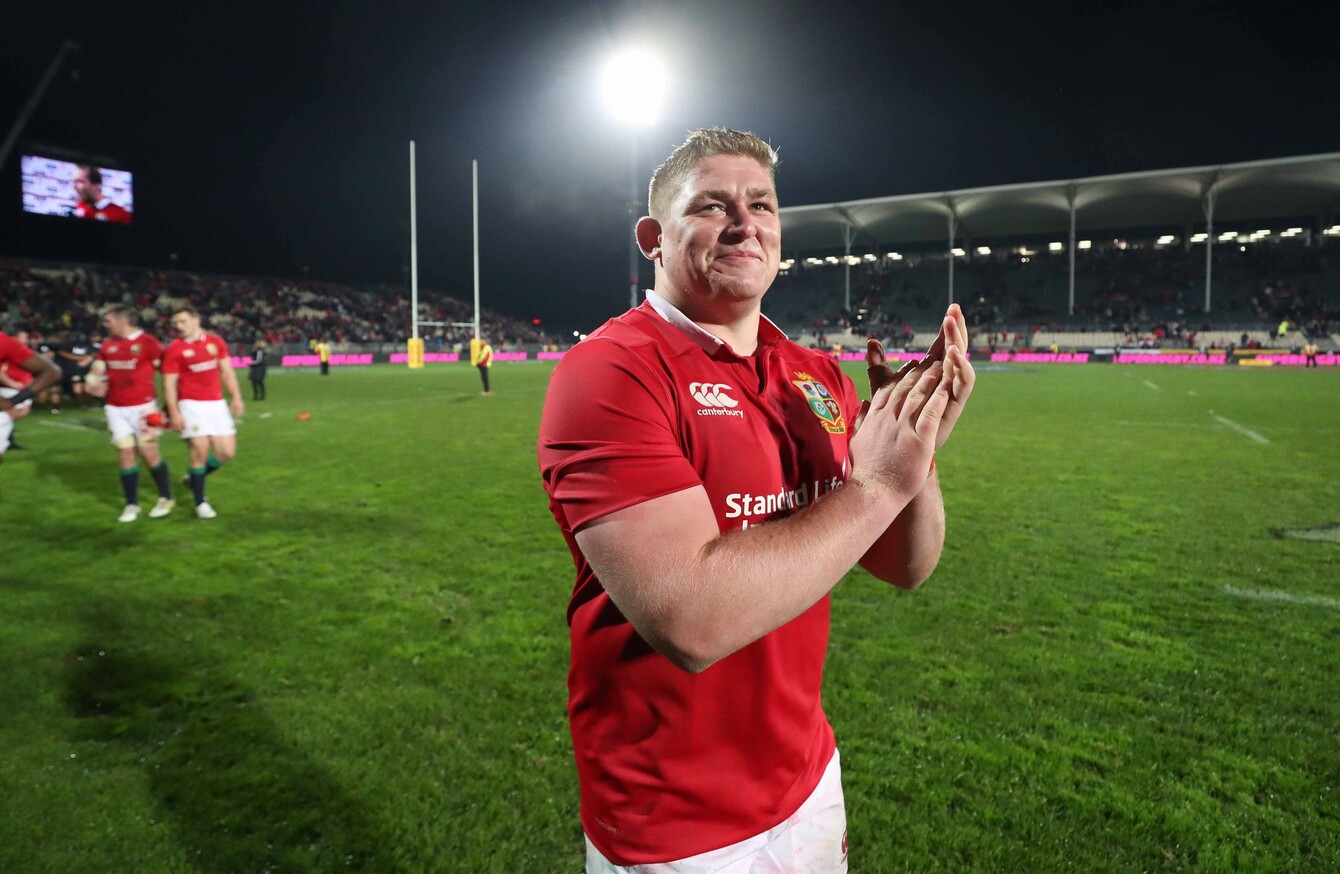 Image: Billy Stickland; ©INPHO/Billy Stickland/INPHO
Image: Billy Stickland; ©INPHO/Billy Stickland/INPHO
AFTER SATURDAY'S NON-decisive deciding Test between the Lions and All Blacks, Tadhg Furlong sat down with Joe Moody in Eden Park and shared a beer with the Kiwi loosehead.
Remarkably, the two props had just faced each other for the sixth time in what has been a sensational breakout season for Irish tighthead Furlong. Twice with Ireland, he took on Moody, once for the Lions against the Crusaders and then finally, in all three Test matches against the All Blacks.
"For Southern and Northern Hemisphere props it's pretty mad, isn't it?" says Furlong.
"I'm looking forward to not seeing him facing me in the scrum, not for the next little bit anyway! He's a hell of a scrummager."
The Lions will fly out of Auckland on Tuesday evening local time after enjoying each other's company without the pressure of matches and training, and Furlong is looking forward to his three and a half weeks off.
There is a hell of a lot to reflect on.
As recently as November, he hadn't even considered himself as a possible candidate for the Lions. He still had just a single start for Ireland under his belt before that memorable month, and even at Leinster, he was still establishing first-choice status. When Furlong shone at tighthead for Ireland in the Chicago win over the All Blacks, he firmly entered the Lions debate, though he consistently played down his chances publicly.
However, a chat with Stuart Lancaster back at Leinster changed his mindset.
I was asked after the November games and I probably didn't see the path [to the Lions]. Stuart said he would have coached some of the players that would have been in contention for the Lions and he said 'I think you're every bit as good a rugby player.'"
Lancaster proved to be right, although it was far from a surprise that Furlong featured so prominently for the Lions in the end – his big impression in New Zealand was simply a continuation of his upward trajectory.
"I think I've learnt a hell of a lot, I've been exposed to different coaching methods, players and ideas around the scrum and general field," says the 24-year-old of being a Lion.
"From an experience point of view, I don't think matches come much bigger than they do [in the third Test]; especially the occasion and pressure that's on you, eyes from the four nations. I think I definitely grew within the tour."
And those scrum battles with Moody and the All Blacks will be invaluable for Furlong as he looks to grow even further next season.
"If you're looking to coach a scrum, the way they do it and the pressure they put on opposition ball through that loosehead and hooker coming across the scrum… sometimes it can border on the law but it's just trying to get that with different people around you.
"I suppose Graham Rowntree would coach a slightly different way than we would in Ireland, so you're exposed to all these different things and your problem-solving under pressure.
"It's weird when you play the same prop four times in five weeks, so you're learning little things every time. He might bring something different or he might bring something different and it's just constantly trying to adapt and problem-solve on the pitch. I thought we did that well."
With a stash of swapped All Blacks, Maori and Crusaders shirts in his suitcase, Furlong is looking forward to getting back to Wexford to catch up with family and friends in the coming weeks. He will get what he describes as "minor sort of body stuff" done to help his body heal over the off-season, with a thumb issue still lingering on from the Pro12 semi-final with Leinster. The down time will also finally give Furlong a chance to realise just how much he has achieved this season.
"We've three and a half weeks off from the time we land, I'm looking forward to catching up and doing a recap of the season and maybe watching these [Lions] Test matches again because you probably don't realise everything that goes on when you're out there."
It's exciting for Irish rugby to think about how much more is still to come from the tighthead.
The42 is on Instagram! Tap the button below on your phone to follow us!