A GOVERNMENT TD has declared he will be pushing to get Tallaght Stadium included in the conversation if Ireland are successful with their planned bid to host the 2023 Rugby World Cup.
Labour TD Eamonn Maloney believes the 6,000-seater stadium in Tallaght could cope with a pool game if its capacity was increased for the event. Sports Minister Leo Varadkar met this week with his Northern Ireland counterparts to discuss the next stage of making a formal, cross-border bid for the tournament.
Deputy Maloney is confident that Ireland would more than cover any money it puts into staging the World Cup. He said, "The benefits for the future are massive. When it comes to prestigious sporting events, is difficult to calculate [exact costs] but it would be a huge achievement for the entire island [of Ireland]."
The New Zealand government paid out an estimated €250m to stage to 2011 tournament but many of Ireland's stadiums are close to tournament ready and our transport infrastructure is superior. A study by consultant firm Deloitte predicted that the World Cup could bring €800m into the country.
Deputy Maloney said, "It would be great to have [games in Tallaght]. I would be pushing for that. Staging any amount of those games would be a wonderful achievement, a boost for sports in general and a boost for the locality. It would take the focus away from other things and get them participating in sports. Those things inspire people and captures the imagination.
"If it did get the go-ahead, I would be surprised if South Dublin County Council [the stadium owners] were not in very early promoting their stadium. I don't think it would need that push from the local politicians but all of the deputies would back it."
He also likened the World Cup's impact to that of the Dublin hurlers, who reached the All-Ireland semi final, last summer. "You look out on your street and you see kids coming along with hurleys for the first time in a long time. The same would apply for rugby."
"It's a bit like watching Wimbledon during the summer period," he continued, "you see kids out buying tennis racquets for the first time; it only happens for a short period but you look at your street and there are children out playing."
He added, "Tallaght, the constituency I represent, has probably the highest number of clubs and highest number of kids participating in sport. Phenomenal; any type of sport. Walk through Tallaght village on a Saturday morning at 9:30am and you see kids coming out from every direction with jerseys on."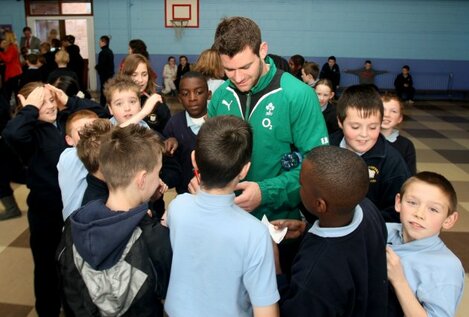 Fergus McFadden signs autographs for students of St Mary's Primary School in Tallaght on a visit with Ireland 'A' in 2009. INPHO/James Crombie
Tallaght Stadium hosted its first rugby game in 2009 when Ireland 'A' beat their Argetninean equivalents in an exhibition match. Leinster have frequented the stadium for summer training sessions and defeated Gloucester there in a preseason friendly in 2012. The stadium has also hosted Leinster Schools Cup games in recent years.
Shamrock Rovers, the stadium's tenants, welcomed Real Madrid to Tallaght for an exhibition match in 2010. Temporary seating increased the capacity to 10,900 for the sell-out affair. UEFA approved temporary seating installations in 2011 for Rovers' Europa League campaign, which saw capacity raised to 8,500.
The lowest attendances of the 2011 Rugby World Cup were the matches between Fiji and Namibia [10,100] in Rotorua and Scotland and Georgia [10,267] at Rugby Park, Invercargill.