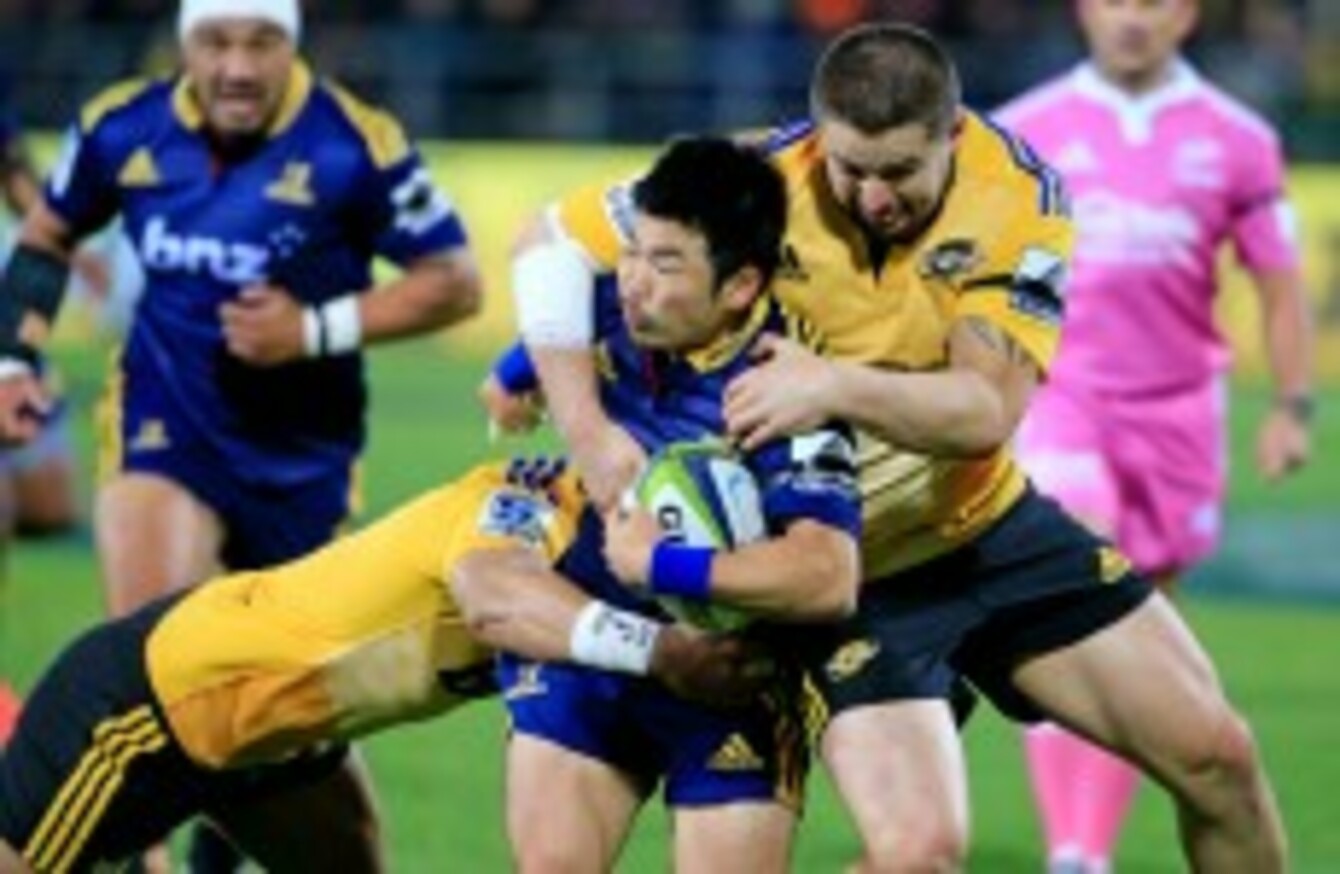 Image: Photosport/John Cowpland/INPHO
Image: Photosport/John Cowpland/INPHO
JAPAN HEAD COACH Eddie Jones is the latest southern hemisphere coach to limit his scrum-half options to two in his finalised Rugby World Cup squad.
With only 31 places up for grabs in a sport with a high rate of injury and numerous specialist positions, Warren Gatland and Michael Cheika are among the coaches who have opted to put their playing resources behind other positions.
After submitting finalised squads today, they must hope that, if an injury does befall their 'number 9s,' it will happen with enough time to call in a replacement.
Perhaps the highest profile distributor available to Jones is Fumiaki Tanaka, who became a fan favourite in his time with the Super XV side Highlanders and Otago since 2013.
Jones' theory was that the versatility of the remaining backs would help ease the pressure on his scrum-halves; number 10 Kosei Ono has been earmarked cover scrum-half and 33-year-old wing Toshiaki Hirose capable of fulling the strings at out-half.
The former Wallabies boss also had to defend himself over criticism for the number of imported names in the Brave Blossoms' touring party. Captain Michael Leitch (of Fijian origin), Amanaki Lelei Mafi (Tonga), Male Sa'u, Karne Kesketh, Hendrik Tui, Michael Broadhurst, Luke Thompson (all New Zealand), Justin Ives (South Africa) and Craig Wing (Australia) form the overseas-born contingent in the Japan squad.
However, chasing Japan's second ever win in a World Cup in a pool containing South Africa, Scotland, USA and Samoa, you won't find Jones to be apologetic about his selection calls.
"We've got approximately 42 players in Japan who are capable of playing in international rugby. That's all I can pick from," the Australian said.
"It's not my job to develop (Japan-born) international players — we've got to take a gamble with the squad. At the end of the day, what I tried to do was to pick the best 31 players."
Japan squad for Rugby World Cup 2015
Keita Inagaki, Masataka Mikami, Kensuke Hatakeyama, Hiroshi Yamashita, Shota Horie, Takeshi Kizu, Hiroki Yuhara, Luke Thompson, Shinya Makabe, Shoji Ito, Hitoshi Ono, Michael Leitch (captain), Ryu Holani, Michael Broadhurst, Hendrik Tui, Amanaki Lelei Mafi, Justin Ives.
Fumiaki Tanaka, Atsushi Hiwasa, Harumichi Tatekawa, Yu Tamura, Kosei Ono, Craig Wing, Male Sa'u, Kenki Fukuoka, Akihito Yamada, Karne Hesketh, Yoshikazu Fujita, Ayumu Goromaru, Kotaro Matsushima, Toshiaki Hirose.
Originally published at 4.56pm