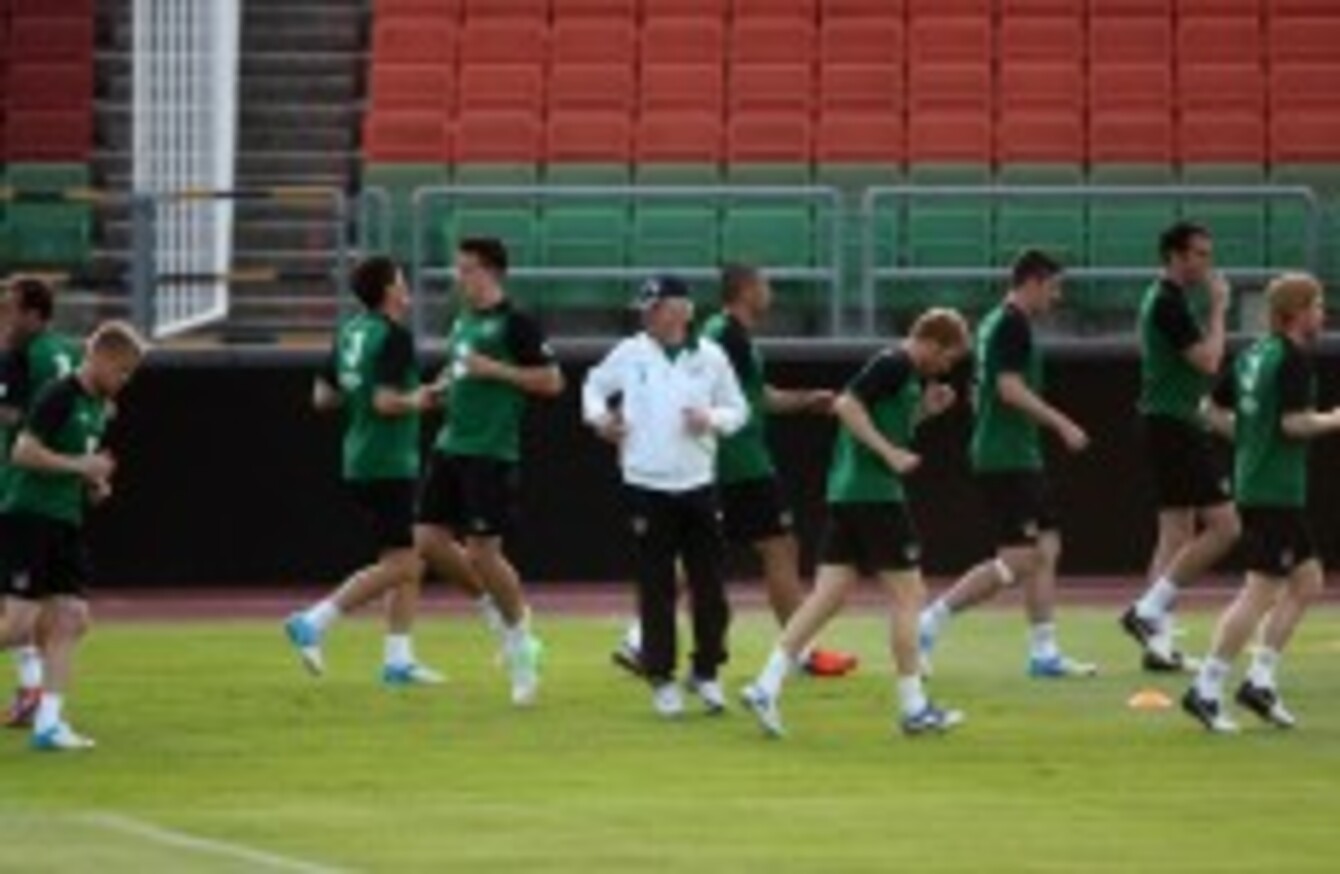 Symmetry: Giovanni Trapattoni takes squad training in Budapest at the weekend.
Image: INPHO/Donall Farmer
Symmetry: Giovanni Trapattoni takes squad training in Budapest at the weekend.
Image: INPHO/Donall Farmer
IN ALMOST EVERY sense, this is a summer to be savoured.
But there's one reason above all others. And we don't mean because Ireland have qualified for the first time in 10 years — the longest wait the country has had to endure since that maiden tournament in 1988.
No. It's because of the very fact that the changes to the tournament mean Ireland will likely never have to wait that long again.
This is the last summer of a 16-team European Championships. And, in terms of a competitive structure, this is arguably the last summer of perfection.
Once it ends, the tournament will open up to inferior quality, a completely asymmetrical structure and, increasingly, a bit of a bloated mess.
It should be admitted that, on one level, the decision does make some sense. The idea — pushed by mid-tier countries like Ireland and Scotland — was to increase the buzz, and therefore popularity, of the sport given the atmosphere a qualification creates. Needless to say, Uefa — and Fifa's Sepp Blatter — lapped this up.
But one unintended consequence will be the relative damage done to the "product" of the European Championships now.
Whatever way you look at it, it's difficult to think of a superior structure. For one thing, the tournament is perfectly symmetrical: 16 teams equally divided into four groups, all aiming for eight quarter-final places. It's neat and sets the competitive context perfectly. Finish in the top two and you're through. Don't and you're out.
Instead, from now on, we'll have the odd 24-team structure in which there will be six groups of four and four third-place sides effectively comparing their usually insufficient stats in order to claim a place in a poor last-16.
This was the case in the World Cup from 1986 to 1994, with Fifa's changes to the structure over that time — the 1982 tournament had an exceptionally odd second group stage featuring three teams per pool — illustrating the inherent problems with arranging such a number of teams in an event that normally necessitates a traditional four-team semi-final.
In virtually all ways imaginable, the expanded numbers lower the threshold. Just look at relatively shapeless, disjointed tournament the World Cup has become. Since 1982, its sheer size has meant that we have never had a full, flowing tournament in the manner of the 16-team 1954, 1970 or Euro 2000 events. It is far too stop-start.
Of course, given that it is a global event and must feature a widespread representation of teams from around the planet, the expanded size is completely understandable. It simply makes sense.
That's not the case with Europe. After this summer, almost 50% of the continent's teams will be qualifying.
Will there even be a novelty value — or value at all — to the "shock" qualifiers? Will it still be an "achievement" for countries like Ireland to qualify? Because that's the thing about 16 teams. It's still, after all, more European entries than to the World Cup. As such, a certain amount of surprises get through. It still allows just enough.
But, all in all, there is an impressive and enticing concentration of quality. Again, it's got an almost perfect balance.
Early doors
Unlike in the World Cup, the group stages can often be the most glamorous and exciting parts of the tournament given how it puts together so many sides of near-equal ability. You only have to think of games like Italy-Czech Republic and Denmark-Croatia in 1996, England-Portugal and Spain-Yugoslavia in 2000, Netherlands-Czech Republic in 2004 and Italy-France in 2008.
This summer we've got Germany, the Netherlands, Portugal, Italy and Spain all placed in two groups.
Savour it.
Because it'll likely be the last time. If not, that is, for Ireland.