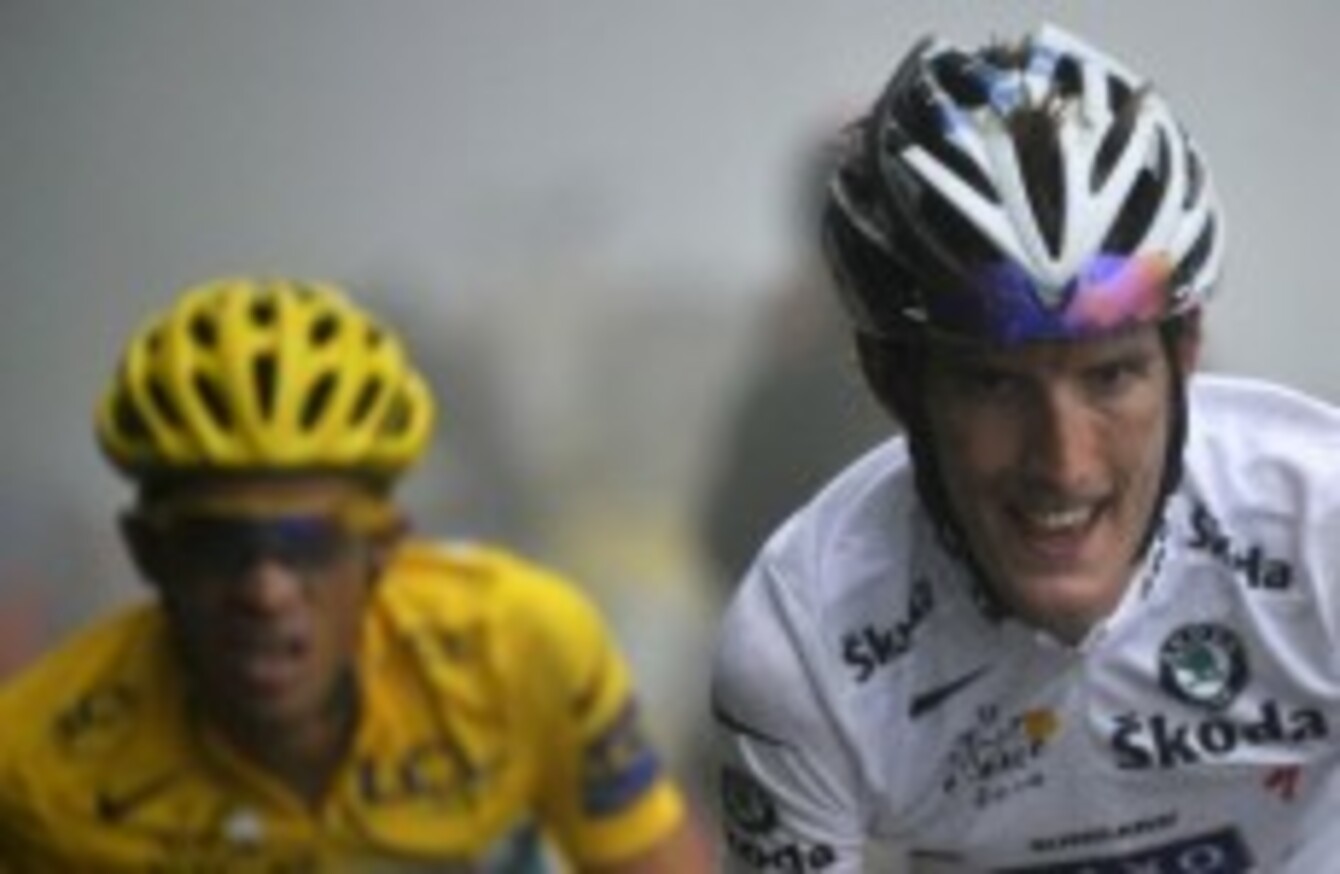 Image: Lionel Bonaventure/AP/Press Association Images
Image: Lionel Bonaventure/AP/Press Association Images
1. Who Dat Say Dey Gonna Win Dat Superbowl?
(New Orleans Saints vs. Indianapolis Colts, Superbowl XLIV, 7 Feb 2010)
When your fans resort to wearing paper bags over their heads for fear of being identified while at games, you know that something's not right.
In 1980, when the New Orleans Saints lost the first 14 games of a season which was only 16 games long, local radio personality Bernard "Buddy D" Diliberto famously advised fans to hide their identity if they were going to continue to support such a bunch of no-hopers.
Even when the team started to reach the postseason playoffs on a semi-regular basis from 1987 onwards, the paper bags continued to fill the stands. Fans deprecatingly referred to the team as the 'Aints, wearing their status as the league's most pitied fans almost as a badge of pride.
Let there be no doubt about it – the New Orleans Saints are the NFL's losers.
At least, the New Orleans Saints were the NFL's losers. Until February 2010 and Superbowl XLIV, that is.
Making their very first appearance at the NFL showpiece since the franchise's birth in 1967, the Saints were firm underdogs, facing a highly-fancied Indianapolis Colts led by one of the game's great quarterbacks, Peyton Manning.
Behind 10-0 after the first quarter, it seemed as though the writing might be on the wall for New Orleans. It might well have been, but for some ballsy tactical calls by coach Sean Payton and the inspired leadership of quarterback Drew Brees.
As the Saints first recovered an onside kick, then picked up a two-point conversion by the thinnest of margins, and finally made a crucial interception to end Manning's game-tying drive, there was a growing realisation that this was more than just another underdog story.
Truth be told, this was more than just another Superbowl victory.
This was a landmark for the people which had struggled and fought to rebuild their beloved city in the wake of death and destruction which Hurricane Katrina had wrought in 2005. Their passion, their pride and their faith were vindicated that Sunday evening in Miami.
Superbowl XLIV was a simple, yet powerful statement from the people of New Orleans to the watching global audience. The city – their city – was back.

2. The Endless Match: Mahut vs. Isner
(Wimbledon Championships 2010, First Round, 22-24 June 2010)
It may not have been the most beautiful tennis ever played, but John Isner and Nicolas Mahut's first-round marathon at the All-England Tennis Club is certainly one of the most memorable moments of the 2010 sporting year.
As both players stepped on to Court 18 at 18:09 on a dry Tuesday evening, they could not have possibly imagined that 46 hours and 39 minutes later, they would be playing the final shots of a match that simply would not end.
It was then, shortly before five o'clock on Thursday evening, that Isner finally gave closure to the interminable saga, drilling a powerful backhand winner past the outstretched Mahut to seal a quite unthinkable 6-4 3-6 6-7 7-6 70-68 win.
As one might expect of a match which lasted for over eleven hours of playing time, the strains of endurance began to show. Things began to break.
First to go was the net, collapsing mid-way through the fifth set. Next was the scoreboard, malfunctioning shortly thereafter as it was apparently only programmed to go as high as 47-47. And finally, a deluge of records tumbling in quick succession – most aces, most consecutively held service games, longest set and finally, longest match.
To their credit though, Isner and Mahut proved to be the most resilient of the match's various components, fighting through any number of physical and psychological barriers to see the freakish spectacle through to its bitter end.
Of course, there didn't deserve to be a loser. Fortunately for Mahut, defeat was largely irrelevant as the true achievement lay in the participation rather than the result. Although it would have been a brave man who dared to explain that to him as he trudged off Court Eighteen that Thursday afternoon, a picture of despondency and sheer exhaustion.

3. Spain's Beautiful Game Pays Dividends
(FIFA World Cup, June & July 2010)
Bafana Bafana. The two Diegos, Maradona and Forlan. Jabulanis and Vuvuzelas. The "dirty Dutch" and de Jong's kung-fu. The hand of Suarez. Anelka's strop. Another English implosion. Paul The Octopus.
2010 may not have been a vintage World Cup year, but when thirty-two teams of the world's finest footballing talent come together, the resulting fare is often eminently watchable if not overly thrilling.
In the end, it was fitting that the nearly-men of Spain should finally get their hands on a trophy which nobody could deny them. For four weeks, Vicente del Bosque's men played football the way in which it was intended to be played, the phrase tiki-taka entering the lexicon of barstoolers everywhere.
Exploiting the logical premise that if your opponents don't have the ball, they can't score, four successive 1-0 victories in the knockout stages were sufficient to give Spain their first ever World Cup success.
Their crowning moment was an unfortunately uninspiring affair, dragging on until Andres Iniesta pounced to vanquish their Dutch opponents with just four minutes remaining in extra time.
The contrasting footballing styles on display ensured that all bar those who had backed Holland at a pre-tournament 12/1 were in the Spanish corner. Bert van Marwijk's side were not del Bosque's Spain, nor had they any desire to play the Spanish at their own game. They were there to win, and to win ugly if that was what was necessary.
Holland's was a valiant if often brutal effort, but one which won them little support among the neutral audience. Purveyors of the beautiful game to the last, Spain were popular victors at World Cup 2010.

4. "The Decision" To End All Decisions
(LeBron James' Free Agency, 8 July 2010)
It seems bizarre to suggest that a self-serving, overlong television special should be considered one of the defining sporting moments of 2010.
Sadly, it was.
On 1 July 2010, the contract of one of the biggest names in basketball expired, allowing him to sign for whichever NBA franchise could put together the most attractive offer. After seven years with his home-state team, the Cleveland Cavaliers, LeBron James was a free agent.
Free to follow the money. Free to follow success. Free to follow his heart.
A week later, James announced his decision to sign for the Miami Heat where he would join up with his friends, fellow Olympic gold medalists and All-Stars Dwayne Wade and Chris Bosh. This new superteam, he felt, would give him the best chance of securing the NBA Championship Ring which had eluded him during his time in Cleveland.
While LeBron's decision to choose Miami rankled some – mainly those whose advances he had spurned, including the heartbroken people of Ohio who had watched him grow since 18 years of age – few could argue with his right to choose where he would play his basketball.
It was the manner of doing so that upset most people, as LeBron invited ESPN to broadcast an hour-long primetime special during which he would reveal "The Decision".
His free agency was only one of many deals to be concluded with some of the NBA's brightest talents in the first week of July, some of which involved $100m-plus contracts. Yet, in comparison to the man that Cavaliers fans once dubbed "King James", all other negotiations paled into insignificance.
It was just the way that LeBron wanted it. And what LeBron wants, it seems, LeBron gets.
An hour-long TV programme centred around the uttering of a single, ultimately predictable sentence. A damningly self-indulgent media stunt by an athlete who appears to have forgotten that he is still a mere pretender at the altar of the greats who have gone before him. A narcissistic admission that he now believes himself to be bigger than basketball.
Ultimately, fatigue trumped suspense, and those who had once cared about where LeBron would next ply his trade were merely glad that the overblown media circus had left town.
Alongside Wade and Bosh, LeBron will continue to be great at Miami. His talent will continue to be respected. His egotism, however, will not.

5. Contador vs. Schleck On The Col Du Tourmalet
(Tour de France Stage 17, 22 July 2010)
The Tour de France is more than just a bike race. It is a story, a drama whose many twists and turns are woven into an engrossing tapestry over the course of three gruelling weeks in the French countryside and mountains.
In 2010, as so often in the past, it seemed as though Lance Armstrong would be the tale's protagonist, returning for his final farewell at the event which he had captured a record-breaking seven consecutive times.
However, when all was said and done and the champagne had flown on the Champs-Elysees, Armstrong's departure was little more than a minor subplot alongside the clash which served as the pulse of the 2010 tour – the battle of Alberto Contador and Andy Schleck.
As the Tour entered its final week, it was obvious that the Spaniard's march to his third yellow jersey in four years would be anything but ceremonial. If victory was to be his, he would need to claw back the thirty-one second lead which Schleck had managed to build up to that point.
When Contador finally struck on Stage 15, he did so in the most controversial way possible, defying the Tour's unwritten gentlemanly code by powering off into the distance as Schleck scrabbled to reattach a slipped chain.
Three days later, the stage was set for one of the most fascinating head-to-heads in Tour history, Schleck knowing that he needed to reach the towering Pyrenean peak of the Col du Tourmalet at least a minute ahead of Contador to have any chance of overall victory.
On fifteen separate occasions during the final eighteen kilometre ascent, Schleck would up the pace in an attempt to shake Contador from his rear wheel. Each time, the defending champion simply matched him, smiling through the pain.
Having proven himself to be unshakable, with three and a half kilometres remaining Contador sought to end the Tour there and then by launching a huge attack of his own.
The tiring Schleck dug deep however, fixing his rival with an unforgettable stare as he rejoined him. One part "how dare you?" and seven parts "is that all you've got?," nothing captured the intensity of their Tour-defining battle better than Schleck's burning gaze.
Though Schleck would eventually cross the line ahead of Contador, the victory was a hollow one as he failed to erase the Spaniard's advantage. The yellow jersey would once again be Contador's.

6. Zenyatta Beaten At Last
(Breeders' Cup Classic, 6 Nov 2010)
Few horses capture the public imagination as Zenyatta did.
The six-year-old American mare's record speaks for itself. Nineteen consecutive wins, a remarkable thirteen of these successes coming in Grade One events including victory in the Breeders' Cup Ladies Classic in 2008.
Not content with merely winning the ladies' event, Zenyatta would go one better in 2009 when she won the Breeders' Cup Classic, defeating a strong field of former Grade One champions to seize victory by a length.
In doing so, the mare became the first ever lady to win the event, acknowledged as the equine flag-bearer of female sporting excellence when she finished as runner-up in the Associated Press Female Athlete of the Year Awards.
This crowning victory at Santa Anita, it seemed, would mark the end of the brilliant career of one of America's most-loved horses. Despite having announced her imminent retirement, however, owners Jerry and Ann Moss felt that Zenyatta still had more to give.
They were right. Zenyatta would return for one final season in 2010, her invincibility persisting as she notched up a further five Grade One wins.
Even still, her critics remained dissatisfied, claiming that many of her nineteen victories had come against substandard opposition. To silence them, there remained only one course of action – to win the Breeders' Cup Classic for a second time.
Had the story of Zenyatta been the product of a Hollywood scriptwriter's fertile imagination, a fairytale ending would have been assured. Fairytales and reality are often uncomfortable bedfellows, sadly.
Even when she found herself twenty lengths adrift after a particularly slow start, Zenyatta's supporters found no reason to be concerned. This was her style. Practically all of the mare's previous wins had seen her come from way off the pace as she rounded the final bend, finding an extra gear in the straight that her rivals could only dream of.
To the uninitiated, the front-runner Blame's lead looked to be insurmountable. But as his eight lengths advantage dwindled to seven, six, and smaller still, it seemed as though the impossible was about to happen.
Then the finishing post came, a stride too soon for Zenyatta.
Twenty starts. 19 wins. A short-head away from perfection.

7. Pacquiao Becomes An Eight-Division World Champion
(Manny Pacquiao vs Antonio Margarito, 13 November 2010)
Twelve months ago, it seemed that the most eagerly anticipated boxing match in recent memory would certainly hold pride of place when the time came for 2010's end-of-year reviews. 2010, it seemed, would finally settle the debate as to who is the best pound-for-pound boxer in the world, Floyd Mayweather or Manny Pacquiao.
Fast forward twelve months and the fight is yet to happen for a multitude of frustrating reasons. In the meantime, life goes on, but at very different paces for the two fighters.
Mayweather has largely been absent from the public eye over the past twelve months, only emerging from hiding to briefly underscore his greatness with a unanimous decision victory over Shane Mosely in May.
By comparison, Pacquiao was almost inescapable in 2010, successfully defending his WBO Welterweight Title against Ghanaian Joshua Clottey before securing an equally impressive victory in his Filipino Congressional race, securing over 65% of the vote.
Despite his new political commitments, Pacquiao still found time to make another little bit of boxing history in 2010, this time by defeating Antonio Margarito to capture the vacant WBO Super Welterweight belt.
In doing so, the Filipino became the only boxer ever to hold major titles in eight different weight divisions.
In victory, Pacquiao was as classy as he was comprehensive. Having already done more than enough to secure victory and having inflicted quite visible damage on Margarito in the process, Pacquiao spent the eleventh round practically begging referee Laurence Cole to bring the fight to an end.
When Cole failed to take the hint and Margarito's corner sent their bruised and bloodied fighter out for the final round, Pacquiao eased up, allowing the proud Mexican to see the fight through to the final bell.
When asked afterwards about his performance towards the end of the fight, Pacquiao's response that "boxing is not for killing each other" reminded us all that not only is he a boxing legend but also a true gentleman.
A champion at eight different weight divisions, if anybody should know what boxing is truly about, it is Manny Pacquiao.