TWO YEARS AGO, the seeds for what would become The Race were put in place.
Derry native David Burns and his friend, Limerick-born Maghnus Collins — two veterans of endurance races around the world — came up with the idea of creating a new challenge set in Ireland.
Having become familiar with the likes of the Marathon des Sables, the 4 Deserts Race Series and the Ultra-Trail du Mont-Blanc, Burns audaciously set about instigating an Irish equivalent that would merit being mentioned in the same breath as these arduous contests.
But what could an event in Ireland bring to the table that the other aforementioned world-renowned races lacked?
After some consideration, Burns and Collins eventually settled on northwest Donegal as the location for The Race — what ultimately became a 25okm-long event that participants must finish within 24 hours of starting. It would include a range of challenging activities — competitors were required to run a half marathon, cycle 175km, paddle 15km and climb 800 vertical metres before finishing with a full marathon through the night.
The beginning of March was deliberately chosen as the time when the event would take place, as it is around this point when the Irish climate is at its most unpredictable and potentially fiercest.
"It can actually make a race really hard," Burns tells The42. "Wind can be a much bigger factor for a competitor than big climbs or anything like that.
"So we came up with the location and the time of the year where you're more likely to get changeable weather — hailstones one minute, calm for a couple of hours and wind that can change direction two or three times a day. We kind of assume that everywhere in the world is like this, but it's not. So that was the background to The Race — we wanted to make it uniquely Irish."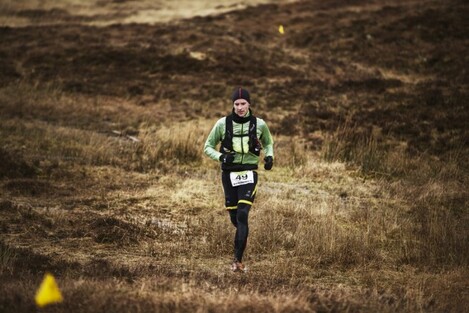 Source: 043023011607
With help from Sand2Snow Adventures and Gartan Outdoor Education Centre, who helped organise the event and design the course, The Race was born.
Moreover, Burns himself is well aware of what makes a race demanding. Most recently, he undertook an 11-month endurance test all the way across Asia — East to West — with challenges including a 1,000km run across the Tibetan Plateau and kayaking the length of the Yangtze River.
While a similar endurance event in Ireland would be impossible for many obvious reasons, Burns was determined to at least make his challenge similarly difficult.
"One of the appeals of these events is that you're not guaranteed to finish them," he says. "We were keen to put together something like that in Ireland — we didn't think there was something there and we thought there should be something."
"We wanted it to be 24 hours as well, because we wanted it to be manageable. We didn't want it to be a month-long race where it was going to be something that the average person couldn't get enough time off work for.
"At the same time, we wanted it to be hard so that you're not guaranteed to get round it. It's not something where, if you do a couple of weeks training, you're definitely going to get round it."
Indeed, while it may only last a day, the scope of the challenge is evidently considerable. The deadline for signing up is in August, giving participants plenty of time to prepare beforehand. They are subsequently required to undergo a rigorous 16-week training programme, before finally being ready to compete.
While anyone can enter, it has unsurprisingly proved popular with fitness fanatics well accustomed to similarly taxing situations.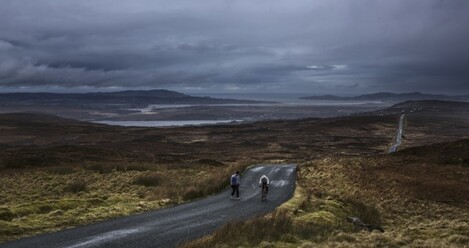 Source: 043023011607
"There are a lot of people with a background in the armed forces and a lot of people who would have done Ironmans, triathlons and ultra-running before," Burns explains.
Though while experience is undoubtedly a help, it won't necessarily guarantee success in The Race.
"You don't have to be a phenomenal athlete, you just have to put in the time and pay attention to small things like the weather conditions and how you dress for the day.
"A lot of people are used to six and seven-hour events, but very few of them would be able to go at that level for a whole day. A lot of it comes down to how you plan your day, how you plan your nutrition, how you plan your clothing. So people who haven't done something like this before can do very well [and vice versa]."
Around 60% of the competitors are Irish, with increasing numbers from the UK and the rest of the world being attracted to the event, while roughly 120 volunteers will provide assistance in ensuring the challenge runs smoothly on the day. For logistical reasons, a maximum of 100 competitors can sign up, with some inevitably opting out between August and The Race's commencement in March.
Bad weather made last year's inaugural event especially difficult, as just 35 of the 54 participants successfully completed The Race.
And while the ardent few set out with genuine hopes of triumphing, the majority of competitors simply aim to finish within the allotted 24-hour time limit.
In addition to fitness and planning skills, luck can sometimes be the difference between success and failure.
"You could be on the course at a particularly bad time — at about 6 or 7 in the evening last year, there was a big hailstorm and strong winds.
Source: 043023011607
"The field gets very spread out, so a first competitor would finish in 15-and-a-half hours, whereas other competitors would struggle to finish in 24 hours [the final finisher came in at 23 hours and 58 minutes last year]. You could be in a really nice sheltered position at the time of a hailstorm, or you could be really exposed.
"So you can be unfortunate — you could be at the front of the race, but you might be hit by a bad wind that can really throw you."
In 2014, Canadian Bill Wells — a veteran of Ironman competitions around the world, emerged victorious in the male category, with the female title going to Scottish triathlete Christina McKenzie.
Consequently, an Irish athlete has yet to taste success, though there are a number of strong contenders this year, with Sean McFadden, Eddie Brennan and Avril Copeland among those hotly tipped to prevail.
The aforementioned Wells finished the event in an impressive 15-and-a-half hours last year, and the success of a figure renowned as being among Canada's top athletes brought international acclaim to The Race, with the country's national news programme subsequently listing it as one of the 10 toughest endurance races on the planet.
With that in mind, is there any aspect of The Race that Burns regards as particularly tough?
"We finish with a marathon and it's more or less in the dark for everyone. And on the third phase, there's a 175km cycle. Those two are probably the hardest, but it is subjective.
"Runners would prefer the running stage whereas cylicts would prefer the cycling stage, but generally, it was one of those two [that people single out]. Just because of the tiredness, it's probably the final marathon [that's the hardest]."
"But it's really the weather that will influence how hard it is. If you get a bad day, it's going to be horrendously tough, whereas if you get a calm day, it could be a good bit easier."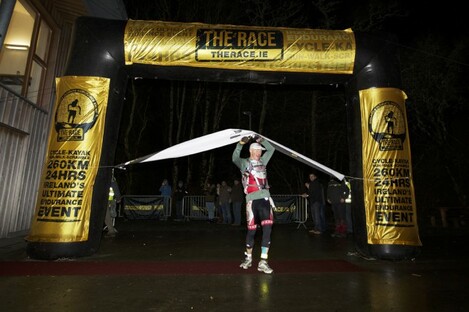 Source: 043023011607
With thousands of spectators expected to show up in support of the athletes, and not to mention, the allure of the breathtaking Donegal landscape that its course encompasses, The Race seems all set to be a sporting spectacle that few in Ireland will be able to match on an aesthetic level in 2015.
But what also makes it special, Burns explains, is the palpable bond among participants.
"There's a good community spirit between the competitors. They're signed up six months in advance and they're all in touch online, so they all know each other before they get there.
"It's more [about] competitors against the course rather than against each other, so you do have great camaraderie because of that, which is one of the nice things about the race that you do get to be part of."
The Race, which takes place this year on 7 March, is a not-for-profit event with all proceeds going towards the work of Gorta – Self Help Africa. For more info on how to donate, click here.
All pics used with permission from David Burns.