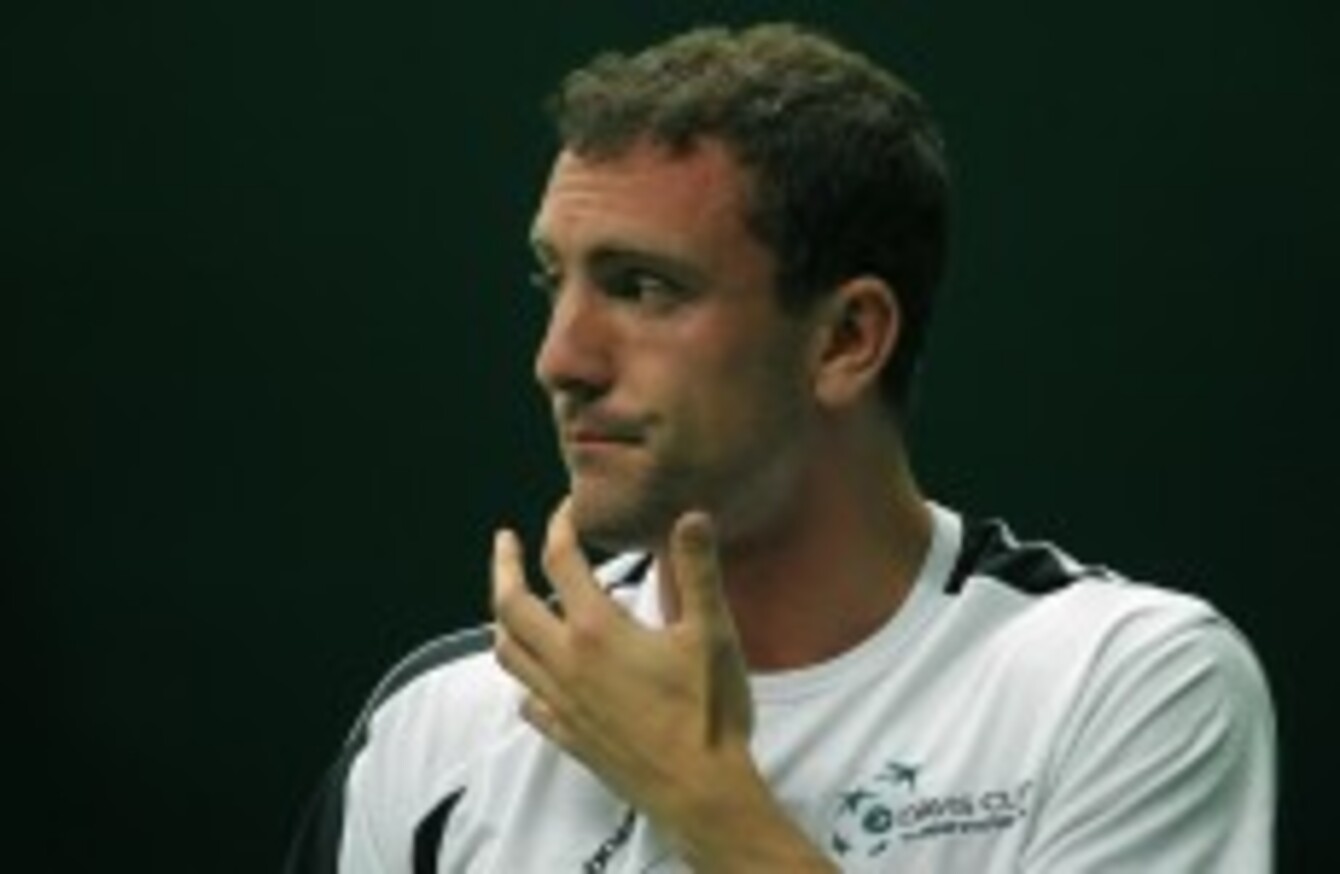 Image: ©INPHO/Lorraine O'Sullivan
Image: ©INPHO/Lorraine O'Sullivan
IRISH EYES WILL be on SW15 rather than SW19 tomorrow when Conor Niland steps out at Roehampton for his third-round Wimbledon qualifier against Nikola Mektic of Croatia.
It's the first time that the man from Limerick will have a shot at making the main draw at the All-England Tennis Club. Here's what you need to know about the Irish hopeful.
Who is Conor Niland?
Twenty-nine-year old Niland was born in Birmingham, but moved to Limerick as a youngster and grew up there. He comes from a strong sporting family – his dad, Ray, played at corner back for the Mayo senior football team while his sister Gina is a former Irish number one tennis player.
After spending a few years on the ITF Futures circuit, he now largely plies his trade on the ATP Challenger tour. His biggest career win to date came at the Israel Open in May of last year, when he beat the Brazilian Thiago Alves in three sets in the hard court final. He is currently ranked number 185 in the world.
How's he doing this season?
So so. After an encouraging start to the year saw him reach the quarter-finals of the Heilbronn Open in Germany, he struggled to get past the first round in a lot of tournaments thereafter. He seems to be hitting form at just the right time though – two weeks ago, he won four matches on the bounce at the Nottingham Challenger before losing to Tatsuma Ito of Japan in the last sixteen.
What are the Wimbledon qualifiers?
Not everybody makes it to the main draw at the All-England Tennis Club, which begins next Monday. There are only 128 precious spots and, for those who aren't ranked highly enough and don't receive a wild card entry, there is a chance to win a spot during a week-long tournament at the Roehampton Club. In the men's singles, you have to win three qualifying matches in order to progress to the Championships proper. Niland's match against Nikola Mektic of Croatia tomorrow is all that stands between him and a place in the first round draw.
How did he get this far?
He hasn't exactly done things the easy way this week. In his first round qualifier against Josselin Ouanna of France on Monday, he needed to save five match points before taking the deciding set 8-6. Yesterday, against the Australian Greg Jones, he dropped the first set 6-4 before rallying to take the final two sets. There have certainly been a few edgy moments over the last few days, but he's still there and that's all that matters.
What's Nikola Mektic like?
In a word, beatable. The 22-year-old is currently ranked 274 in the world, and has never been ranked higher than 242. He is playing well this week, however, and has won his two qualification matches without dropping a set.
When was the last time we had an Irish player in the main draw at Wimbledon?
It has only ever happened once in the Open Era, and that was when Sean Sorensen, father of Luke, made it as far as the first round in 1977. Unfortunately, he was drawn against one of the sport's all-time greats, Rod Laver, and that was the end of that dream. Back at the end of the 19th century, however, Irish players had plenty of success at Wimbledon with Lena Rice, Joshua Pim, Harold Mahony and Willoughby Hamilton all winning singles titles.
If he wins tomorrow, will he have a big payday?
Relatively speaking, yes. The prize money on offer for reaching the first round is £11,000, which is roughly the same amount as Niland has made in all of his other outings combined this season. After that, the prize money on offer essentially doubles with every win in the tournament proper. Even if he loses, he'll still get a cheque for a not insignificant £7,000.
Who could Niland be drawn against?
Anybody, really. Last year, some qualifiers were fortunate enough to be handed relatively easy first-round ties against other qualifiers while others, such as Frenchman Nicolas Mahut, had to face seeded opponents like John Isner.
How do qualifiers usually do?
Tobias Kamke of Germany fared the best of all the qualifiers in last year's tournament. He made it as far as the third round where he was beaten in straight sets by Jo-Wilfried Tsonga. The furthest that any male qualifier has ever made it is to the semi-final stage: John McEnroe (1977) and Vladimir Voltchkov (2000) share that honour.