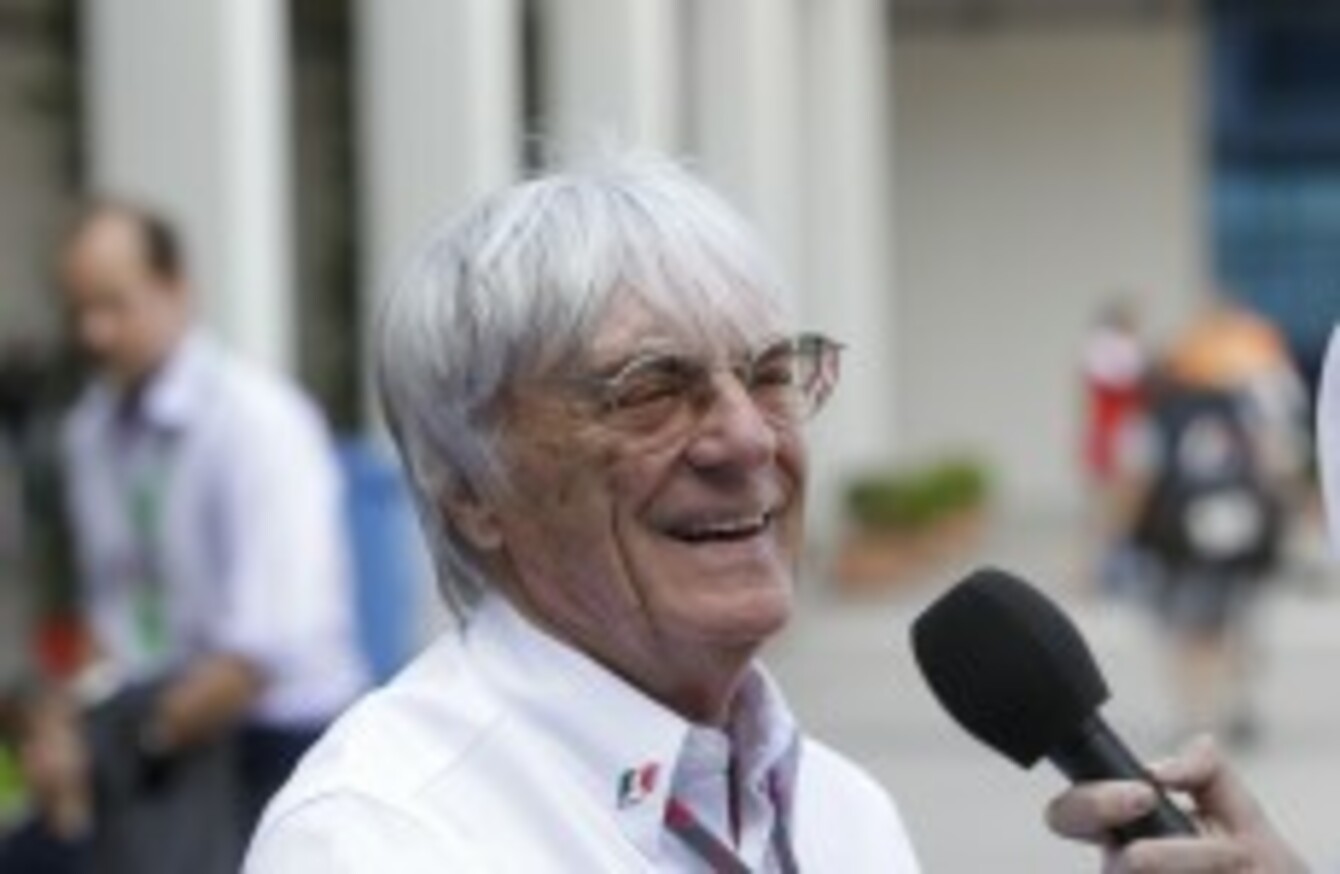 Bernie Ecclestone didn't do himself any favours with last week's interview.
Bernie Ecclestone didn't do himself any favours with last week's interview.
EVERY SUNDAY, WE flick back through some of our favourite pieces from newspapers, websites, blogs, wherever. Here's the cream of the crop from this week:
1. At least one recent Premier League manager is known to have forbidden his daughters, with a skinny-handed Ancient Mariner fervour, from ever marrying a footballer. It may be fair to add another caveat: Premier League footballers should, if possible, avoid marrying women who are willing to marry Premier League footballers. This is nobody's fault, but is instead an inevitable product of the peculiar plastic universe of the modern footballer, an environment peopled by hustlers and fixers, goons and creeps, profiteers, brutes, aardvarks, baboons, popinjays, sea cucumbers, bilious barnacles and a distinct species of sharp-taloned power-woman: irradiated by spray-on celebrification, empowered by bloodless consumer-lust, willing stooges to the textureless inanities of football's captive princes, big-haired, money-glossed, and dressed alternately in vamp-glam predator chic or the fashion-tracksuits of the basking social athlete.
Barnay Ronay is in cracking form this week, as he assesses Mario Balotelli's recent problems.
2. Even at the tender age of nine Rory McIlroy exuded the type of confidence that finally secured his maiden victory in one of golf's greatest tournaments. He had just celebrated his birthday and the young Holywood boy was preparing to fly off to Florida for his first international competition – the junior under-10 world championship.
Nicknamed "Mac the Knife" at St Patrick's primary school because of his early reputation for dispatching rivals on the fairways, McIlroy vowed back then he would eventually take on and beat his hero Tiger Woods. "I just want to be the best," he said in an interview with a local paper. "I already know that I've got a wee bit of something going for me. I hope to do what Tiger Woods has done."
Writing in The Guardian, Henry McDonald examines Rory McIlroy's meteoric rise and suggests he can do his bit for the Northern Irish economy.
3. I've compared the England XV to the equivalent week in the Five/Six Nations of 50/40/30/20/10 years ago, rather than the biggest or smallest of that particular year.
Why England, rather than any of the other teams in the tournament? Partly because the information was accessible, partly because the nationality feels less important than the patterns revealed. Think of England as an example, rather than the exception.
Tom Fordyce looks at the influence of players' size in the modern game.
4.
FA: Where have you been? It's 2am.

Premier League: Abu Dhabi. Been partying with the sheikhs. Any booze left in the fridge?

FA: You've had it all. Also, you've to be at a community event in Harrow tomorrow.

Premier League: Aw, dude, can't you do it?

FA: It's on your schedule. [Sniffs] Besides, I have to adjudicate on a rather delicate disciplinary matter in the Staffordshire Senior Challenge Cup.

Premier League: I'm buying more booze.
The Daily Telegraph's Jonathan Liew provides a typically whimsical take on the FA's unfavourable reputation.
5. It's probably more accurate to say that team loyalty of this sort begins with youthful enchantment. You got thrown together by circumstance with a magical team — maybe one that happened to be doing well when you were a kid or one that featured the sort of heroes children are wise to revere. You lunged upon the team with the unreserved love that children are capable of.
The team became crystallized in your mind, coated with shimmering emotional crystals that give it a sparkling beauty and vividness. And forever after you feel its attraction. Whether it's off the menu or in the sports world, you can choose what you'll purchase but you don't get to choose what you like.
The New York Times' David Brooks explains why he can't bring himself to stop supporting the New York Mets.
6. While their rule-breaking habits aren't considered gamesmanship per se, Djokovic and Nadal do gain a competitive advantage in maximizing their recovery time. Both men play grueling games that take a physical toll, with the ultimate display of that coming in Melbourne. Incredible fitness is obviously the main factor in being able to execute this style successfully, but having more time to catch your breath between points doesn't hurt either.
Tour players may disagree on how frequently time violations should be issued, but they agree on one thing: It's for the officials, not the players, to worry about.
Courtney Nguyen of Sports Illustrated asks whether modern tennis players take too much time between points.
7. "Bernie Ecclestone, 5ft 2in, has a private jet, a house in Chelsea and a hotel in Gstaad. He has a glamozon ex-wife, two socialite daughters and a Brazilian squeeze who is nearly 50 years his junior. He once played chemmy with "Lucky" Lord Lucan and stared down a gangster who pointed a gun in his face. He should be the most fascinating man in the world – and yet just under an hour in his company is like climbing an extremely steep flight of stairs."
Sunday Times reporter and recent British Press Awards Interviewer of the Year nominee, Camilla Long, was unimpressed by Formula One supremo Bernie Ecclestone (subscription required).