Murray Kinsella reports from Thomond Park
THIERRY DUSAUTOIR'S FACE is bleeding as he sits in the media room after his Toulouse team have been dumped out of the Champions Cup at the quarter-final stage by Munster on a 41-16 scoreline.
It's sad to see the 35-year-old so defeated, having been part of a Toulouse side that is a shadow of their former selves.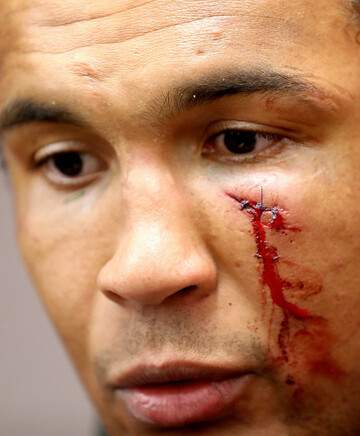 Source: Dan Sheridan/INPHO
The Toulouse captain is one of the great players, a man who almost led his nation to an improbable World Cup success in 2011 and a back row who has delivered for his club on countless occasions.
Many of his best days have come in a Toulouse shirt, but those glory times are over for the Top 14 outfit. They gave Munster a battle at times in Thomond Park, but they were frustratingly lacking in discipline, physical fitness and a sensible game plan.
This was Dusautoir's first time playing in Thomond Park, having missing the 2014 defeat here, when Munster managed to put 47 points on the French outfit.
Speaking back in January after the pool stage win over Connacht, the flanker had been excited to experience the Limerick stadium and though it was a miserable ending for Toulouse, he said it lived up to his expectations in terms of the atmosphere.
It's an amazing crowd, everybody knows it. But it would have been nicer for me to win here or to finish with a better score. Anyway, for all the French guys on the pitch, it was something really special to be here and play against the Munster men."
Dusautoir felt that Toulouse were in the game until a late stanza of Munster try-scoring, but he bemoaned their poor starts in both halves.
"Well, unfortunately we started in a pretty bad way in the first half and the second half too, and 10 minutes before the end of the game we started to crouch down and the Munster men started to score easy tries, so it makes it a big score at the end of the game.
"But I think we could have done a better game today without these last 10 minutes."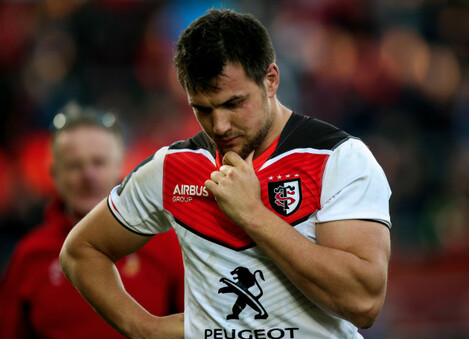 Toulouse leave Limerick in dejection. Source: Tommy Dickson/INPHO
The late loss of Scotland lock Richie Gray to injury was clearly damaging to Toulouse, as the superb Peter O'Mahony picked off two of their lineout throws and forced a turnover on a third.
"Richie is a great player and it would have been nice to have him with us, but he got injured just before the game," said Dusautoir.
"I think that we have good players and Joe Tekori, who took the lead after this, had a good game, but it was unfortunate for Richie that he wasn't able to play this game."
Toulouse now turn their attention towards rescuing their Top 14 season, as they currently sit 10th following last weekend's defeat to Bordeaux, and the upcoming meeting with Toulon is vital for them.
He will keep an eye on the Champions Cup, however.
The French great has played against one of the very best Munster teams before, suffering defeat to the southern province in the 2008 Heineken Cup final, but he can't say yet whether Rassie Erasmus' vintage will be in that bracket.
"I couldn't tell you, it was very different. We are talking about legends at this moment. Here in this place, we are still talking about them [the 2008 team].
"I would hope for the best for the end of the season, maybe they will be able to put their names in the Munster legend."