SERIE A CLUBS Atalanta, Novara and Siena were among the 22 Italian teams notified today that they are being investigated by sports authorities in a massive match-fixing scandal.
The other clubs named by the Italian soccer federation (FIGC) were: AlbinoLeffe, Ancona, Ascoli, Avesa, Cremonese, Empoli, Frosinone, Grosseto, Livorno, Modena, Monza, Padova, Pescara, Piacenza, Ravenna, Reggina, Rimini, Sampdoria and Spezia.
The FIGC also said 61 people and 33 matches were under investigation, including 29 in Serie B, although none in Serie A — with the allegations for Atalanta, Novara and Siena stemming from when they played in Serie B in past seasons.
Former Atalanta captain Cristiano Doni and legendary former Lazio captain Giuseppe Signori are among the more than 30 people who have been arrested in Italy in the past year in the probe started by judicial authorities in Cremona. Doni was among those named again today, while Signori was not.
Also named were former Piacenza player Carlo Gervasoni and former Cisco Roma player Alessandro Zamperini, who were allegedly at the centre of the match-fixing ring, plus former Inter Milan, Parma, Roma and Ternana defender Luigi Sartor.
Investigation
Last summer, Doni was banned from soccer for 3½ years by the federation, and Atalanta — which was promoted to Serie A for this season — was given a six-point penalty.
The FIGC inquiry will likely lead to a massive sports trial this summer — just like the one in 2006 that resulted in Juventus being relegated to Serie B and point-penalties for several other top clubs. Juventus were also stripped of the 2005 and 2006 titles.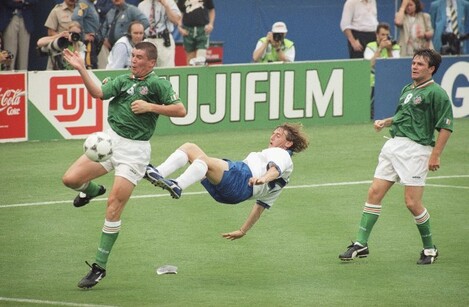 Giuseppe Signori flies through the air while challenging Ireland's Roy Keane, as Ray Houghton looks on. Signori was arrested last year but not named today. Bill Kostroun/AP/Press Association Images
Over the past year, prosecutors in Cremona have detailed an extensive match-fixing ring that stretched as far as Singapore and South America and was allegedly in operation for more than 10 years.
More clubs and people could be placed under inquiry once Stefano Palazzi, the FIGC prosecutor, works through documents relating to another wing of the probe based in Bari.
Novara will be relegated to Serie B after this season.