IT WAS A few days after Tipperary's final Allianz League Division 3 outing against Sligo when a "no holds barred" meeting involving players and team management took place at Dr. Morris Park in Thurles.
Strength and conditioning coach Dave Moriarty left deflated, wondering where the team was headed and questioning why he'd decided to get involved in the first place.
Liam Casey, Kevin Fahey and Jason Lonergan informed their team-mates that they wouldn't be sticking around for the championship, and were heading to the US instead for the summer.
Tipp had survived in Division 3 but that was only confirmed on the last day, from a position where they were right in the hunt for promotion after four rounds.
Successive defeats to Longford and Kildare put the kibosh on any hopes of Division 2 football in 2017 and losing such talented young players left manager Liam Kearns and his backroom staff behind the 8-ball ahead of the championship.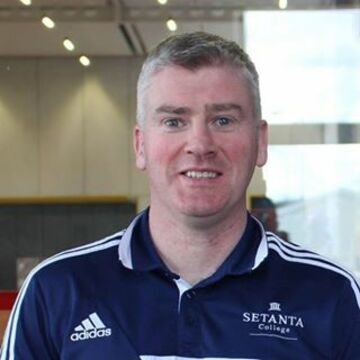 Dave Moriarty is strength and conditioning coach with the Tipperary senior footballers.
"I thought, my God, what have I got myself into?" says Moriarty.
"This was going to be a very short year unless there was a dramatic change. It was a case of, Jesus, we get over Waterford and we play Cork and who knows after that but yeah, coming home after that (meeting), I was scratching my head.
"I thought 'this is an inter-county set-up' and I would have expected a lot more from certain players, not all.
"And I did not envisage in my wildest dreams what occurred in the following months.
But what I've always said is that things happen for a reason or in strange ways. Momentum is very hard to get but once you have it, it's a great ally in your arsenal."
The tide soon turned as Bill Maher had linked up with the footballers after being deemed surplus to requirements by the hurlers.
And in early May, Kearns whisked the squad away for a training weekend during a glorious period of good weather, staying at the Radisson Blu Hotel in Limerick and using Cratloe GAA's facilities as a training base.
They arrived at 10am on the Saturday morning and left for home shortly after lunchtime on Sunday. In between, the hours were filled by sweat, video analysis, sleep and plenty of laughter.
"Bill Maher coming back to the panel from the hurlers was another shot in the arm we needed," Moriarty agrees.
"He played a pivotal role in the championship games he played in – an outstanding character and athlete."
Bill Maher: 'An outstanding character and athlete.' Source: Lorraine O'Sullivan/INPHO
Tipp weren't slipped up by a potential banana skin against Waterford, even without eleven players who featured against the same opposition a year previously.
"While we didn't play excellently, we got over it.
"Despite the players we'd lost and all the issues we had, we were in a good place, coming under the radar against Cork. We had a lot of work done, believed in the work we had completed and it bore fruit."
At a pre-match meeting before the Munster semi-final against Cork, Moriarty remembers Kearns being "very animated, very passionate" and leaving the Anner Hotel for Semple Stadium, he felt that "something big could happen."
And it did, as Tipp beat Cork in a senior football championship match for the first time in 72 years.
Source: MuscularChristianity/YouTube
Philip Austin, who's preparing for a 12th season as an inter-county footballer, references that pre-match meeting too, without being prompted.
"It's the first time we ever really, really believed we were going to topple a big team before the game," he says.
"Things had been so average, so stop-start up to that point, but it just seemed that maybe in the couple of days before the game, things started to gel and there was a good feeling around the camp again.
"I felt that was the turning point myself and after that, the whole thing kicked off."
Losing to Kerry in the Munster final was a setback, with Austin and team-mate Conor Sweeney, who was nominated for an All-Star award, left surprised by the Kingdom's tactics on their home soil.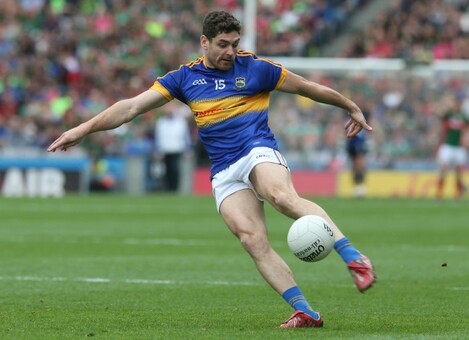 Tipperary forward Philip Austin. Source: Lorraine O'Sullivan/INPHO
"For one reason or another, the Kerry game didn't go for us. We couldn't get over their tactics of dropping players back, they played very negative and we weren't able to counteract their negativity," says Austin.
And Sweeney reflects: "We spoke before about not playing the occasion and I don't think we did, but we were a little bit surprised with how they set up.
"They let us have our kick-outs and their inside forwards worked so hard, we couldn't get through the middle third and they had the field packed with players, which surprised us a little bit.
"Experience told but we learned an awful lot and that served us greatly for the games after."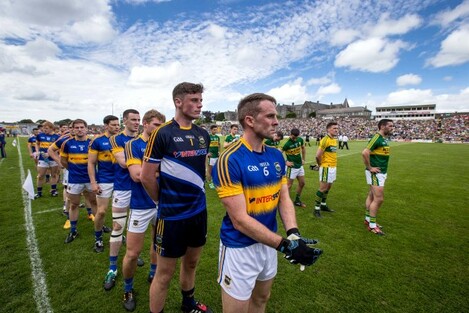 Tipperary captain Peter Acheson prepares to lead his side into battle against Kerry. Source: Cathal Noonan/INPHO
On a famous Saturday evening, 23 July, Tipp travelled to Kinspan Breffni Park for an All-Ireland qualifier with Derry, and carrying a sense of grievance with them.
Why, they wondered, did they have to play Ulster opponents at a venue where they (Derry) had beaten Cavan a week before?
The backdrop created something of a siege mentality and Tipp used it, Sweeney kicking two injury-time points to seal a come-from-behind 1-21 to 2-17 win.
Austin says: "I think what people forget is that we were very, very lucky against Derry.
We kicked the last two points and they missed two shots at the end. Had we not got the rub of the green that day, we'd have no All-Star nominations or an All-Star, none of this 'Tipp goodwill' and Clare would have robbed the limelight.
"Sport is very fickle, very marginal, and it comes down to inches."
For Nenagh Guardian sports editor Shane Brophy, the aftermath of the Derry win was his seasonal highlight.
"I just thought the last 15 or 20 minutes after that game…that was special.
"The build-up all week was about having to travel up there, we were up against it and to produce a quality performance, almost lose it and then have the courage to go and win it again in injury-time and not panic, that was incredible. That was the pick for me from the overall year experience."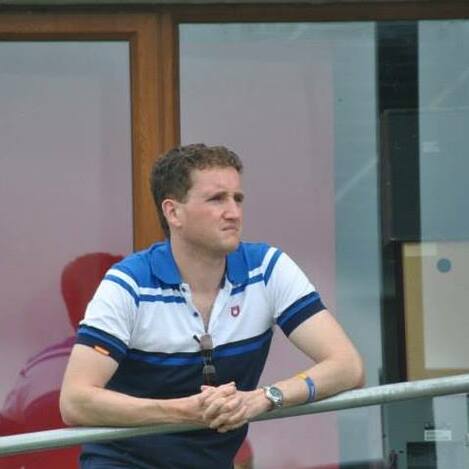 Shane Brophy, Nenagh Guardian sports editor.
For Sweeney, it was a memorable afternoon.
"Extra special for me, getting the scores at the end," he admits.
"It typified the way we played all year, never say die. A lot of people might have thought we'd let that slip again but like Cork, we had to win the game twice and maybe three times."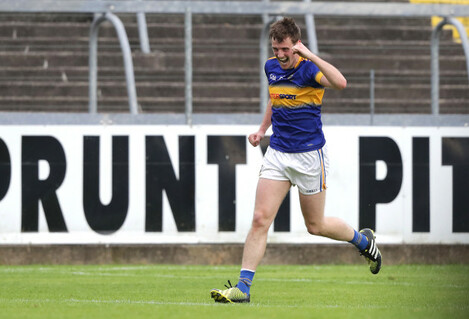 Conor Sweeney celebrates his late winning point against Derry. Source: Morgan Treacy/INPHO
Tipp's win sent them hurtling into a very first All-Ireland senior football quarter-final, and a clash with Connacht champions Galway.
Sweeney scored 2-2 and will never forget the final minutes of an exhilarating team display.
"It was class, just incredible. It was strange because we were so comfortable in the last ten minutes of that game.
"I remember turning to Kevin O'Halloran and we smiled at each other, we knew we had it won. We knew in our hearts and souls that we weren't going to let it slip."
****
One of Tipperary's best-known supporters is Kevin Hanly. He followed the team from the depths of late winter all the way to Croke Park in August.
He remembers getting the train to Dublin for the Galway quarter-final with a group from Tipperary town and a sing-song broke out. A Galway man and some Kerry folk joined in too.
Nicola Ni Chonaill, another familiar face at Tipperary's hurling and football games, kicked it off with a rousing rendition of Slievenamon and the sing-song lasted all the way to Heuston Station.
"When I went to the game, people beforehand were coming up and asking me what I thought," says Kevin. "They'd seen all my videos and stuff on Facebook and Twitter, and I was confident.
"That second 35 minutes was something special for Tipp football, everything clicked into place and all the hard work that people have put in for years all came together.
"I couldn't believe what was happening, we were getting so excited that a semi-final was just around the corner but until the final whistle blew, I didn't believe it was going to happen.
I can remember we stayed around and the players were coming across to the Croke Park hotel. We all started singing Slievenamon, 50 or 60 of us, and the cameras from RTÉ news were there. The players were being clapped and applauded – they were a really special couple of minutes."
Before they left the pitch, Tipp's players had savoured victory with a group of supporters who converged beneath the Hogan Stand.
Those were special moments, as fans who had been seated in the Cusack Stand made their way across to the opposite side of the pitch via the Davin Stand, a mass movement of blue and gold.
Source: MuscularChristianity/YouTube
The voyage would eventually end at the All-Ireland semi-final stage, Mayo outscoring Tipp by 1-7 to 0-1 in the ten minutes leading up to half-time and building a match-winning platform.
"I think it was a massive chance lost," Austin insists.
"We were dominating, 6-3 up and then the Jason Doherty goal against the run of play.
"We were six points down at half-time but we came back into it in the second half.
"It was always going to be difficult but we brought it back to two points and had all of the momentum."
An Evan Regan mishit bounced into Conor O'Shea's path and the Mayo man netted to re-establish a healthy advantage.
Tipp were spent and Austin says: "We couldn't claw it back, ran out of time. I kicked four wides myself that day, that would have brought us a lot closer. That still haunts me."
But, as Austin notes, perhaps the luck factor has a habit of balancing itself out over the course of a season.
Tipp had some along the way, most notably in the Derry game as he's already alluded to, but then Mayo ran out of it by conceding two own goals in the drawn All-Ireland final against Dublin, before losing the replay by a point.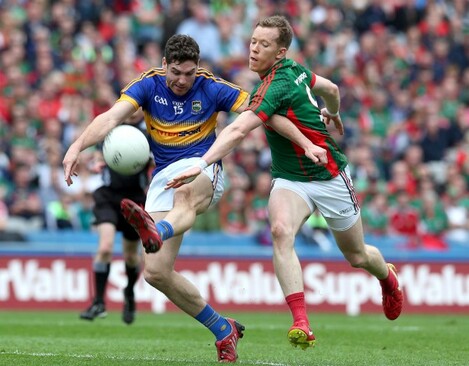 Philip Austin comes under pressure from Mayo's Donal Vaughan. Source: Lorraine O'Sullivan/INPHO
"Maybe they got the luck that day and didn't get it in the final," Austin muses. "A game of inches, that's the way it works."
But Tipp left Croke Park in August with their heads held high, and Hanly remembers the ovation the team was afforded leaving the pitch.
He'd watched the wonder grow all year, "going from a couple of hundred to 12 or 14,000 in Croke Park."
After the Galway quarter-final, Tipp captain Peter Acheson presented Hanly with his match jersey, a gesture of recognition and acknowledgement for his support.
And Hanly, a keen hurling fan too, noted how Tipp were given applauded off the pitch after the Mayo game, when he'd previously seen county hurling teams losing semi-finals and almost leaving with their tails between their legs.
"There were a couple of thousand of us in the Hogan Stand applauding, and Mayo people there as well when Tipp came off.
"I've been to many hurling semi-finals and we've lost a couple.
"I can never remember them getting a standing ovation. You'd be more critical of the hurlers losing a semi-final but Mayo and Tipp supporters stood and applauded them into the dressing room. That was special and showed that everybody appreciated the run in 2016."
A run that was achieved despite some pre-season setbacks, most notably the lads who left for America, the loss of Colin O'Riordan to Sydney Swans and Steven O'Brien and Seamus Kennedy's switches to the hurlers.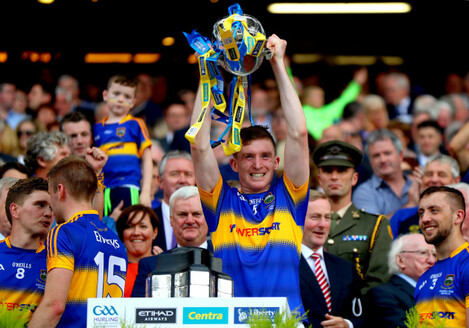 Former football panellist Seamus Kennedy won an All-Ireland senior hurling medal with Tipperary in September. Source: James Crombie/INPHO
"Our attacking performance against Cork was a personal highlight," says manager Liam Kearns.
"3-10 from play, we took all of our frees and chances, had no wide in the first half and only three in total.
"That was our best attacking performance all year, exceptional really and also the fact that they showed character having blown a lead in the last ten minutes to win it a second time.
Derry, in similar circumstances, to show character again when we found ourselves behind in injury-time of that game, having had to go up to Cavan to play them and so on. That was a recovery from the Munster final defeat too, so they showed that they were made of good stuff in both of those games.
"The performance in the All-Ireland quarter-final was excellent but we missed a lot of scores," Kearns adds.
"If we had taken our chances, it could have been something else. But the thing about Croke Park was the fact that it was a quarter-final and to beat a traditional county like Galway brought our players into the national consciousness.
Liam Kearns savours that winning feeling following the stunning victory over Galway. Source: Donall Farmer/INPHO
"That game brought home the type of football we were playing, how we were going about it and how good the players were. It was a big statement and gave us the chance to show what we were all about, young and improving all the time.
"We didn't expect to beat Galway the way we beat them but I wasn't shocked that we played well in Croke Park."
Brophy argues: "Maybe it was about time. We've always had the talent in the county and over the last seven or eight years, the structures have been put in place through the development squads where things were organised in terms of football.
"We saw the fruits at underage level and now it's come through at senior level.
"Leaving Markievicz Park after the final League game (against Sligo), you're hearing stories of who won't be around and wondering if we'd get out of Dungarvan alive (first round of the Munster championship against Waterford). And then to end up in Croke Park…"
And so, in Tipp, the 2020 vision remains on track. County football board chairman Joe Hannigan is keen to honour the memory of Bloody Sunday victim Michael Hogan by winning an All-Ireland senior title to mark the 100th anniversary of the tragedy.
"I'd have fierce belief in the foundations that are there," says Hannigan, father of midfield star George.
We'd have made progress through the development of players at underage and we had always targeted 2014/2015/2016 as the years these guys would come to fruition.
"On the face of it, losing some of your marquee players at the beginning of the year, you'd be saying 'where are we at now?'
"What happened during the year was amazing really, because the fellas that were there, they kind of become like a club team, they were very united and everybody played their part.
"We had a great management team, with Liam Kearns, Dave Moriarty, Paul 'Cracker' Fitzgerald, Shane Stapleton, Tommy Toomey and the physios Ian Dowling and Paul McMahon.
Former Munster rugby star Ian Dowling is Tipperary's senior football team physio. Source: James Crombie/INPHO
"Everybody bought into it, down to the kit-men. The belief that they could achieve was the highlight of the year for me.
You always have to set targets and we set a fairly high target. We're looking at 2020 to win an All-Ireland to honour Michael Hogan. He lost his life in Croke Park on 21 November 1920 and we owe it to the memories of those men who played to be where we are.
"We're a dual county and you're going to have the issue of that as well, that's just the way it is, we have to work with that and all the problems that brings with club fixtures and getting matches played when you're successful."
And Sweeney says: "We have a panel of nearly 40 at the moment, and hopefully that will remain a panel of 40 for the foreseeable future. You're always going to lose a few for different reasons but it looks strong at the minute. That's what you want, lads pushing each other and it provides the opportunity to play A v B matches."
Kearns adds: "We've set the bar very high for ourselves but we'll take it game by game, starting in Division 3 and targeting promotion as a goal.
"It's the only goal we didn't achieve this year but we'll set new goals for the players.
"And we have to get back to Croke Park and a Munster final, and try to beat one of the big two in Munster again. There isn't a lot of wriggle room, it's a big challenge for us."
A challenge they'll be ready for.
The42 is on Instagram! Tap the button below on your phone to follow us!