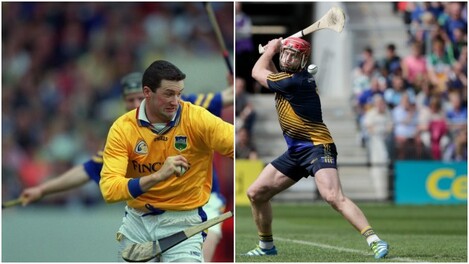 Long-serving goalkeeper Brendan Cummins and current netminder Darragh Mooney. Source: INPHO
FOR A LONG time the presence of Brendan Cummins meant Tipperary did not have to be concerned about who to hand the number one jersey to.
Starting out in 1995 the Ballybacon-Grange man nailed down the berth until he called it a day in October 2013.
The standard of his displays saw him become a byword for hurling excellence, his career yielding a pair of Liam MacCarthy Cup triumphs and five All-Star awards.
When he departed, his deputy Darren Gleeson stepped up. He was successful too in landing an All-Star in 2014 and an All-Ireland in 2016.
But the Portroe man's recent retirement creates a void and figuring out what goalkeeper to press into action will be one of the key issues for Michael Ryan to consider in 2018.
There are three primary contenders – Éire Óg Annacarty's Darragh Mooney, Lorrha's Brian Hogan and Moyne Templetuohy's Paul Maher.
When Cummins reflects on his own early days between the posts, it reminds him of the need for patience now.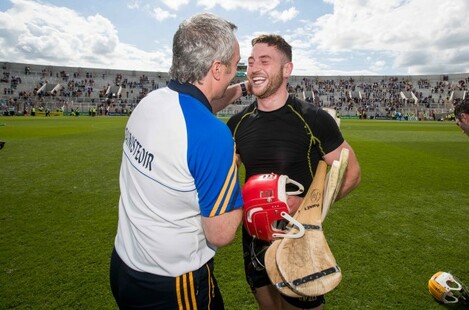 Tipperary's Michael Ryan and Darragh Mooney after this year's All-Ireland quarter-final. Source: Morgan Treacy/INPHO
"I'll tell you, it's up in the air now. The three lads in there will be going at it hammer and tongs. There's an element of patience needed.
"I think people forgot that when I went into the goals first for Tipperary, in my first championship match I was an absolute disaster against Waterford.
"It was car-crash stuff. Balls under my legs, fell over, wearing track-suit bottoms, it was just horrific stuff!
Source: © Tom HonanINPHO
"I remember I was in a taxi going up to football training afterwards with Tipp and the conversation was about the hurling game the day before.
"PJ Savage was a selector at the time and he said to the Taxi-man, 'What did you think of the game yesterday?' And the taxi-man said, 'Tipp are going to win an All-Ireland but they'll have to get rid of that goalie first to do it'.
"That always sticks in my memory. So, patience is going to be key for goalkeepers. The goalie who plays for Tipperary next year is going to make mistakes the same way that I'm going to make mistakes in my last year playing after 20 years of experience.
Brendan Cummins features for Ballybacon-Grange in Sunday's AIB Munster junior hurling championship final. Source: Sam Barnes/SPORTSFILE
"That's just what happens. But it's important we don't jump on him. And if they get changed, if whatever goalie who starts the league is swapped out after two games, it's not a case they're not good, it's just someone else's opportunity.
"And I think there's a little bit of the 'ooh' and the 'aah', or 'why aren't they like Darren Gleeson, why aren't they like Brendan Cummins or Ken Hogan'. It takes a year or two to actually get comfortable in the position.
"Look at Darren Gleeson, in his first six months with Tipp after I left he was going very poorly. But he won an All-Star at the end of the year. It just takes a little while to get comfortable with it."
Be part
of the team
Access exclusive podcasts, interviews and analysis with a monthly or annual membership.
Become a Member
Darren Gleeson in action for Tipperary. Source: James Crombie/INPHO
Tipperary fell short in their attempts to retain the All-Ireland this season but Cummins believes they should be released from that burden of pressure in 2018.
"There's still a core of lads who have won the All-Ireland there, but they need to get back enjoying their hurling and get more lads in around them and I think Mick (Ryan) will do that.
"We don't wear the pressure of All-Ireland champions that well, unfortunately. I gave two years trying to do it and we couldn't for pretty much the same kind of reasons that happened the lads this year, the enjoyment gets sucked out of it.
"Your own expectations get so big that you weigh yourself down and then in matches it looks like you're tired. That's because I think internally you've played the match 100 times before you actually got to it. And when you got to it then you're mentally exhausted and couldn't produce.
"Mick now will be able to say in the dressing-room, 'look, lads, you're not All-Ireland champions anymore, Galway are the ones to shoot at now, so let's prove to everybody that we're able to do it again'. There's a weight off the group now. It'll be very interesting."
Michael Ryan and Micheal Donoghue after this year's All-Ireland hurling semi-final. Source: Tommy Grealy/INPHO
For Tipperary to push on, the former netminder is convinced that bolstering their panel options is key.
"There are probably only three or four players needed for the goalkeeper position and the starting outfield spots.
"But we definitely need five or six more added to the panel. The reason we won All-Irelands at the time was because number 17 to 30 was chomping at the bit every single night.
"I remember Conor O'Brien coming in training, he was a sub, and he was as angry as anybody because he wanted his place. You knew looking at him when he was out training.
Conor O'Brien and Eoin Kelly celebrating after the 2010 All-Ireland senior hurling final. Source: Cathal Noonan
"We trained at half seven but he'd be on the pitch at five to seven beating balls on his own up and down the pitch like a crazy person.
"You just knew he wanted to play. And when you felt comfortable in your skin that you have your position, you got uncomfortable looking at the likes of his behaviour, and that's what you need.
"Fez Hennessy was the same way. All those fellas who came on in the 2010 All-Ireland final and made a difference, they were going mental for six months before that because they weren't getting a game and that shook all the rest of us.
"That's why I think the challenge is to get numbers 17 to 30 going berserk. Because I think from 1 to 17 we're okay. But that 17 to 30, they win you All-Irelands.
"It's a help for county managers now because they'll be able to tell those players that we're going to have 12 or 15 matches between league and championship, I need everybody, so don't think you're someone who's just going to be planted on the sideline for six matches and then the year is over, you'll be needed. That will fuel that fire too."
The42 has just published its first book, Behind The Lines, a collection of some of the year's best sports stories. Pick up your copy in Eason's, or order it here today (€10):