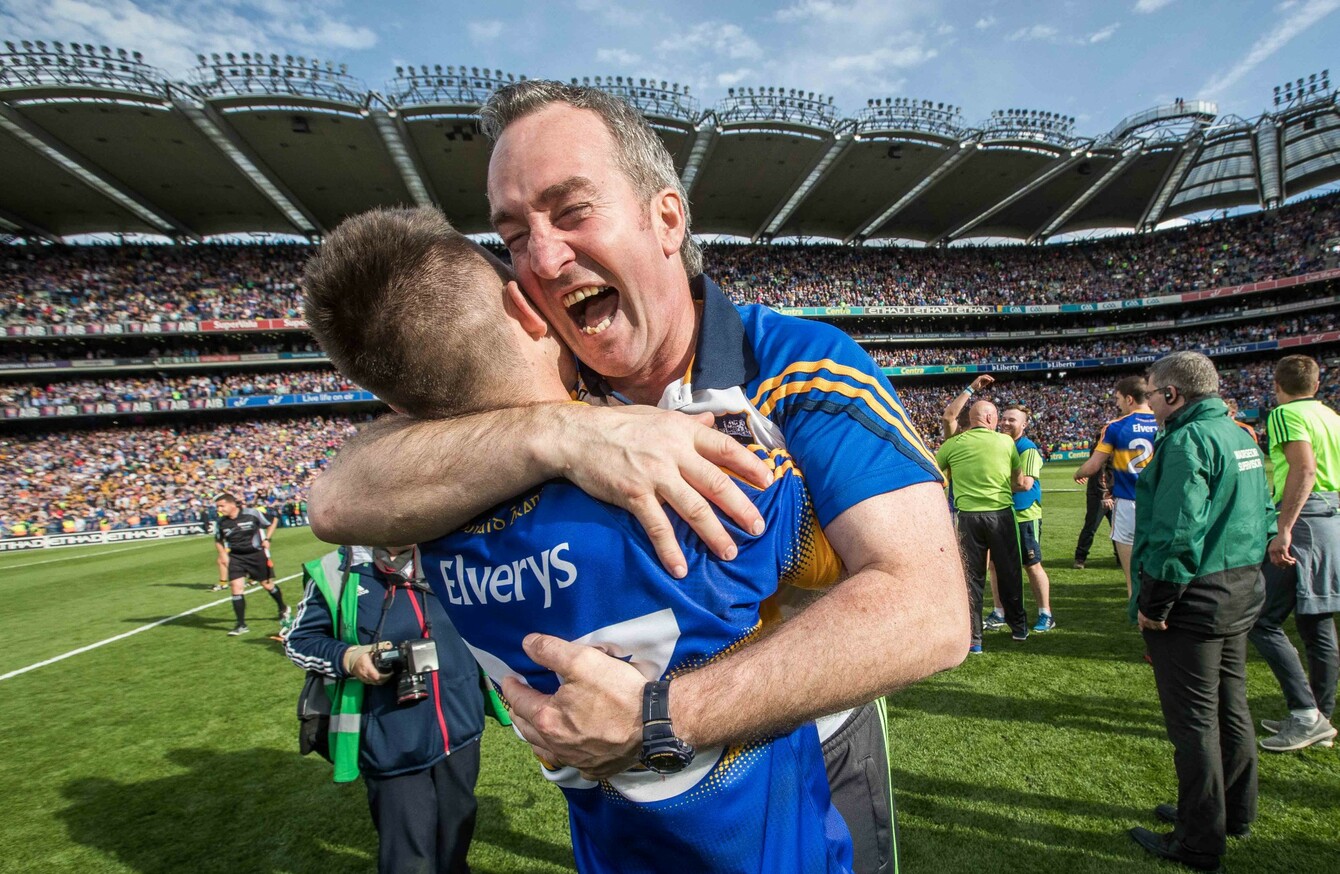 Michael Ryan savours Tipperary's victory with Padraic Maher.
Image: Morgan Treacy/INPHO
Michael Ryan savours Tipperary's victory with Padraic Maher.
Image: Morgan Treacy/INPHO
THE MORNING AFTER steering Tipperary to All-Ireland glory yet Michael Ryan opts for a measured approach rather than wild hysteria.
Ryan has been a calm guiding hand at the Tipperary hurling tiller this season.
It may be easy and natural to get swept up in the giddy emotion of ending Tipperary's recent hurt against Kilkenny, adding another All-Ireland title to the county's 2010 success and entering the select club of men who have lifted Liam MacCarthy as player and manager.
But Upperchurch-Drombane club man Ryan has an appreciation of the bigger picture, he's witnessed the hard road that they have traveled in the last six years.
"The core of that team, they were the young fellas that were there on 2010. There was a lot of expectation put on that group, that they were going to move on, having won the U21.
"But like is never like that. It's not straight lines; it's all sorts of curves and twists. This group are mature. The example and leadership coming from those guys is second to none, it really is. They wanted this so badly for Tipperary, and it showed in their play.
"We are going to have to refocus. We will certainly keep our feet on the ground. We are renowned in Tipp for getting carried away with ourselves when we win – we'll see how we get on with that.
"The back room team of people we have is very, very strong people, very mature people. I think we've learned a lot of hard lessons over the years that we need to manage victory a lot better than we have done."
The win was a release for Tipperary hurling after days when it looked like the Kilkenny hurdle could not be surmounted.
Ryan had been a selector with Liam Sheedy and Eamon O'Shea before stepping up to be the main man for 2016. He held a deep-rooted connection with the current squad and was aware of what they possessed.
"I always believed this would work out. I just knew this is number one a really good bunch of committed players and it takes a bit of luck.
"There's a very strong backroom team supporting me in terms of John Madden, Conor Stakelum and Declan Fanning, took over the coaching role, and he's been an absolutely super coach.
"It's such a big thing for us in Tipperary and I know it's the old proverb, what's seldom is wonderful. It's something we hold very dearly in Tipp. It's so hard to get there, Kilkenny have been so dominant over all of the counties over the last decade.
"I've been around, this is year seven for me. I haven't been the boss but you're just so closely involved and it was slightly incremental every year, just in terms of moving further up the food chain.
"Look it worked out, I wouldn't have minded what my role was, once you were involved with this group."
A special sector of the Tipperary group is their full-forward line, who dazzled with their scoring exploits on Sunday.
Tipp Stars
Seamus Callanan 0-13 (0-3f, 0-1 '65)
John O'Dwyer 1-5 (0-1 sideline, 0-1f)
John McGrath 1-3
On Sunday, Tipperary's 1991 hurling heroes were paraded in front of the crowd in Croke Park. Ryan was corner-back on that team and well-acquainted with that celebrated full-forward line of Pat Fox, Cormac Bonnar and Nicky English.
Where does the current trio compare?
"Would I be killed to say for saying they were better?", laughs Ryan.
"I'd better not say. They are very good. We were very sure all year long that for us to win, that line had to produce. We were very sure that they would produce.
"You can do all the hurling you want out the field but it has got to convert to scores. It's like the golfing and the putting: if you don't put the ball in the hole you won't be in the points."
The ramifications of Sunday's result could go further than just providing a boost for Tipperary. The margin of defeat was the biggest that Kilkenny have suffered in an All-Ireland final, and it will likely instil hope in hurling counties that have suffered under the incredible supremacy that Kilkenny have exerted under Brian Cody.
"The last time somebody got a bit of hope like this – and I suppose we talk about it like that in terms of hope just because Kilkenny are so good – but it was 2013 and before that it was us in 2010," admits Ryan.
"Not enough other teams have come through. I can imagine several other counties waking up this morning and saying, 'yeah, okay, let's plan and do this and that'.
"It may not be like that and it may just go back to old norm of Kilkenny beating us all anyway. But look for today, we all have hope."
Not that Ryan is forecasting the demise of the vanquished from last Sunday. He has seen Kilkenny rehabilitate too often to dismiss them now.
"I know the Kilkenny scene quite well, I worked down there for three or four years, made a lot of good friends down there. The hurling in Kilkenny is stronger than in any other county, that is the simple fact of the matter.
"With their geography, Kilkenny city is the centre, north and south gravitate in. Really strong clubs are in the city, with the exception of Ballyhale. Then you've St Kieran's College and Kilkenny CBS.
"Nobody should be writing an epitaph or a changing of the guard for Kilkenny. It won't happen."
The42 is on Snapchat! Tap the button below on your phone to add!