ROBBIE KIELY SMILES and notes how this evening's Allianz Football League Division 3 final marks a return to "the scene of the crime."
The Tipperary centre back's 2016 All-Ireland senior football semi-final lasted less than nine minutes, when he was dismissed by referee David Coldrick on a black card, following a tangle with Mayo's Diarmuid O'Connor.
Kiely admits that he may be biased in his assessment of the incident but insists that's all it was, a tangle.
"Looking back, there weren't too many angles of it. I might have a biased view on it but from looking at the TV repeats, it looked like it was just a tangle of legs to me.
"It's really hard to describe, it's a sort of thing that the ref is f****d if he does and f****d if he doesn't. There are always going to be questions about this rule.
"It's down to interpretation at the minute."
Kiely's expression as he trudged off the Croke Park pitch summed up his devastation and Tipp certainly struggled in his absence, cut open down the centre for Jason Doherty's crucial first half goal.
And Kiely reflects: "It was tough but I wouldn't say it was the be all and end all. "I was double questioning myself, 'was it bad' and reading different things from different people out there. 'No, it shouldn't have been' and then other people were saying it was. More than anything, it showed there was more confusion over it all.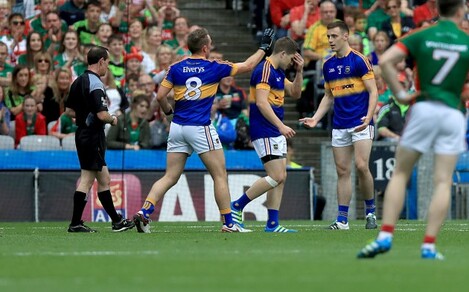 Robbie Kiely's All-Ireland football semi-final ended early. Source: Donall Farmer/INPHO
"I got back into work and the lads I work with would have an understanding of the game but wouldn't have a huge understanding of the rules and regulations so the conversation quickly moved onto something else, it was fairly swiftly brushed under the carpet. "I sent out a few tweets in jest from other matches but it was grand, these things happen.
"It's an alright rule (black card). For the third man blocking, it's great. You have players that can run off the shoulder now and not be blocked or impeded.
"That's a good way for it but there was one against Louth, Jack Kennedy running through and it was an as clear a day blatant goalscoring opportunity.
"That's not a benefit as they can sub the man off and bring a man on. When it comes to a goal-scoring opportunity and your man is through on goal, that's a red card, like the soccer.
"The ref has to be sure that it's deliberate and the one thing that I'd be saying for accidental stuff is that the linesmen and umpires could help more, so it just doesn't come down to the ref.
"The ref should be able to talk to them ask 'did you see it' and come to an idea of what really happened. There are a lot of factors that can be improved, good and bad parts."
But Kiely has moved on now, playing arguably the best football of his career and hitting his peak. This evening, it's Louth again, the team who beat Tipperary in the penultimate Division 3 group outing before the Premier County defeated Armagh last weekend deep in stoppage time to clinch promotion.
Tipperary defeated Armagh 3-8 to 0-16 last Sunday. Source: Presseye/Philip Magowan/INPHO
For Kiely, it's a chance to banish some demons and thankfully, for a player who's suffered hamstring problems in the past, he's had a clear run. Kiely laughed: "Every time I seem to do an interview, the mother questions me. 'Every time, you seem to get injured after it!'
"But Ian Dowling (physio) has done good work, and Paul McMahon (injury therapist), keeping lads functioning over the last few weeks. It's been a tough schedule and it's just letting lads know what's recurring and they seem to be able to pinpoint areas where we can improve.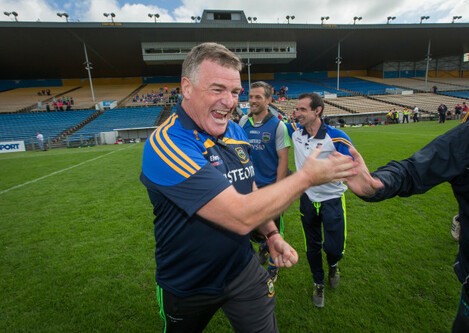 Ex-Munster player Ian Dowling (background) is working with the Tipperary footballers. Source: Ryan Byrne/INPHO
"I'm working very closely with the two of them and they're helping me through tricky patches. I haven't had a serious setback for a year, year and a half."
Kiely is a software engineer with Dell EMC, based in Ovens, county Cork. With a clear run, he can make Thurles in an hour and 10 minutes for training, much better than the two-and-a-half hour spin from Galway, where he studied sports and exercise engineering at NUIG before completing a Masters in Software Development and Design. Kiely grins: "The lads would be saying I only arrive on late enough!
"But once I get there, I tend to slow down and not rush out on the field straight away, make sure the body is chilled out from being in the car.
"Relax, don't rush out and kick a ball straight away. I'm not putting extra strain on it (hamstring), I'm doing what I'm told really.
"It's not too bad, coming from Galway when I was in college, it was two and a half hours but it's only an hour and ten down the road from Cork, a better commute than what I was doing in the past."
And having come through what Kiely describes as a "crazy" game in Armagh, when Michael Quinlivan netted the winning goal with six seconds of injury time remaining, he says that Tipperary's sights are firmly set on finishing the job and clinching silverware.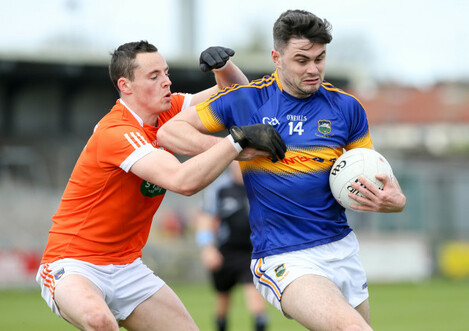 Michael Quinlivan scored a hat-trick for Tipperary last weekend. Source: Presseye/Philip Magowan/INPHO
"Definitely. There are not many things in the GAA that you can win. A lot of the GAA is losing and you come away with nothing but to get to a match with silverware on the line, there's a cup to be won, and you want to win it.
"It's bonus territory, our fifth match in five weeks, a lot of work and effort gone into it. There's no pressure on us or anything like that.
"For me, it's just about aiming to win and enjoying the day as well. It's a good day to be back in Croker."
The42 is on Instagram! Tap the button below on your phone to follow us!