CHAD PENNINGTON, GIOVANNI Carmazzi, Chris Redman, Tee Martin, Marc Bulger and Spergon Wynn.
Those are the names of the six quarterbacks drafted before Thomas Edward Patrick Brady was picked up by the New England Patriots in the sixth round of the 2000 NFL Draft with the 199th overall pick.
If you haven't seen the brilliant 'The Brady Six' documentary about that draft, it really is well worth a look.
Now players like Brady are rare but the selection of players like Ryan Leaf, Tim Couch and, of course, JaMarcus Russell with marquee picks in the top three shows that even the scouts whose job it is to get it right don't always do so.
Indeed, even this year there are are a number of question marks over the top two quarterbacks– something we'll get back to later in the week — but is there the potential for another Brady to break through?
Here are three we think could make the grade:
Bryan Bennett – Southeastern Louisiana
Source: David J. Phillip/AP/Press Association Images
Bennett lost out on the starting job at Oregon to the Heisman Trophy winning — and potential second overall pick — Marcus Mariota. There's no shame in that.
So Bennett decided to transfer to Southeastern Louisiana and, in his first season he completed nearly 61% of his passes for 3,165 yards and 21 touchdowns (there were 11 interceptions too).
But he's not all arm, that same year Bennett totalled 1,046 yards with his feet and another 16 scores.
Last season, injury impacted on the quarterback's play and he 'only' managed 18 touchdowns through the air and 15 on the ground.
Bennett is a very, very good athlete but has a habit of rushing his passes or, worse still, sticking with his initial target even if that receiver is covered.
However, with NFL quality coaching and a year sitting behind someone like Brady or Peyton Manning, Bennett has the most potential of this year's late-round quarterbacks.
Sean Mannion – Oregon State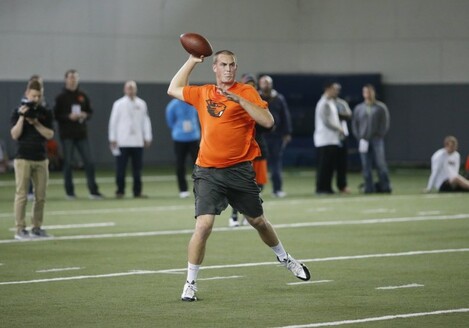 Source: TIMOTHY J. GONZALEZ/AP/Press Association Images
One of the main criticisms of Mannion is that he's the classic big-frame-big-arm-drop-back NFL quarterback in the same build as Manning or Ben Roethlisberger.
However, he is one of the most accurate quarterbacks available in this draft finishing his four seasons in Oregon State with a nearly 65% completion rate and, from the footage available, has an uncanny knack of landing footballs just out of reach of the defender and into his receivers' grateful hands.
He does have a habit of stepping backwards rather than forwards when the pocket around him collapses but, like Bennett, that's something that can be coached out of a player.
Brandon Bridge – South Alabama
Source: David J. Phillip/AP/Press Association Images
You could write this about a lot of the 2015 quarterback class but Bridge's biggest weakness is his tendency to stare down receivers something that will result in a multitude of interceptions in the NFL, just ask Kirk Cousins.
However, on top of above average mobility which can extend plays to allow his receivers get open, Bridge has a cannon for an arm and demonstrated throughout his collegiate career that he's not afraid to throw into tight windows, something he'll have to do for the next decade if he's to make it as a professional.
Will any of these guys make it? It's hard to tell but they certainly go into Thursday's Draft underrated and, who knows, maybe in ten years there'll be a Bennett, Mannion or Bridge Six documentary.