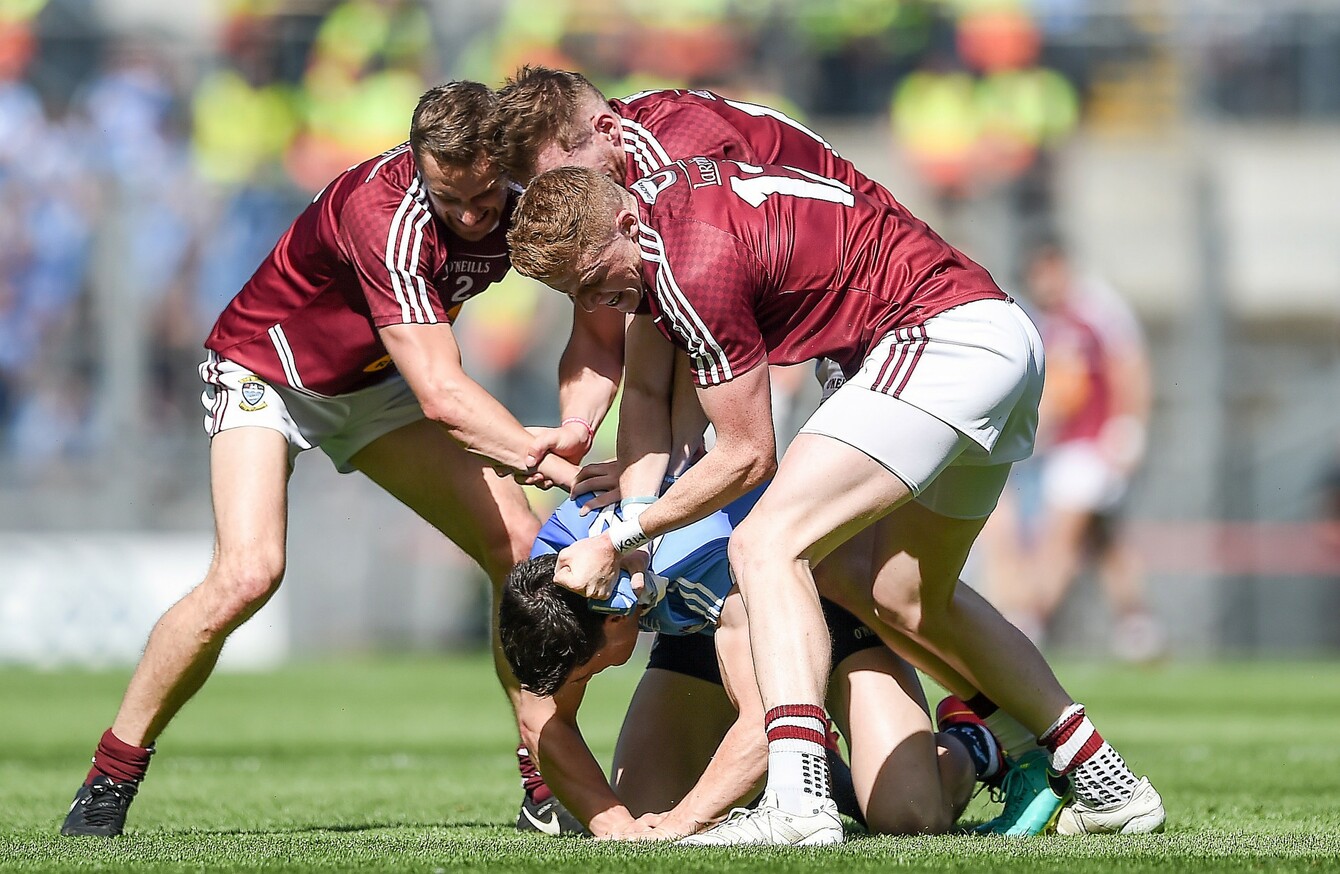 Image: Tommy Grealy/INPHO
Image: Tommy Grealy/INPHO
MANAGER TOM CRIBBIN has suggested that Westmeath sought to get Dublin star Diarmuid Connolly wound up during yesterday's Leinster senior football final at Croke Park.
Connolly was involved in a first half flashpoint with James Dolan, as referee Fergal Kelly opted for two yellow cards.
And Cribbin indicated that Westmeath were looking to draw a response from Connolly during the game.
They got it it when the St Vincent's powerhouse was beaten to the punch by Dolan in a battle for possession and as the pair trotted back into their positions, the Westmeath defender ruffled Connolly's hair.
Connolly reacted by grabbing Dolan in a headlock before a series of scuffles involving other players broke out.
Cribbin claimed that he didn't see the incident but admitted that Westmeath hoped to "entice" Connolly into something.
"I honestly didn't see it. Look, I think there was nothing in it really. I don't really know.
"And look, Diarmuid is a fabulous player. He can get a bit excited at times and probably we were looking for him (to get excited).
"We needed a whammy. We have to be fair. We have to be honest. We were hoping to try and get someone (to) entice him.
"Sure that's what most teams do. But he's a fabulous footballer. Just fabulous, one of the best in the country, if not the best."
Cribbin also warned that Dublin aren't going away any time soon after they collected an 11th Leinster crown in 12 seasons – and 6 in a row.
"No, no way. They're doing too much good work at underage.
They have structures in place and have learned now. They'll only get better, the rest are going to have to get up to them, they're not going to come back.
"People are codding themselves if they think this team is going to fall away in a year or two or three.
"Everyone else is going to have to get up to their standard and it's not all about money like everyone says. You have to coach at underage.
"Look at Kildare – that's three Leinsters in four years at minor level and that's where you have to start the work.
"They are doing the work at underage and everybody knows that, so this isn't rocket science.
"You have to bring them up winning at underage and carry it the whole way through and have a panel big enough developed. But Dublin won't come back. They'll only get better."
The42 is on Snapchat! Tap the button below on your phone to add!