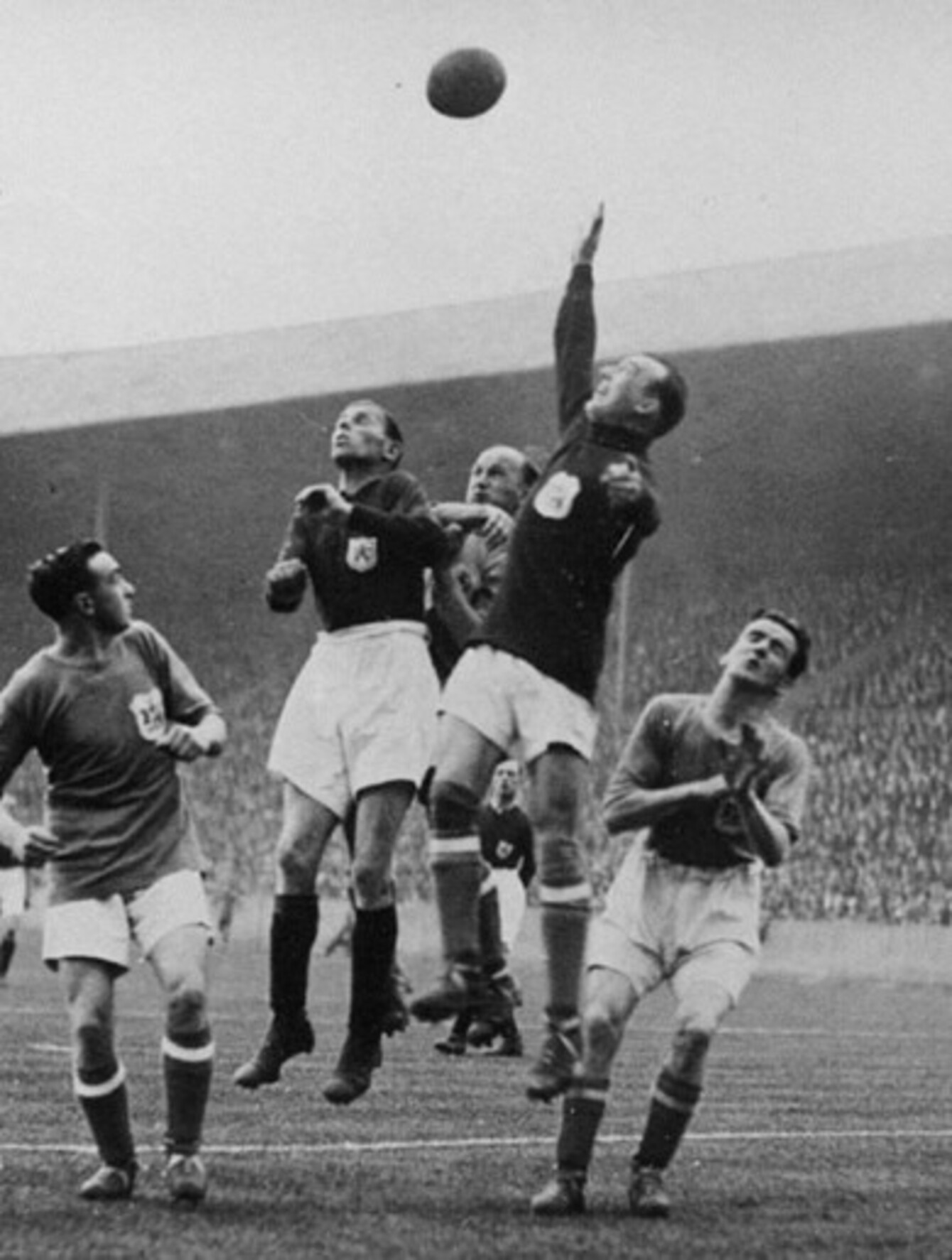 Tom Farquharson comes out to claim a cross against Arsenal in the 1927 FA Cup final.
Image: S&G and Barratts/EMPICS Sport
Tom Farquharson comes out to claim a cross against Arsenal in the 1927 FA Cup final.
Image: S&G and Barratts/EMPICS Sport
FOUR CLUBS WILL battle it out this weekend in a bid to reach the FA Cup final at Wembley in May. Irish hopes come in the form of Hull's semi final with Sheffield United with players such as Paul McShane, Michael Doyle and David Meyler set to line up in London today and tomorrow.
It has been 87 years since Dubliner Tom Farquharson inspired his club, Cardiff City, to their first ever FA Cup triumph. It remains the Welsh club's only victory in the competition, although they came close, when captained by Stephen McPhail, in 2008 before losing to Porstmouth.
The following is the remarkable tale of the first Irish goalkeeper to keep a clean sheet in, and win, the FA Cup.
Farqurharson — the surname has a Scottish origin — was born into a Presbyterian family 1900 and grew up in Drumcondra, taking an interest in a wide range if sports. Football was his main passion. One of his close friends, growing up, was Sean Lemass, who would go on to become the Taoiseach in the 1950s. According to David Farquharson, a grand nephew of the goalkeeper, his life was blissfully uneventful until he got involved with the Irish Republican Army.
Farquharson role in the IRA was one of membership and something his relative describes as 'non violent'. He added, "It was mainly about campaigning, putting posters up, delivering messages or looking after someone in a safe-house. He was caught taking down wanted posters of IRA members near St Stephen's Green in [early 1921] and arrested by the British Army." Farquharson's father, a builder and plumber by trade, had contacts within the army and secured his son's release on the proviso he would leave the country.
Then aged 21, Farquharson packed his bag and moved to south Wales. He had a brief career as a rugby fullback but when football side Oakdale asked about for a goalkeeper, the Irishman made the switch. He caught the eye of Abertillery, a team several divisions higher, and played a season for them before Cardiff City came calling.
Christian Saunders, author of From The Ashes — The REAL story of Cardiff City, recalled the goalkeeper's arrival to the Division 1 club. "Farquharson had fled to the valleys to escape the troubles in his native Ireland," he wrote, "and rumour had it that he carried a handgun in his kitbag." When queried on the line, Saunders explains that former teammates of the Irishman attested he carried a gun 'for protection' due to his prior involvement in the IRA.
Be part
of the team
Access exclusive podcasts, interviews and analysis with a monthly or annual membership.
Become a Member
City finished runners up in Division 1 in 1924 and reached the FA Cup final in 1925 to Sheffield United. They returned, stronger, two years later. Here is Saunders' take on the fateful day Farquharson and City clinched the FA Cup in front of 92,000 fans at Wembley. "23 April, 1927 remains the greatest day in Cardiff's long and chequered history, when they met Arsenal at Wembley Stadium in their second FA Cup final in three years. Their north London opponents were also having an indifferent league season under manager Herbert Chapman and were experimenting with different players and formations all the time."
As Saunders writes, the game was decided by an error by Farquharson's opposite number. "The untidy match remained goalless until the 75th minute, when George McLachlan passed to Ferguson. The Scot tried his luck from the edge of the penalty area. Arsenal goalkeeper — Welsh international Dan Lewis — stooped to gather the ball, was confronted with City's on-rushing forward line and iadvertentlt nudged the ball over the line with his elbow. It was the only goal of the match."
Farquharson went on to play 481 games for the Bluebirds before he retired in 1935. He made seven appearances for Ireland and four for the Irish Free State side [selected by the newly formed FAI] between 1929 and 1931. Aside from the record appearances for the club, lasting 60 years until it was surpassed by Don Murray, and the FA Cup win, Farquharson had another, lasting impact on the game of football. David Farquharson said:
The rules for goalkeepers staying on their line are all because of Tom. He used to run from the back of the goal and rush the kicker. He would get out as far as possible to block the shot. He once got out to the six-yard line [against Chelsea in the 1927 FA Cup quarter final] to save a penalty. The new law came in and goalkeepers have had to stay on their line ever since."
Farquharson retired to take up his painting and decorating career full-time. He ran a tobacconist on Queen Street in Cardiff's city centre until the mid 1950s before he moved to Toronto, Canada to join up with his children.
He passed away in 1970 but a sporting legacy remained in the family. His son, Donald, was a talented track and field star and his great-grandson Steve played in Ontario Hockey League. David Farquharson is involved, to this day, in Lusk United Football Club.