TOM MOHAN IS no stranger to bad luck.
The Ireland U17s boss has witnessed his fair share of unfortunate moments, since joining the coaching set-up under Sean McCaffrey in 2007, when the then-manager took him on board to scout upcoming opponents.
"Two years ago, we hit the post with the last kick of the game against Serbia. We would have qualified if that ball had gone in," he tells The42.
"And two years previous to that with the [born in] 1994 group, we were actually celebrating on the pitch, because we heard the other result was a draw and that we qualified. Next thing the word comes through that Denmark got a goal in injury time and that was us out."
Yet Mohan finally experienced some long overdue good luck on 26 March. The Irish U17s lost 1-0 to Poland, but a favourable result elsewhere meant they qualified for the UEFA U17 finals regardless.
The Irish team were consequently in the unusual position of celebrating wildly despite a 1-0 loss in the Polish town of Grodzisk Wielkopolski.
"It's amazing how quickly you forget about the defeat when you see the bigger picture of qualifying," Mohan says. "It was disappointing not to win the match but we had players unavailable to us through injury. There was also no real pressure on Poland going into the game because they were out of the tournament, so they could relax and go and play. They were a very good side that asked a lot of questions of us.
"But when we went 1-0 down, we didn't just fall on our knees. The players were very tired at that stage. It was good that we didn't concede anymore because that was what could have put us out was if we conceded two or three more goals and other results went against us. So we finished well — it was a defeat, but the players showed good spirit."
The UEFA finals will take place in Bulgaria in May, and Mohan has only just returned from Sofia, where he saw Ireland get drawn in a tough-looking group with holders England, as well as Holland and Italy.
And while the former Finn Harps player acknowledges the difficulty of the task that lies ahead, he remains relatively bullish about his team's hopes.
"When you see the countries that have qualified, the chances are you're going to get a tough draw anyway.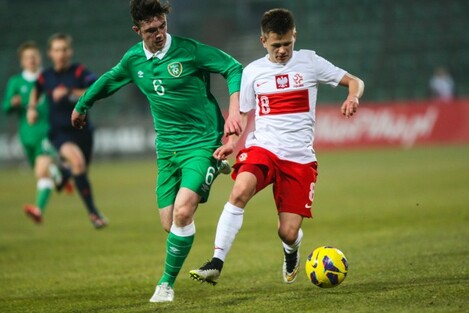 Source: James Crombie/INPHO
(Ireland qualified as one of the best runners-up for the UEFA finals despite losing to Poland in their final game)
"You've Spain, you've France, you've got some of the top nations in Europe. You look at England and Holland and how successful they've been at U17 level over the last three or four years. So it's difficult, but there are no easy games when you get to this stage of the competition.
"We've got to get ourselves ready for what we have to face. The players have been brilliant all season. We played six qualifying games. We were beaten in one of them (against Poland), so they've done fantastically well throughout the season."
Despite Ireland, in recent years, having nothing like the incredible success that the Brian Kerr-managed underage sides in the late 90s and early 00s experienced, Mohan plays down suggestions that the country are no longer producing top young players with the same regularity as once was the case.
He also stresses that it is more difficult than ever for Irish players to succeed over in England and suggests there is a less of a willingness to give both Irish and British young players a chance nowadays.
"There is an emphasis now on the technical players becoming better all the time. The standard is almost being raised. The games are getting quicker and you've got to think quicker.
"Our underage teams have put in some very good performances and these people being critical [of the set-up] need to go and see some of these young players. It's more difficult than ever to break the ice in England, especially at all the top teams.
"A fine example is Harry Kane. If [Mauricio] Pochettino hadn't become manager of Tottenham, you have to wonder would he be playing in the Premier League now.
"A lot of young players whether they're English, Scottish, Irish or Welsh just aren't getting that chance at the opportune time."
Playing in the League of Ireland, rather than getting lost in the reserves at a big English club, has become an increasingly viable alternate route to getting noticed. Wes Hoolahan and Seamus Coleman are among the many current Irish international players who began their career with a club in the domestic game.
More recently, young players such as Brian Lenihan and Dylan Connolly have made the move across the water from the League of Ireland, suggesting it remains a common path to potential stardom.
Source: James Crombie/INPHO
(Former Finn Harps and Derry midfielder Mohan joined the Irish coaching set-up in 2007)
Yet in recent years, critics have invariably suggested the structure of the Irish underage system is flawed, with nothing resembling the intimate links at various underage levels that have proved so successful for countries such as Germany and Spain.
However, Mohan suggests there are too many armchair pundits, oblivious to the good work being done at all levels in Irish football.
"People need to be more positive and embrace Irish football, and get more involved. It's easy to be critical. The critics should pick teams. Do something, start talking about it. Go and coach teams. Put the work in.
"There are good people out there working day in day out with a love for the game doing their best. The most rewarding thing from my point of view was the people that worked with these young players since they were kids. They've put the hard hours in — that's the real pleasing thing.
"I've picked the players but they've come through a club structure, emerging talent programmes, they've got an opportunity to play international football. Obviously, you want them to improve everything, but that's one of the most rewarding things. These people and their families have to make big sacrifices, because professional football is a very competitive world."
Moreover, Mohan's success with the U17s is all the more impressive given that he was only initially hired on an interim basis, after John Morling stepped down as manager.
And while the coach, who is currently doing his UEFA Pro Licence, is understandably reluctant to single out any of his current players as potential future stars, it would be no surprise to see many go on to bigger and better things eventually.
The last time an Irish U17 team reached the European Championships was in 2008, and of that side, a number of players, including Robbie Brady (Hull), Conor Hourihane (Barnsley), John O'Sullivan (Blackburn), Richie Towell (Dundalk) and Greg Cunningham (Bristol City) are still playing at a decent level in the game.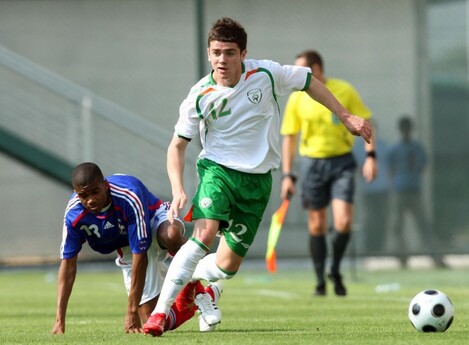 Source: Donall Farmer/INPHO
(Current senior international Robbie Brady was one of the players to feature the last time Ireland U17s reached the UEFA finals in 2008)  
Paul Doolin's U19 side also went as far as the semi-finals of the European U19 Championships in 2011, with Derby's Jeff Hendrick among the most notable members of that squad.
"We've good coaches throughout this country," Mohan says. "If you even look at the U19 league, that's been of great benefit to the game too. A number of U17s have played. There are some very good schoolboy leagues throughout the country. We've a lot better coaches in this country than we're given credit for — from grassroots right up until internationals and emerging talent.
"There's a lot of unseen work that people don't realise is going on. It's always easy to say 'other countries have a bigger population,' but you try to make the best of what you have. You're still producing players no matter what, and there are still good quality players there.
"But people have got to realise that sometimes we are punching above our weight and we are competing very well when you consider everything. We don't have full-time academies like in England, but people are doing the best they can within their means."