TOMMY BOWE ENJOYED watching Ireland's November exploits almost as much as every other rugby fan in the country.
Anyone sitting nearby though, might not just have been able to enjoy the real-time drama unfolding. The 30-Test try wing takes full advantage of his remote control.
"I watched (the latter three internationals) at home on the sofa where I can rewind it back, go over it again. I'm not much craic to watch a game with. I like being able to rewind and fast forward, looking at different lines and stuff."
Watching live Ireland matches when he's fit and well just isn't something Bowe is used to.
The 32-year-old has endured more than his fair share of time out injured with knee trouble over the years, but whenever he has been able to run, his power in attack and positional defence make him a firm favourite of every coach he's played under.
However, after seeing the standards set by Ireland over the past month, he isn't about to argue with Joe Schmidt's decision to omit him this time around.
"Listen, I enjoyed the matches. It was great seeing how they went.  But to miss out on them, there's always going to be a bit of envy.
"Who wouldn't have wanted to be playing in Chicago or to beat the Aussies?
"There's always a bit of envy, you want to be part of the big games, that's what it's all about. But for me, I know in my own head I'm not quite at that level yet."
"Having been out for so long, I need a good run of games to try and get myself up to that top level. To throw yourself in to a top international like that would be doing the team no good, doing the team no good.
"Personally, it might be frustrating. But I need to be sensible and get myself back into playing with Ulster and see how we go from there."
Missing out on a stint in Carton House didn't leave him idle of course, the Monaghan man relished the chance of playing for Barbarians against Fiji in Belfast and he has been working to get both himself and Ulster back on track.
While the team is certainly still smarting from four defeats in five matches, on a personal level, Bowe can see clear signs that he is getting back to full speed. And he is determined to give his remote control some time off during the Six Nations.
"Joe's just asked me to work hard to try and get my form back, try and get myself up to that level that he knows I can get to.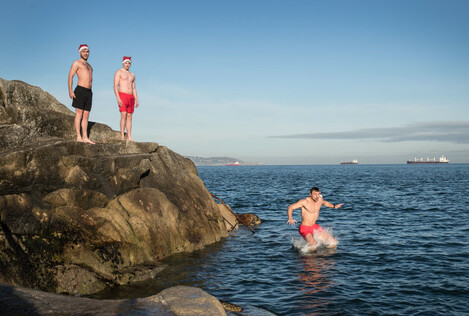 Bowe pictured at the 40 foot, launching the Coca Cola designated driver campaign. Source: Dan Sheridan/INPHO
"The ball's in my court. I'm under no illusions that it's going to be very difficult to get into the Irish team the way they're playing, to get into the Ulster team is difficult!
"I have confidence in myself that I can do it, my leg feels good, body feels good. My speed scores on the GPS are really coming back, they're really not far away. It just takes a few games to get that sharpness."
Tommy Bowe was speaking at the launch of Coca-Cola's designated driver campaign. Share your favourite Christmas tradition with #DesignatedDriver for a chance to win a local visit from Coca-Cola Along with a Christmas supply of Coca-Cola Zero Sugar for all the family.