Bowe and Zebo celebrate Ireland's win over Australia last November.
Image: ©INPHO
Bowe and Zebo celebrate Ireland's win over Australia last November.
Image: ©INPHO
WHEN TOMMY BOWE turned down a renewed contract offer from Ulster to join the Ospreys in 2008, the landscape of professional rugby was completely different to what it is now — but one constant that has remained is the IRFU's unwritten policy on players plying their trade abroad.
With lucrative advances from clubs in England and France, Bowe, at the age of 24, had decided he wanted to sample something different; a new club, a new league, a new environment. He had ambition.
But knew chasing money in the Premiership or Top 14 would scupper his chances of adding to the 10 international caps he had to his name at the time.
"After talking to Declan Kidney and Eddie O'Sullivan, I knew for me to still be picked by Ireland, which was my main ambition, I had to be in the shop window for the coaches," he explains to The42.
"I knew by going to Ospreys I would play against an Irish team every three or four weeks so it made it a lot easier for the coaches to see me."
Bowe stayed in the Celtic League as it was back then and subsequently remained available for international selection under O'Sullivan and then Kidney. He enjoyed four successful years in Wales, and at the same time, established himself in a green jersey. He got the best of both worlds.
"For me personally it has never been an option," the winger says of playing in England and France.
"We're very, very fortunate to play a sport we've grown up loving and get paid to do it, and we get paid very well. Playing for Ireland has always been my number one focus throughout my career and look at Rory Best, Trimble, Rob Kearney they've all stayed with one club because they wanted to be there for Ireland.
"I think the money that is coming in in other leagues now is taking it to a whole new level and the opportunity to earn more in another league is there. It's appealing to try and give yourself a nice platform for life after rugby, to have enough money in the bank that will set you up for life after rugby. It's never going to be football."
To that end, he understands Simon Zebo's reasons for spreading his wings and upping sticks.
"With Simon, he has talked about it before and him going to France is a big move for him. I think I read it was an offer he couldn't turn down and in a short career with two young kids and a wife, good luck to him. He'll really relish that league but will be disappointed not to be brought into the Irish squad.
"Over the last couple of years he's shown he has been one of the top players in a green jersey and has played some really exciting rugby. It'll be disappointing not to see him in an Ireland jersey."
Bowe adds: "The fact he is still at Munster, he probably has the right to feel disappointed he's not involved. On the other hand, it's a difficult decision but fair play to the Irish management who are doing what they can to keep players within the system. That for the strength of Irish rugby going forward has to be the priority. To set the stall out like they have is a good strong front going forward."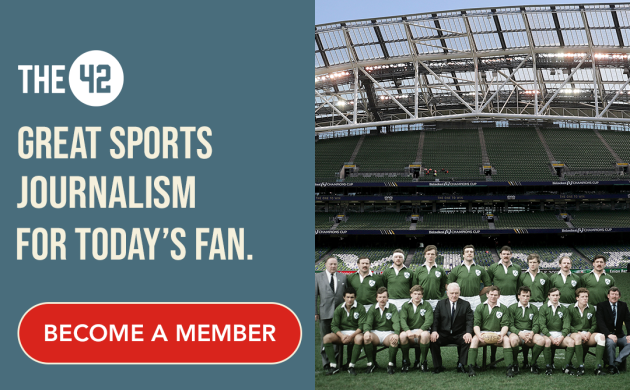 Tommy Bowe was this morning announced as Aviva's new rugby ambassador.
Subscribe to The42 podcasts here: