WHEN THE FINAL whistle sounded in Croke Park on July 27th last, it brought an end to one of 2013′s most uplifting Gaelic football tales.
London's progress through the summer was remarkable. Wins in Connacht over Sligo and Leitrim, the latter after a replay. A historic first Connacht final when they fell short to Mayo. And then a maiden appearance in Croke Park before Cavan pulled the curtain down on their season.
London captured the imagination and Tony Gaughan was at the heart of their efforts. A mainstay in their half-back line, he savoured the journey
"It meant a lot. It was my third season playing with London. We'd been knocking on the door, lost a few games narrowly in that time. Once we got over the first hurdle, the year took off from there."
The Connacht final was a surreal experience. Gaughan is from Kiltane, a parish perched on the north-west corner of Mayo near the Erris coastline. He was part of the London side that nearly managed a famous win over Mayo in 2011 and then had to face his native county in Castlebar last July.
"It was definitely weird playing that game", recalls Gaughan. "I'd had the experience of playing against Mayo before. But it was a lot different this time when it was on in Castlebar. We'd kind of caught them on the hop before yet they were a lot stronger this time."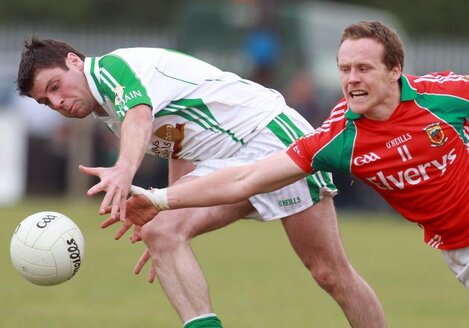 Tony Gaughan in action against Andy Moran in 2011.
Pic: INPHO/Dan Sheridan
Back To Roots
With his inter-county campaign over, Gaughan didn't hang up his boots. Instead he went back to his roots. He threw himself into a demanding regime of committing to his native Kiltane back in Mayo, a club who had suffered relegation from the senior football ranks in 2012.
The dedication has paid off. First they won the Mayo title. Then they won the Connacht crown. Now they are getting set for tomorrow's AIB All-Ireland intermediate club semi-final. Cork's Clyda Rovers await them in Ballinasloe. The prize for the winners is a final date in Croke Park on February 9th.
"It's a massive occasion for us", says Gaughan. "It's our first time ever experiencing this. We were really focused last year on trying to win the intermediate. We didn't want to stay down, we wanted to get back to senior in Mayo. Since then we've just kept it going."
Gaughan's commitment has been exemplary. A plumber by trade, he emigrated to London at the end of 2009. But he didn't sever the links with home.
"It was the quarter-final stage in Mayo by the time I got involved last year after I'd finished with London. Then it was seven or eight successive weekends coming home before a break after Connacht.
"I generally get a flight home on a Saturday morning from Stansted to Knock. I try to go back on the Sunday evening but that doesn't always work out with flights. Sometimes I end up taking the Monday morning off work and get an early flight back."
He's been training on his own in recent weeks. Gaughan has previously been playing with Neasden Gaels, a club based in the north-west of the English capital. But he has parked that involvement and his role with the London county side for the moment. Kiltane is his focus.
"That's where my concentration is. The All-Ireland semi-final is such a big occasion to be getting ready for. It's a lot of commitment but when you're winning and you're getting somewhere, you'll keep doing it. The chance to play in Croke Park with my club would be incredible."
Kiltane celebrate their Mayo county final win
Pic: @KiltaneGAA