OVER THE PAST few years Donal Óg Cusack has been an observer of Tony Kelly, as impressed as everyone else in hurling by the level of performances served up by the Clare man.
Cusack first slipped into The Sunday Game pundit chair in 2013, the year where Kelly blazed such a hot trail that he picked up both the Hurler of the Year and Young Hurler of the Year accolades.
Clare have not scaled those heights since that season of All-Ireland glory and Kelly has not been operating on the marquee championship days.
But there has been a renewed sense of enthusiasm in 2016, Cusack's addition to the Clare coaching staff assisting with that transformation.
On Sunday, Cusack was on the sideline with Clare and left marvelling at the exploits of Tony Kelly like the rest of the attendees in Semple Stadium.
An ankle injury interrupted Kelly's progress early on in 2016 but Clare ploughed on to bag that coveted promotion place from Division 1B.
And when it came to the knockout stages, Kelly was on hand to provide an extra layer of power for Clare.
0-2 off the bench against Kilkenny, 0-3 from the start in the draw against Waterford and then 1-6, including a splendid match-winner, in the league final replay.
"(He's) fantastic," admits Cusack.
"I think he's a massive attitude, (a) massive positive person around the group. But he comes across to me as a very humble fella, (who) to me who just wants to do his best on the hurling field.
"We've seen great feats in Thurles in terms of great men and great hurlers. You need something special deep inside to do what Tony Kelly did there today."
Clare have suffered some turbulent times since last being atop the national podium in 2013. It means winning the county's first league title in 38 years, resonates all the more.
"Winning is just a great boost to the confidence," states Cusack.
"We've had a long campaign over the winter, starting with the Munster league. I think in terms of the progression of the group of people, it is every day as it comes, it's trying to keep building, keep learning
"We'll go back and look at the tapes, see what we can do better, try and reinforce what we did well.
"But I would say it's a great boost to the confidence of the lads, it's 1978 since Clare won the National League, so it's a special day for those guys."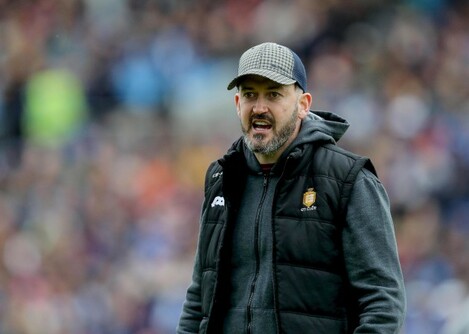 Clare hurling coach Donal Óg Cusack Source: Ryan Byrne/INPHO
Clare have now gone 13 competitive games unbeaten in 2016. It's a notable contrast to their 2015 struggles, when the art of triumphing was frustratingly elusive.
Clare lost three league games by a single point last year before exiting Munster at the hands of Limerick by a similar margin and losing to Cork in the qualifiers by three points.
This year Clare have arrested that slide. Sunday's success where Clare struck the last four points of the game to win by one, summed up the change in their fortunes.
"It's a very good sign of the lads, it's a good sign of the team, it's a good sign of the overall group," agreed Cusack.
"Like you say last year, it was only a puck of the ball. It's fine margins. You look at that game, Waterford a point up in extra-time, we turn around and win it by a point.
"It's such fine margins that the game is played on now."
The42 is on Snapchat! Tap the button below on your phone to add!