TONY O'DONOGHUE FEELS he has the duty to ask the right questions.
Covering the Ireland football team for over 20 years has provided the RTÉ Sport reporter with more than enough questions that needed answering.
But the passion he has for his job and the love he has of the game remain as strong as ever – although the Leesider could easily have taken a different path.
"I originally wanted to be the Dave Fanning of Cork," O'Donoghue tells The42. "For years and years, I was sending articles into Hot Press until I knocked the door down and they started publishing me."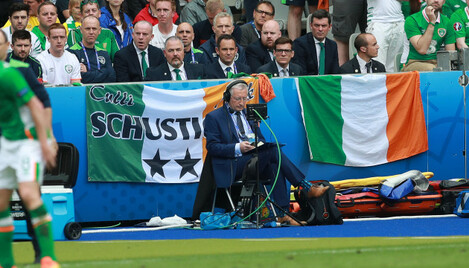 O'Donoghue at this year's European Championships in France. Source: James Crombie/INPHO
Music and sport have always been O'Donoghue's twin passions. In recession-hit Cork of the 1980s, the RTÉ broadcaster was willing to work in any area that involved either of his two great interests.
And it was while writing for Hot Press that led O'Donoghue into music management, where he managed the band Cypress, Mine!, with legendary guitarist Rory Gallagher listed as one of their many admirers.
"The people in the band were friends of mine," O'Donoghue explains. "They thought I had connections in the industry, I didn't really, but because I thought they were so good, I started hustling for them.
"You have to remember it was the late eighties in Cork and emigration was huge, only rivalled by recent years.
"There were no jobs. It was a really difficult time economically, but there was great creativity. There were some great bands that came out of that time.
"MTV then helped the band make a video in London from their album Exit Trashdown, things were beginning to happen for them and then suddenly it stopped.
"I often make the analogy to bring it back to football, it's like a really promising footballer that has done well here, and gets signed for Liverpool. But your career is only really starting then, you have to work even harder.
"At the time, you're doing whatever you can to get by, but it was a brilliant time in my life."
It was while freelancing with RTÉ Radio Cork, where O'Donoghue would review local gigs and play demos of unsigned bands, that inadvertently steered the broadcaster down the sporting route.
"At the time, I was just pursuing things I was interested about," O'Donoghue continues.
"One day, the station got late notice that they needed somebody to cover a game at Turner's Cross for national radio.
"I was in doing my music programme, and they knew I had an interest in sport and they asked me to cover the Cork City game. It was by accident almost, but it was such a buzz."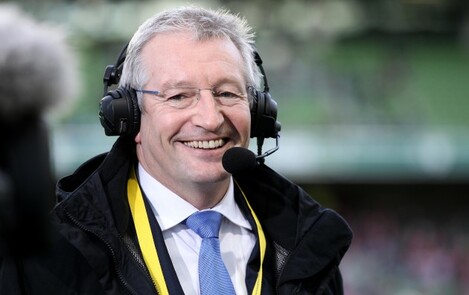 The reporter has been working for the national broadcaster for over two decades. Source: Ryan Byrne/INPHO
While also working for music promotion company, MCD, and organising gigs, such as the 2FM Lark By The Lee, an opportunity to move to Dublin resulted in O'Donoghue having to choose between two of his major passions.
And it was sport that won out with O'Donoghue perceiving the industry to have better long-term options, when compared to the music business.
"There was a sports show on Saturday afternoons at the time called Airs and Races on RTÉ Radio presented by Val Joyce and they were re-vamping it.
"It was a mix of music and horse racing, but they wanted to turn it into a fast-paced sports show.
"Jimmy Magee was to become the presenter and I was asked to come up from Cork to edit that programme.
"I was still freelance so I was still doing the music stuff, but the more work I was getting from RTÉ, the more opportunities there seemed to be."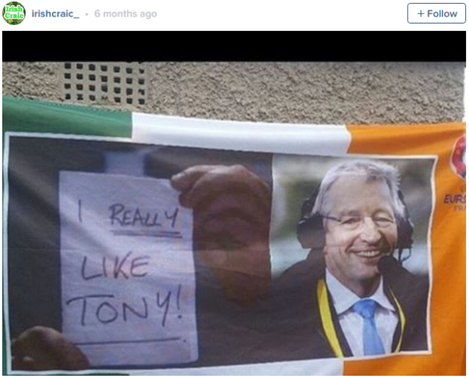 O'Donoghue featured on one of the many Fr Ted-inspired Ireland flags during Euro 2016.
Working with Magee on Saturday Two to Five allowed O'Donoghue to strike a lasting friendship with the legendary broadcaster.
"There was a bit of a Walter Mitty to Jimmy. He was also the manager of Stillorgan Celtic at the time.
"I was a bit of fish out of water in Dublin and Jimmy asked if I wanted to train with the lads.
"Jimmy being Jimmy would have dossiers done on the next opponent; he would have watched them from two fields away. But we had such a laugh during that period."
After hosting the radio coverage of Ireland's 1994 World Cup campaign in the United States, O'Donoghue started to report more on the national team, while also covering other major events.
And it was at the 1996 Olympic Games in Atlanta that O'Donoghue endured his most difficult interview as Sonia O'Sullivan's dream of winning a gold medal dramatically evaporated.
Even though the then world champion eased through in her 5,000m heat, O'Sullivan prematurely ended her race during the final while in last position, which was later revealed to be caused by illness.
"That was my hardest interview," O'Donoghue says.
"At the Olympics, you buy your position on the track for the interviews. The BBC are usually the first in the queue and we are usually back in the mix zone, but we were on the track for the race.
"It went really badly for her.
"I had my producer in my ear telling me I had to get her. She was devastated. Nobody knew why it had gone so wrong. I had to ask her questions.
"I think she needed a hug. Not a microphone or a question. I think I regret that a little.
"But if I hadn't spoken to her, I would have gotten it in the ear from my producer. If you're insensitive to that you're a stone."
O'Donoghue interviewing O'Sullivan's father after the race. Source: © Billy SticklandINPHO
During his time covering the national football team, O'Donoghue has reported on the reins of seven managers, but it is the rising tension between current boss Martin O'Neill and the reporter that has made headlines in recent months.
"I don't really like talking about it. I realise it's becoming a 'thing', and I don't want that.
"I'm there to do a job and his job is to get results for the national team, and he is doing that brilliantly. But he also has an obligation to talk to the media.
"Martin is known for being sensitive to criticism. The RTÉ panel for years have given strong views on his team, they have opinions on their performances and the players and they are not afraid to share them. They are entitled to that, no matter what the result is."
O'Donoghue believes the frosty relationship between the pair can be traced back to Ireland's first competitive game under the Derryman's stewardship when a late Aiden McGeady strike saved Ireland's blushes and secured an important win in Georgia.
O'Neill remarked during their exchange that: "You [O'Donoghue], even you, should be delighted we've won the game," the Ireland manager said.
Source: IrishSoccerTeamNews/YouTube
But O'Donoghue's line of questioning wasn't going to be altered despite the late victory.
"McGeady scored a terrific winner at the end but that doesn't necessary mean the type of questions I was going to ask was going to change."
"I am as happy as anyone to see Ireland win, but well into the interview, five or six questions in perhaps, I would have asked if the goal would mask certain deficiencies in the performance.
"I felt it was a reasonable question because we were far from convincing.
"Martin didn't like that. In his opinion what matters most is the result, and he is right, what is remembered are the results and if we qualify. But there are still certain questions that need answering."
After October's win in Moldova, animosity flared again as O'Neill was accused of being "thin-skinned" by the RTÉ panel after he seemed to object to O'Donoghue's question about Ireland's ability to retain leads in matches.
Source: IrishSoccerTeamNews/YouTube
"I'm lucky to be in the position I am in, and my job is to ask the questions on behalf of the viewer. It won't prevent me asking the questions. It's up to Martin to answer them or not," O'Donoghue remarks.
"I'm an Ireland supporter but a journalist too, and my job is to ask the questions as politely and professionally as I can."
Any negative feelings towards O'Donoghue from the Ireland manager has not transferred to the team, with recent post-match interviews offering raw insights from the players.
"Some may say straight after a match may be the worst time to speak to somebody, but it could be the players at their most revealing.
"One of my most favourites was speaking to Shane Long on the pitch after the win over Germany.
Source: IrishSoccerTeamNews/YouTube
"That's unfiltered. You're getting the adrenaline and passion from a player straight after a game; I defy anybody to say that's not a great moment.
"Séamus Coleman is another person that hasn't changed. He is still the same character that played in the League of Ireland for Sligo Rovers."
"I remember speaking to him directly after the win in Vienna because he had a bit of man flu, although you wouldn't think that with the performance he put in.
Source: IrishSoccerTeamNews/YouTube
"He was thrilled with the result and the performance. There is an undoubted bond between the team and the fans.
"Perhaps having the League of Ireland background behind some of them makes those players in particular, realise how lucky they are to be in the career they are in."
O'Donoghue's time within the Ireland setup has allowed him to build lasting working relationships with the squad, which was evidenced when players both past and present got in touch to wish him well as he privately battled cancer five years ago.
"It was a very weird time, my wife was expecting and I was told I had cancer. It was difficult and I'm a bit emotional still talking about it now.
"But it showed me how innately decent Irish people are and how they are very generous with their time.
"I remember when the Shamrock Rovers mascot, Hooperman, carried a banner around the stadium saying 'Get Well Soon Tony O'Donoghue', that may sound silly, but it brought a smile to my face during a difficult time.
"The League of Ireland is a small community, but rivalries can be put to one side."
As Robbie Keane bid farewell to the national team after the friendly against Oman in August, the former Ireland captain made sure to thank O'Donoghue for his work, while also referencing how well he has recovered from his cancer diagnosis, with the pair then sharing a warm embrace.
"I guess Robbie was doing a lot of hugging that night, but it seemed very natural too. I suppose you could say we developed a relationship with so many interviews over the years.
"As time went on, we got on better and he became more trusting of me. He began to open up. He was such a big star, he was at the forefront as the Premier League was exploding.
Source: IrishSoccerTeamNews/YouTube
"That night I thanked him for all he did for Ireland, and then he thanked me for my interviews, which I found mortifying.
"He then mentioned my illness and I found myself welling up a little, it was really touching. I didn't realise the camera was still rolling. It was one of the nicest things that happened to me around the game."
Looking forward, 2017 promises to be another big year for Irish football as Ireland aim to qualify for their first World Cup in 16 years and O'Donoghue is as hopeful as any fan that the team will progress to Russia, despite what O'Neill may think.
"Of course I want to see Ireland win, I'm an Ireland fan but I am also a journalist, nothing will stop me asking the questions I believe are important."
A one hour special titled Euro 2016: Two Shades of Green, reflecting on both the Republic of Ireland's and Northern Ireland's European Championship campaigns will be broadcast on Thursday 29 December at 21:30 on RTÉ Two.
The42 is on Instagram! Tap the button below on your phone to follow us!